Immigration and civil rights groups immediately challenged US President Donald Trump's so-called asylum ban in court and shortly thereafter a judge on Monday issued a temporary halt of the policy. The White House will likely appeal the ban, sending the issue on a long path through the courts that could take weeks or months to resolve.
The measure is just the latest attempt by the Trump administration to curtail and deter immigration. Previous efforts include:
Imposing the so-called travel ban
Ending the Deferred Action for Childhood Arrivals program, or DACA, which shielded undocumented immigrants who came to the United States as children from deportation
Cutting federal funding for so-called sanctuary cities
Ending the Temporary Protective Status (TPS) that shielded hundreds of thousands of immigrants from various countries from deportation
Separating migrant children from their families
Just like in the most recent executive order putting new restrictions on asylum-seekers, all previous efforts to curb immigration were challenged in courts. While some were ultimately upheld, including a somewhat watered-down version of the so-called travel ban, others, like the move to end DACA and TPS or the family separation policy, were blocked in court.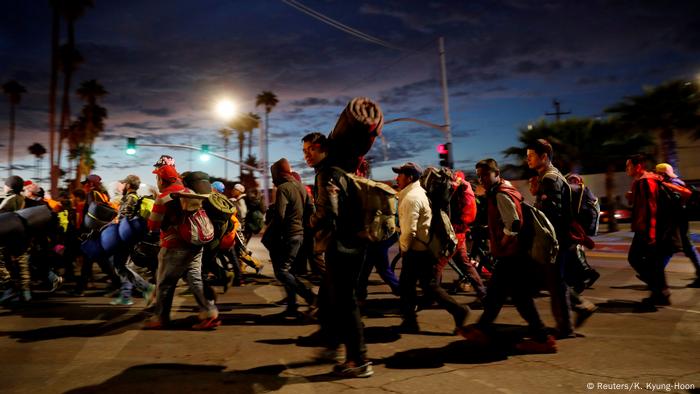 Trump's new asylum restrictions specifically target the so-called migrant caravan
Tough call
How Trump's latest anti-immigration effort will fare in the courts is difficult to predict.
Alex Nowrasteh, a senior immigration policy analyst at the libertarian Cato Institute, who opposes Trump's asylum restriction, is nevertheless convinced that the courts will ultimately give it the green light because it is premised on the so-called travel ban, which in the end was also upheld in court.
Read more: Can Donald Trump use force against the 'migrant caravan'?
However, Theresa Cardinal Brown, director of immigration and cross-border policy at the Bipartisan Policy Center, is not so sure. "This is a different case with a different application" than the travel ban case, she said. "I personally think it's a much harder legal argument for them to win."
Meanwhile for Kathryn Shepherd, national advocacy counsel at the Immigration Justice Campaign, the president's executive order on November 9 was a clear attempt "to improperly rewrite immigration laws," despite the fact that the law "couldn't be clearer: People have the right under domestic and international law to request asylum in the US regardless of how they entered the United States."
No matter how the legal fight over Trump's asylum edict finally plays out, the latest episode serves as a timely reminder that Congress is deeply divided, and that immigration is often viewed as the third rail of US politics.
Combustible combination
Both of those issues are not new, but the combustible combination of an anti-immigrant president and a drastically deteriorating political situation in several Central American countries that drives many people to flee their homes and seek a new life stateside have catapulted them to the forefront of the US political discourse.
Despite this, there appears to be little appetite for lawmakers in Washington to try to tackle immigration, which has long been widely viewed as an issue where they can only lose.
"I think many members of Congress would prefer not to do any more voting on immigration," said Cardinal Brown, "but I think they will have to at some point."
Read more: 'Migrant caravan was my only chance' for a better life
But that point, she added, will probably only come when lawmakers have to pay a price for not addressing immigration, a key topic for many Americans. "They have to fear that they will lose the next election for not having worked on this issue."
The last time Congress passed meaningful immigration legislation was more than two decades ago, in 1996. Back then, lawmakers issued strict enforcement measures against undocumented immigrants, said Cardinal Brown. "Since then, no major immigration legislation has been passed."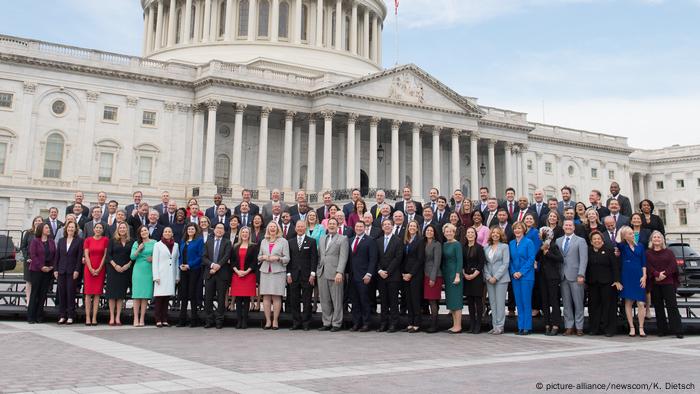 The new Congress is unlikely to reach a compromise on immigration reform
'Anathema' for many Americans
The recent midterm results earlier this month appear to have made progress on immigration reform, which can only be achieved through compromise, even more unlikely. Many of the more moderate Republican lawmakers in the House of Representatives lost their seats during those elections, and the incoming smaller Republican caucus leans even further to the right than its predecessor. Meanwhile, the new Democratic House majority will feature a stronger progressive wing.
Unless an unlikely compromise is reached in Congress, Trump is likely to continue to try to institute immigration policy unilaterally. This strategy ultimately makes courts the de facto arbiter of immigration law, and, as Cato's Nowrasteh noted, fuels division within the US electorate.
"For the majority of Americans and the majority of people here in Washington these kinds of actions are anathema to what the United States stands for and they seem like they are in violation of our long-held principles," he said.
Every evening at 1830 UTC, DW's editors send out a selection of the day's hard news and quality feature journalism. You can sign up to receive it directly here.