US President Donald Trump on Wednesday signed an executive order to end the policy of separating children of irregular migrants on the US border amid domestic and global outrage.
"I didn't like the sight or feeling of families being separated," said Trump. "The word compassion comes into it, but it is equally tough, if not tougher."
He added that his administration will continue to implement a stringent policy on irregular migration. "We are keeping a very powerful border and it continues to be — we continue to have a zero-tolerance policy."
Trump's decision marks a major shift for his administration. In May, the Trump administration announced all adults attempting to enter the country illegally would be prosecuted under a "zero-tolerance" policy. As such, they would be held in federal facilities and separated from their children.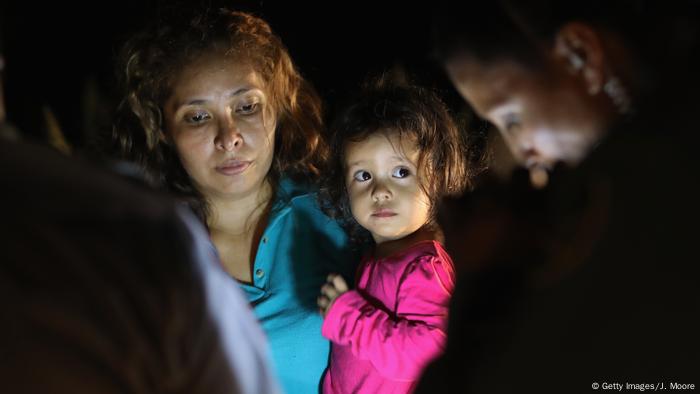 According to US authorities, more than 2,000 children have been separated from their parents since May
'Families will remain together'
The House of Representatives is expected to vote on two bills designed to end family separations formally and deal with other immigration issues.
House Speaker Paul Ryan told reporters that one of the bills would increase funding to the Department of Homeland Security to source housing and care for families during criminal proceedings against parents.
Read more: Why Donald Trump's immigration deal is a hard sell
"Under this bill, when people are being prosecuted for illegally crossing the border, families will remain together under DHS custody throughout the length of their legal proceedings," said Ryan.
However, Republicans, who have a majority in both the upper and lower house, have signaled that they may not have sufficient votes to pass the legislation.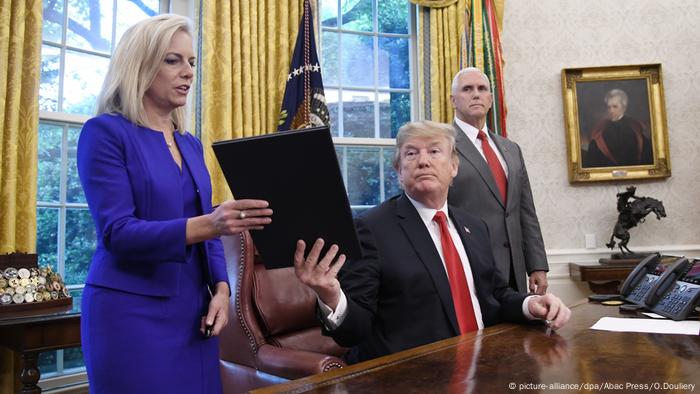 Trump has vowed to crack down on irregular migration, saying US authorities will continue to enforce a "zero tolerance" policy on migrants not entering the country via official entry ports
Leading Democratic Party lawmaker Nancy Pelosi accused Trump of "using terrified small children as leverage," adding that the new order "seeks to replace one form of child abuse with another." According to Pelosi, the order paves way to " the long-term incarceration of families in prison-like conditions."
US laws currently prohibit holding children with parents for more than 20 days. The Justice Department, however, has said it will request a legal modification to allow families to be held in custody for longer.
The United States has witnessed a surge of migrants since October, with many people fleeing violence and extreme poverty in Guatemala, El Salvador and Honduras, as well as Mexico. More than 50,000 people were apprehended crossing the US-Mexican border each month between March and May.
The migrant influx and zero-tolerance policy has stretched the capacity of holding facilities and the legal system.
On Wednesday, the Department of Defense said 21 military lawyers would be temporarily assigned to the Justice Department to help prosecute "misdemeanor improper entry and felony illegal reentry cases."
Highlighting the scale of overburdened migrant facilities, New York City Mayor Bill de Blasio said Wednesday that he learned 239 migrant children separated from their parents had been bussed from southern border to a care center in Harlem.
'Act of humanity'
In Europe, Trump's "zero tolerance" policy has been met with fierce criticism. British Prime Minister Theresa May said images of migrant children held in cage-like units were "deeply disturbing."
Read more: Germany's answer to 'America First' is 'Europe United'
"A person's dignity does not depend on them being a citizen, a migrant or a refugee," Pope Francis, a staunch supporter of migrant rights, said in a tweet. "Saving the life of someone fleeing war and poverty is an act of humanity."
cw, ls/rc (Reuters, AFP)