What does President Trump want?
President Trump, whose signature campaign plank was curbing illegal immigration, has said he would sign a bill that would legalize and provide a path to citizenship for up to 1.8 million immigrants who lack residence permits. The offer would include the roughly 800,000 so-called "Dreamers," who face deportation since last year Trump rescinded the DACA (Deferred Action for Childhood Arrivals) program, which protected them. Democrats have said that they will not vote for a budget that does not include a protection for Dreamers.
Read more: US President Trump claims he's 'not a racist' after controversial remark
But his willingness to legalize the Dreamers comes with a high price tag – a steep cut in two established legal immigration programs. Trump wants to abolish the so-called diversity lottery program, and he wants a drastic reduction in family reunification migration. An independent analysis of the cuts sought by Trump from the Cato Institute estimated that it would slash the number of legal immigrants by up to 44 percent, or 490,000 immigrants per year, making it the largest reduction in legal migration since the 1920s.
What is the diversity lottery?
The diversity lottery, or visa lottery, is a program that was instituted by Congress with bipartisan support in 1990 and signed into law by President George H.W. Bush. It allocates up to 55,000 visas per year to applicants from countries which are underrepresented according to US immigration statistics that reflect the previous five years. Citizens from Brazil, Britain, Canada, China, India, Mexico, Pakistan, South Korea, and other countries, are ineligible to apply for the current diversity lottery, since more than 50,000 people from those places emigrated to the US in the past five years.
Read more: Opinion: Donald Trump's State of the Union doubles down on immigration fears
Against that background, President Trump's repeated attack against the diversity lottery — that countries send their "worst" people — is wrong in three ways. First, because countries can't simply send people or apply for the program; only individuals can. Second, because many countries and their citizens are ineligible for the program to begin with because of high immigration rates to the US. And third, the program really works like a lottery; the only entry requirement is a high-school degree or two years of work experience in the past five years.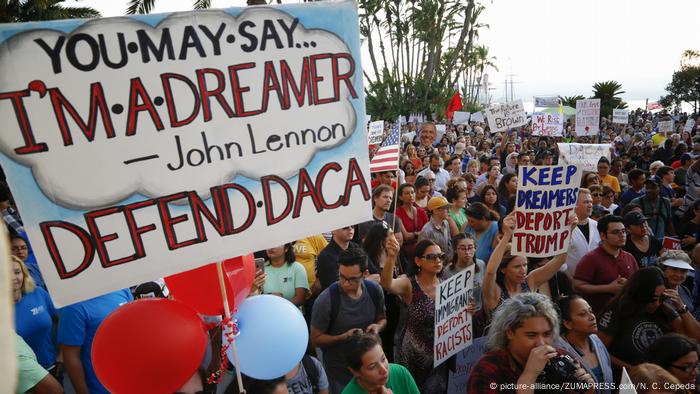 Trump is willing to legalize the Dreamers, a key demand by Democrats
And in a way the diversity lottery, a unique US immigration program, is the quintessential fulfillment of Emma Lazarus famous words inscribed in the Statue of Liberty: "Give me your tired, your poor your huddled masses yearning to breathe free."
With its low entry hurdles, it is the best, and often the only way, for many people around the world to emigrate to the United States, if they don't have a company, university or relative to sponsor their visa. In recent years, the majority of diversity lottery visas went to Africans and Eastern Europeans.
Read more: How Donald Trump's DACA immigration crackdown tore one family apart
What's more, said Steve Yale-Loehr, a leading US immigration law scholar at Cornell University, citing a 2011 Congressional Research Service report," a higher percentage of immigrants who entered the United States through the diversity-visa program had managerial and professional occupations than green card holders overall." According to the study, diversity-visa recipients were less likely to be unemployment than green card holders.
What is family reunification immigration or "chain migration?"
"Chain migration is President Trump's derogatory way of labeling family reunification immigration," said Yale-Loehr. Family reunification is the key way to immigrate to the United States, with more than two-thirds of all immigrants coming to the country each year based on their family relationships.
Read more: Immigrants strive for US passports out of fear of future
"President Trump is wrong to claim that distant relatives can easily and quickly immigrate to the United States," said Yale-Loehr, pointing out that US citizens can only petition for close relatives like siblings, children and parents — and not aunts, uncles or other, more distant relatives. Trump had said last week that under the current system "a single immigrant can bring in virtually unlimited numbers of distant relatives."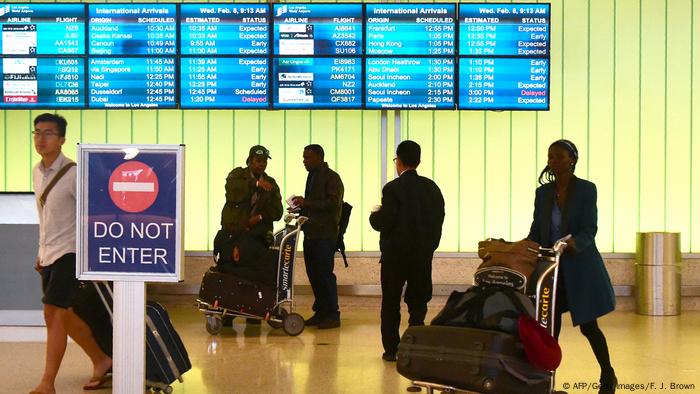 Trump takes aim at two key pathways to legal immigration
Even under the current system, for a US citizen to try to bring a relative to the country is no small feat and takes a long time. "If I am a US citizen and petition for my brother, the wait would be almost 14 years for most countries," said Yale-Loehr. "And if my brother is from the Philippines, the wait would be over 23 years." Because of these long backlogs there is not as much family reunification as Trump claims, he added.
What are the chances that President Trump's deal will pass in Congress?
Not that good. Using undocumented immigrants as a one-time bargaining chip to drastically and permanently slash legal immigration is unlikely to be a winner with Democrats or Republicans.
"Democrats won't agree to that; they will consider it a poison pill. And conservative Republicans in Congress won't agree to legalizing so many people," said Yale-Loehr, who would not be unhappy if his prediction came true.
"President Trump's proposal is not good for Democrats or for the United States generally," he said, citing a 2017 report by the National Academies of Sciences, Engineering and Medicine which concluded that immigration has an overall positive impact on long-run economic growth in the United States.