US President Donald Trump on Wednesday circulated anti-Islam videos posted on Twitter by Jayda Fransen, deputy leader of the far-right Britain First group in the UK.
Trump's decision to retweet racist videos from a British citizen convicted of a hate crime prompted outrage across the UK.
Opposition lawmakers called for the government of Prime Minister Theresa May, a conservative, to condemn Trump for sharing such content.
Read more: Britain First: Trump's 'simply racist' new Twitter pals
"I hope our government will condemn far-right retweets by Donald Trump," said Jeremy Corbyn, who leaders the Labour Party. "They are abhorrent, dangerous and a threat to our society."
'Antithesis of UK values'
Hours later, May's spokesman said it was "wrong" for Trump to circulate material published by Britain First, saying their rhetoric is "the antithesis of the values that this country represents."
"Britain First seeks to divide communities through their use of hateful narratives which peddle lies and stoke tensions. They cause anxiety to law-abiding people," the spokesman said.
Later, Trump took at swipe at May, saying she should focus on the "destructive Radical Islamic Terrorism" in the UK and not on him.
Read more: Donald Trump's 'America First' slogan has a toxic past
The tweet was wrongly addressed to @theresamay, a twitter user with six followers and not the British prime minister. Trump later deleted the tweet and wrote the same message to May's official twitter account.
White House spokeswoman Sarah Huckabee Sanders sought to play down the issue, saying Trump wanted to "promote strong borders and strong national security."
"Whether it's a real video, the threat is real and that is what the president is talking about," said Sanders.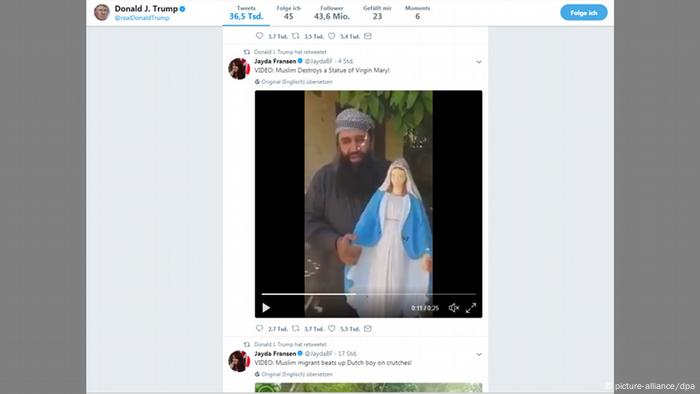 The US president circulated the videos on his official Twitter account, which is followed by more than 43 million accounts
Britain First itself, a fringe group struggling to stay afloat as its leaders face impending prosecution and as it fights for supremacy among rival right-wingers, reacted with glee to the unlikely official publicity from the White House.
"The President of the United States, Donald Trump, has retweeted three of deputy leader Jayda Fransen's Twitter videos … God bless you Trump!" said a block-capital response from Britain First on the social media platform.
'Promoting a hate group'
Opposition Labour politicians in particular were swift to condemn Trump's latest controversial activity on Twitter.
"I want an unequivocal condemnation from all quarters," Labour MEP Seb Dance told DW. "It is not even remotely acceptable to normalize hatred. The strength of condemnation must be total so that patriots in America can see what is being done in the name of their country and act accordingly to remove Trump from office."
British lawmaker David Lammy of the Tottenham constituency in London tweeted that Trump "is no ally or friend" of the UK, adding that the US president was not welcome in "[his] country [or his] city." Vince Cable, who leads the Liberal Democrats, said there are "serious questions" on whether Trump should even be given an "official visit" slated for next year.
Britain First claims it has a "proven track record of opposing Islamic militants and hate preachers" and aims to protect the UK from "spiraling" migration. However, Fransen was found guilty last year of a hate crime after hurling abuse at a Muslim woman wearing a headscarf.
Read more: Is the UK's racist hate crime problem out of control?
The group's leader Paul Golding and Fransen were expected in court on Wednesday on possible charges of "threatening, abusive or insulting words or behavior" over a fiery speech made in Belfast in August.
Golding wrote a plea to Trump to intervene in one of the court cases, saying Fransen "is facing prison for criticism of Islam … she needs your help!"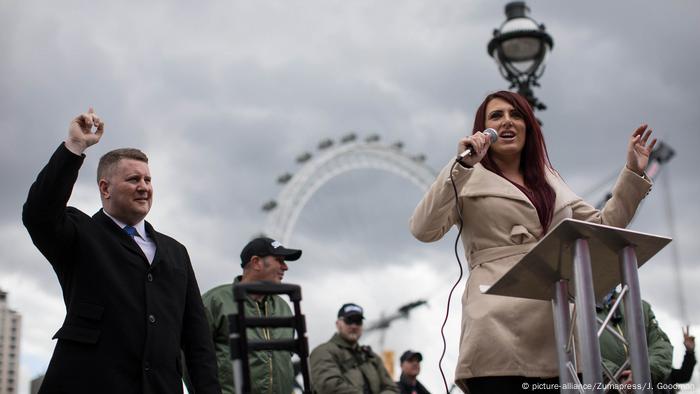 Britain First's leader Paul Goldin (left) and deputy leader Jayda Fransen (right) have been to court for their fiery speeches against Islam and migration
'The president should be ashamed'
Brendan Cox, the husband of the late British MP Jo Cox, killed in 2016 by a right-wing extremist who reportedly screamed "Britain First" before stabbing her repeatedly, accused the US president of attempting to spread far-right sentiment in the UK with his retweets.
"Trump has legitimized the far-right in his own country, now he's trying to do it in ours. Spreading hatred has consequences and the president should be ashamed of himself," Cox wrote.
Speaking to Reuters news agency, Fransen said she was "delighted" by the incident.
Read more: Donald Trump's sub-tweet helps make Hitler biography a US hit
"The important message here is Donald Trump has been made aware of the persecution and prosecution of a political leader in Britain for giving what has been said by police to be an anti-Islamic speech," Fransen said.
ls/msh (AP, Reuters, AFP)