Britain First emerged on Britain's political periphery in 2011, describing itself as a "patriotic resistance" party that wanted to "slam the door on further immigration" and make Christianity the "bedrock" of "our national life."
It also sought a ban on Islam and the outlawing of headscarves in public.
Initially, its inflammatory street protests garnered little media attention. But the group shot to prominence in June 2016 when Labour lawmaker Jo Cox was shot dead.
Britain First deputy leader Jayda Fransen, whose tweets were forwarded Wednesday by Trump, denied that shouts of "Britain First" uttered by the Nazi-obsessed loner who attacked Cox had anything to do with her group.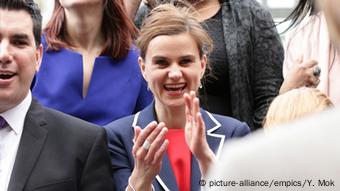 Parliamentarian Jo Cox was shot dead in Birstall, near Leeds
Fransen and group founder Paul Golding are known in Britain for confrontational, publicity acts, including mosque "invasions."
Read more: Britain bans neo-Nazi hate group
"Britain First is the most prolific anti-Muslim street movement in the UK, best known for its extreme, controversial and confrontational actions," said anti-fascist organization Hope Not Hate.
Incitement, prosecution
In September, Fransen and Golding were charged with causing religiously aggravated harassment while distributing leaflets last May near a gang-rape court trial in Canterbury in southeastern England.
Fransen was found guilty earlier in November of religiously aggravated harassment for shouting abuse at a Muslim woman wearing a hijab.
Last week, she was charged for using threatening words during a speech in Belfast in August. She is due to appear in a Belfast court on December 14.
Fransen thanked Trump for his re-tweet, saying he did so because, given her prosecution over the address, he saw a need to uphold "free speech."
London mayoralty
Golding was jailed for eight weeks for breaching an order banning him from entering mosques.
He was formerly a senior figure in the far-right British National Party and stood to be London mayor in May 2016, gaining 1.2 percent of votes cast.
One of the videos retweeted by Trump Wednesday showed Fransen carrying a large cross while marching through the town of Luton, north of London, and haranguing South Asian shopkeepers.
Walking behind her were six or seven men, wearing matching green tops and wool hats.
Incitement, say rights groups
As well as causing astonishment in the UK, Wednesday's posts have been criticized across the Atlantic, where the group was previously little known. The retweets amounted to incitement to violence against US Muslims, said US civil rights groups.
"These are actions one would expect to see on virulent anti-Muslim hate sites, not on the Twitter feed of the president of the United States," said Nihad Awad, the national executive director of the Council on American-Islamic Relations.
The Anti-Defamation League said the retweets would only "embolden bigots in the US, who already believe the president is a fellow traveler."
ipj/rc (dpa, Reuters)