Speaking with reporters from his golf resort vacation on Tuesday, US President Donald Trump took a more aggressive tone against North Korea and its perceived nuclear threat.
"North Korea best not make any more threats to the United States," Trump said in Bedminster, New Jersey, where he is based for a 17-day vacation at his eponymous golf club. "They will be met with fire and fury like the world has never seen."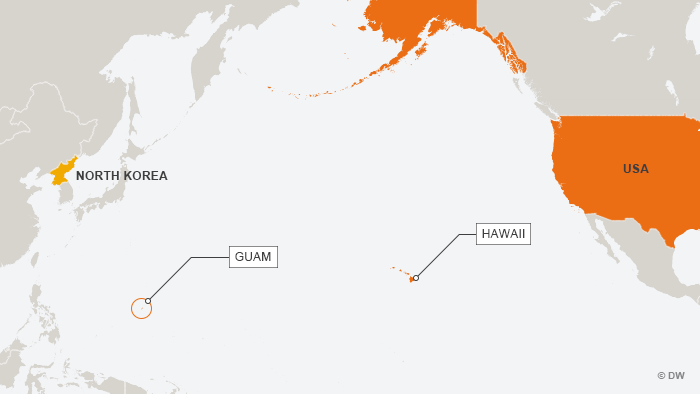 Earlier on Tuesday, Trump said Washington had to be "tough and decisive" when dealing with North Korea.
Despite assertions to the contrary, the regime appears to have become the president's No. 1 enemy.
Republican Senator John McCain later questioned Trump's threat, saying he was not certain the US president was ready to act against Pyongyang. "You got to be sure you can do what you say you're going to do," McCain said.
Read more: Which US cities could North Korea's ballistic missile hit?
Trump's comments came a day before the 72nd anniversary of the atomic bombing of Nagasaki by US forces during World War II.
North Korea considering strategic strike
Hours after Trump's comments, North Korea said it is "carefully examining the operational plan for making an enveloping fire at the areas around Guam with medium-to-long-range strategic ballistic rocket Hwasong-12 in order to contain the US major military bases on Guam."
Guam's Governor Eddie Calvo downplayed the threat but said the territory was prepared for "any eventuality" with strategically placed defenses. He said he had been in touch with the White House and there was no change in the threat level.
"Guam is American soil ... We are not just a military installation," Calvo said in an online video message.
Read more:
North Korea crisis: Which country has the strongest military in the region?
Since Trump assumed the presidency in January, tensions between Washington and Pyongyang have continued to increase. The US has called on North Korea to dismantle its nuclear weapons program in exchange for sanctions relief. On Saturday, the UN Security Council levied new tough sanctions on North Korea in a unanimous vote.
Germany on Wednesday urged North Korea and the United States to show "restraint."
"The situation is really serious. Further saber rattling is not going to help us," German foreign ministry spokesman Martin Schaefer told reporters in Berlin.
The escalation in rhetoric follows the release of a Japanese defense paper and reports by multiple US media outlets that North Korea has successfully produced a miniaturized nuclear warhead that can fit inside its missiles.
According to the report, which relied on high-level anonymous sources, US spy agencies had detected North Korean troops "loading two anti-ship cruise missiles on a patrol boat on the country's east coast just days ago."
ap, ls, mkg/ng (Reuters, AFP, dpa, AP)