Hatice Ahmet was watching Uighur-language news clips from her home in Istanbul, when she suddenly stopped short. Nearly two years after he disappeared in China's Xinjiang province, there was her husband, in a Chinese propaganda video.
"He just looks up, and his hair is shaved," Ahmet says, showing a screenshot of the video on her phone. "The newscaster said they were being transferred to a city in the interior of China."
Ahmet's husband is one of an estimated million Uighurs and other ethnic minorities detained in so-called "re-education camps" and forced labor facilities as part of a massive antiterrorism campaign that has sparked concern – but little action – from the international community.
Read more: China defends Xinjiang Uighur detention camp policies
Ahmet's first reaction when she saw the video wasn't fear – or even anger – but relief. "He was wearing normal clothes, not a prison uniform," she says. "I felt very happy, because he's alive."
Some Uighur families never hear from their relatives again.
Uighurs are the biggest ethnic group in Muslim-majority Xinjiang, China's westernmost province. They have long been persecuted for practicing their language, culture and religion. But over the last two years the authorities have cracked down still harder.
Arbitrary detentions and the stripping of minorities' citizenship documents have left families divided and even those who find refuge in other countries, struggling to build new lives. Those left behind in Xinjiang are forbidden from contacting relatives abroad, who in turn fear that speaking out will have repercussions for their loved ones back in China.
Ahmet and her two daughters fled to Turkey in 2016, but her husband was forced to stay behind. His passport had been confiscated in 2015, after he was arrested for praying in the back of the family's dried-fruit shop in Xinjiang's capital, Urumqi.
The couple filed for divorce before Ahmet left, because she believed her husband would be safer if he had no ties to people living in a predominantly Muslim country. For a while, they managed to talk on the phone but all contact ceased in April 2017.
"The world fell apart for me," Ahmet says.
'Don't try to contact us again'
There are estimated to be somewhere between 30,000 and 50,000 Uighurs living in Turkey. The Uighurs are a Turkic people, with shared historic roots and similar languages.
Read more: Turkey tells China to close Muslim 'concentration camps'
Muhammed Emin Osman Karahan runs a shop selling sweets and spices in Istanbul's Zeytinburnu neighborhood. The name of his shop, Uyghur Karahan Tibabet Serhil, is a reference to an 11th century Uighur outpost on the Silk Road. With a broad smile and salt-and-pepper moustache, he proudly shows off locally made rock candy and jars full of cardamom, cloves and rosehips.
Karahan says he used to run this shop with his wife. In 2002, their adult son was arrested in Kyrgyzstan, deported to China and imprisoned. When his sentence was up in 2016, his mother returned to Xinjiang to look for him. Her passport was confiscated on arrival, and two months later Karahan got word that she too had been detained. A family friend sent a message: "Don't try to contact us anymore."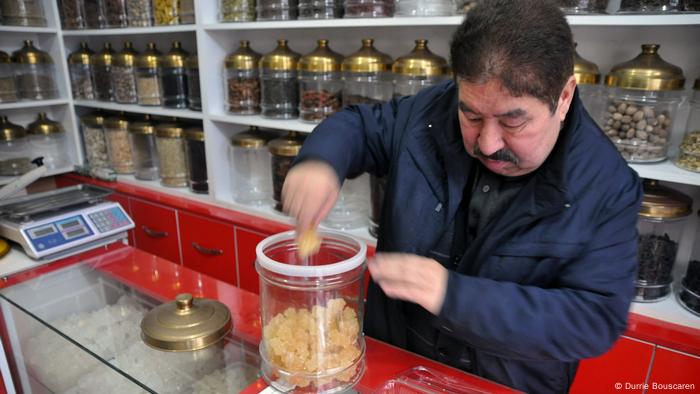 Muhammed Emin Osman Karahan works alone in the shop he once ran with his wife. She returned in China in 2016 to find their son and was detained
"And then we lost contact with them," Karahan says.
Now he is alone, and doesn't hold out much hope for change. "China has already committed these crimes and arrested so many Uighurs and Kazakhs," he says. "If they release them, they will tell the world what's happening."
Improvised code
At home in Istanbul, 27-year-old Ixkiyar Abdurehim opens an app on his smartphone. Built by Chinese developers as a lip-syncing game, users can publicly post homemade video clips. And, if relatives outside China can find them, and know what to look for, scraps of news can make it across the divide.
"Like this one," he says: Pictures of a well-dressed young man flash up, accompanied by loud disco music. "I know he's got out. If someone is arrested, they will put pictures of them and play music about separation."
Read more: Uighur woman shares 'horrendous' China crackdown details with US Congress
Certain hand gestures or phrases can indicate who has been detained, or where their children are. Abdurehim, the son of a prominent ranching family in Qorghas, says his relatives have been targeted by Chinese authorities for decades. He counts at least a dozen family members, including his parents and siblings, who have been detained in the latest crackdown.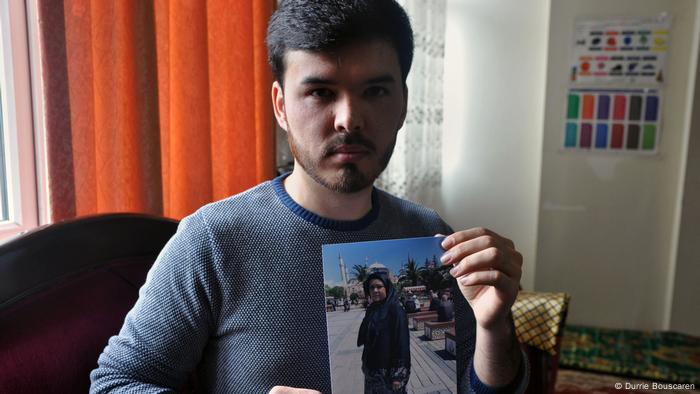 Ixkiyar Abdurehim with a picture of his mother. In 2016, she visted him in Istanbul to meet her new grandson, but was detained on returning to China
Just last week, he found a picture online of his family's home in a small town near the Kazakh border. The front path was buried in heaps of un-shoveled snow. That's how he knows they're gone.
"My grandfather is 75 years old. What should he learn?" he says, referring to the re-education camp. "My mother was arrested because she came to Turkey to visit me. Is that a crime? Visiting your son? Is she a terrorist?"
Life without papers
Abdurehim works as a social worker for a small aid organization, visiting Uighur families in need. He says the most distressing cases are of families separated when parents return to China for a visit and are detained, leaving the rest of the family behind in Turkey.
Because China revoked many Uighurs' passports in 2016, those who hired smugglers to get them to Turkey are stuck here. And without papers, they cannot file for work permits or legal residency in their adopted country. Effectively rendered stateless, they are forced to work informal, cash-based jobs – if they find work at all.
Abdurehim and his wife do have passports but their youngest son was born in Turkey, and hasn't been granted citizenship by either China or Turkey. The family plans to stay in here, at least until they can get his papers sorted. But without Turkish citizenship, there are constant frustrations.
Abdurehim's seven-year-old daughter recently wanted to take part in a special program at school for gifted children.
"My daughter is number one in her school," Abdurehim says proudly. But on the day of the exam, she was told she couldn't take it because she's a foreigner.
Additional reporting by Abduwelli Ayup.