Australia's treatment of asylum seekers again came under fire from protesters in Canberra on Thursday.
The Whistleblowers, Activists and Citizens Alliance claimed responsibility for the demonstration. A banner was hung by demonstrators who descended by rope down the front of the building.
The banner read "Close the Bloody Camps Now. Justice4refugees." The water in the fountain in front of the parliamentary building was turned red with dye.
Twenty more protesters gathered in a public area in the center of the House and demanded Australia resettle refugees who tried to reach its shores. They were forced into a lift by security officers and sent to the basement of the building.
One protester said "We are here today because your policies are breaking our hearts."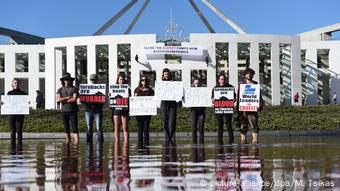 Protesters called for justice for refugees
Parliamentary intrusion
On Wednesday, some 30 demonstrators had shouted from a public gallery in Parliament House to drown out the House of Representatives where lawmakers were holding a daily question and answer session.
The Speaker, Tony Smith, adjourned the session for 40 of its scheduled 90 minutes after the first question was asked. Government Minister Christopher Pyne described the disruption as "the most serious intrusion into the Parliament" in 20 years.
Australia has refused to ever resettle refugees arriving by boat from Indonesia. The policy is intended as a deterrent. People arriving by boat have been sent to camps in the Pacific island nations of Nauru and Papua New Guinea where conditions have been criticized by rights groups.
Earlier this month, Australia was reported to have reached a deal with the US for hundreds of asylum seekers on the Pacific islands to be allowed to go to the USA.
jm/gsw (dpa, AP)