Refugees being held at controversial detention facilities on two isolated Pacific islands will be resettled in the United States, Australian Prime Minister Malcolm Turnbull said Sunday.
Asylum seekers who try to reach Australia by boat are sent to detention facilities on Papua New Guinea's Manus Island and in the small island nation of Nauru. Under Australia's strict border policy, they are prevented from receiving asylum even if found to be refugees.
"The arrangements with the United States will offer the opportunity for refugees, both on Nauru and Manus, to be resettled," Turnbull told reporters in Canberra. "It is a one-off agreement. It will not be repeated ... Our priority is the resettlement of women, children and families."
Australia has come under international and domestic pressure over the detention camps, where some refugees have been stuck in limbo for more than three years.
Rights groups have criticized Australia, citing bad conditions and mental health problems associated with what amounts to keeping refugees in indefinite detention on the islands.
US Secretary of State John Kerry confirmed the resettlement deal, saying "we in the United States have agreed to consider referrals from [UN refugee body] UNHCR on refugees now residing in Nauru and in Papua New Guinea.
"We know that these refugees are of special interest to UNHCR and we're very engaged with them on a humanitarian basis there and in other parts of the world," he told reporters in New Zealand on Sunday.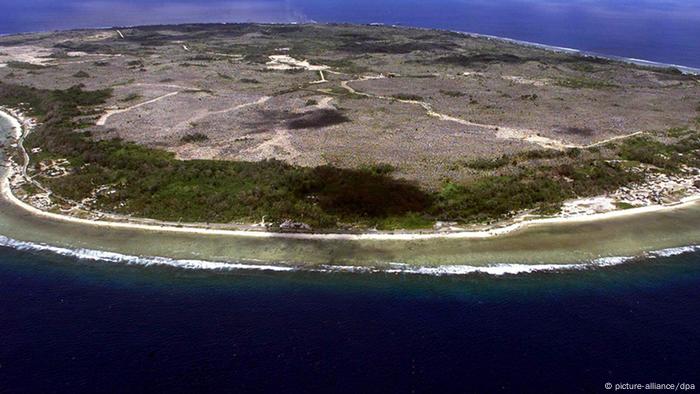 Nauru's environment has been destroyed by strip mining of now depleted phosphorus
Many refugees from Middle East, Asia
It was unclear how the resettlement deal would proceed, with Donald Trump taking over the White House on January 20 after winning the US election this week. Trump campaigned on an anti-immigration and anti-Muslim policy.
Many of the refugees on the islands are Muslims from the Middle East and Asia.
The Australian and US governments did not say how many refugees were part of the resettlement plan.
But Turnbull said the agreement was reached much earlier. "There is a great deal of preparation and planning that has gone into it and, indeed, in leading up to this announcement."
Out of more than 2000 applications, about 675 asylum seekers on Manus and another 941 on Nauru have received initial or final refugee status, according to Australia's immigration department.
Asylum seekers whose applications are denied will be sent back to their countries.
Refugees who refuse to go to the United States will be offered 20-year residency on Nauru, a poor and environmentally destroyed island. The Australian-funded detention center is now the island's main source of income.
Papua New Guinea has said it will close the detention center on Manus.
Australian Immigration Minister Peter Dutton said the deal was not an incentive for people smugglers to send boatloads of people to Australia. Future boat arrivals will not be eligible for the deal.
cw/cmk (AFP, AP, dpa, Reuters)