Rates of incarceration, substance misuse and psychological distress are rising or stagnating among indigenous Australians, an official report released on Thursday said.
The report by the Productivity Commission, entitled "Overcoming Indigenous Disadvantage," highlighted the fact that Aboriginal Australians still suffer from disproportionate detriments at many levels.
According to the report, the incarceration rate among adult indigenous people rose by 77 percent between 2000 and 2015, while that of juvenile detentions decreased, but was still 24 times higher than for non-indigenous Australians.
As of June 2015, Aboriginal and Torres Strait Islanders made up just over a quarter of the total Australian prisoner population of 36,134, according to the Australian Bureau of Statistics - a highly disproportionate figure in view of the fact that these indigenous peoples make up less than 3 percent of Australia's population of 24 million.
High suicide rate
The report also said the rate of hospitalization of indigenous Australians for self-harm had increased by 56 percent over the decade 2005-2015.
The figure highlights Australia's problem of an extremely high suicide rate among the indigenous populace, with up to 10 per cent of all indigenous deaths caused by people taking their own lives.
Among the positive trends noted in the report was an improvement in mortality rates and an increase in the number of children finishing school.
But family and community violence rates had stagnated between 2002 and 2014-2015, according to the report, affecting around one in five of the adult indigenous population.
'Shocking and shameful'
The findings contained in the report caused politicians and activists to voice deep concern.
An indigenous leader from Western Australia, Senator Patrick Dodson, called the high rates of suicide "shocking and shameful."
"Indigenous people die as a result of suicide at twice the rates of non-indigenous people," he said, adding that politicians had been too slow in addressing urgent issues facing the indigenous communities.
"The disproportionate levels of income disparity, family and community violence are exposing the next generation to an endless cycle of poverty, exclusion and a sense of hopelessness."
The minister for indigenous affairs, Nigel Scullion, called the findings in the report "disturbing," and criticized a lack of action on the part of authorities.
"For too long, Canberra has been coming up with solutions that aren't underpinned by a strong understanding of what is happening out in the communities," he told reporters.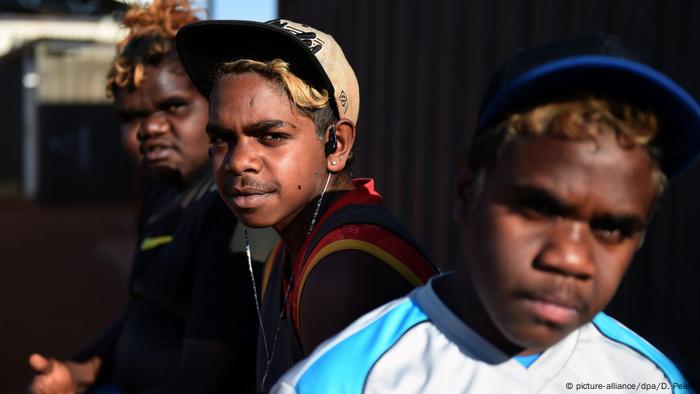 More Aboriginal children are completing school, but can suffer from feelings of hopelessness
Disturbing reports
Australians have been recently shocked by reports of a series of 19 suspected suicides in one remote Western Australia town over a period of three months, including that of a 10-year-old girl.
A documentary released in July also caused outrage when it highlighted the treatment of some indigenous juvenile detainees in a correctional center in the Northern Territory, among other things showing a photo of one teenage detainee strapped to a mechanical restraint chair.
Prime Minister Malcolm Turnbull admitted this year that too little was being done to remedy an "unacceptably wide" disparity in life expectancy between indigenous and non-indigenous people.
tj/msh (dpa, AFP)