On an early Saturday morning, the normally boisterous classrooms at the Kautilya Sarvodaya Bal Vidyalaya school in South Delhi are eerily silent. Dozens of students sit straight-backed in their chairs, their eyes closed and hands on their knees. The only sound is the whirring of the ceiling fan.
There isn't a textbook in sight. The blackboard says "happiness class" with a big smiley face next to it. "Release all your tensions, focus on your breath. Imagine you are doing something that makes you really happy," class teacher Akhilesh Chouhan murmurs as she walks through the rows.
Read more: How does the world's second most populous nation speak?
In the next classroom, another teacher, Muhammad Khan, leads the students through a "gratitude exercise." He asks the students, one by one, to think deeply about what they feel thankful for today.
"My mother cooked me lunch with my favorite vegetable," says 11-year-old Ankita. "I'm grateful to her."
"My father took me to the park to play cricket," Varun, another student, says. "I'm thankful he spends time with me even though he has to work everyday." There's a discussion among the students about being grateful to the sweepers and cleaners who maintain the school clean and keep it tidy.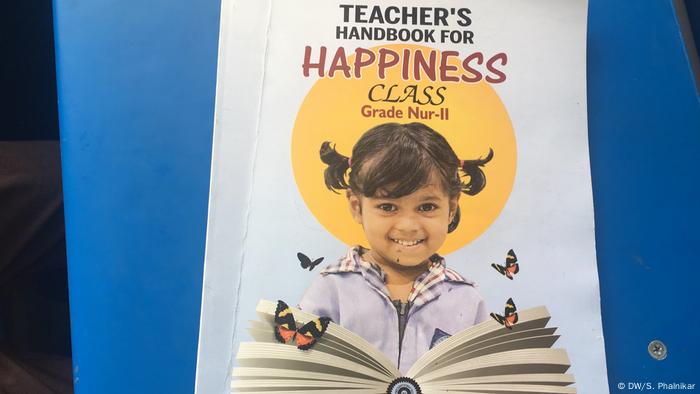 It's a revolutionary experiment in a country known for its rigid, bookish education system
Cripplingly high stress level
The 45-minute "happiness" class is meant to help students feel relaxed, reflect on the positives in their day and cope better with their lives. There are no textbooks, no tests and no homework, marking a radical shift of emphasis from student performance to well-being.
An initiative by the Delhi government, the happiness curriculum was launched by the global peace icon Dalai Lama, who lives in exile in India. It's been rolled out in 1,000 government schools across the Indian capital and covers meditation exercises, inspirational stories and activities. About 50,000 teachers have been trained and nearly a million children are attending classes.
Read more: India aerospace: 'Nothing can stop us'
It's a revolutionary experiment in a country known for its rigid, bookish education system which places intense pressure on students to score high marks and encourages rote learning and cramming. Many blame the resulting stress, anxiety and cutthroat competition to get into prestigious schools and colleges for a rash of student suicides.
"We are churning out doctors and engineers and accountants who are ambitious and competitive," said C.S Verma, principal of the Kautilya Sarvoydaya Bal Vidyalaya school. "But are we giving any thought to whether we are producing decent, good, kind human beings?"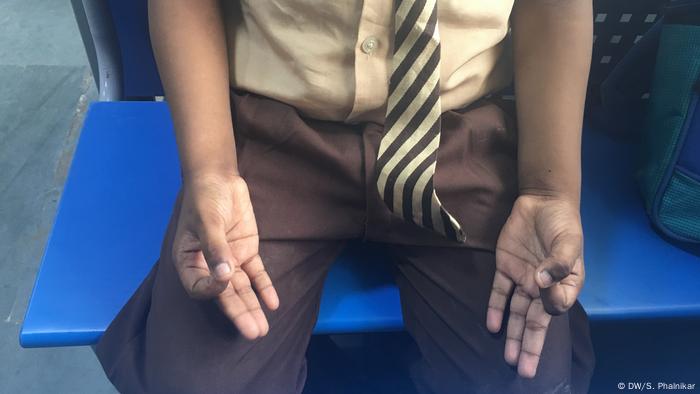 The classes are meant to help students feel relaxed, reflect on the positives in their day and cope better with their lives
Overhauling shambolic schools
This is a question that has nagged educators working with the Delhi government to overhaul the city's government schools which, like elsewhere in the country, have suffered for years from ramshackle infrastructure, poor teaching and neglect.
In recent years, the government led by the Aam Admi Party (Common Man's Party) has hiked spending on education, which now accounts for 26 percent of Delhi's 2018 budget. Experts have pushed through a raft of new ideas such as special classes for children falling behind, improved facilities and encouraging parents to be more involved in running the school. Happiness classes are part of that makeover.
"Our entire education system is geared towards scoring high marks and passing exams but there is no focus on encouraging students to think, to reflect on their own actions and the impact they have on society," said Atishi Marlena, a former adviser to the Delhi government and a driving force behind the city's education reforms.
"This is about an overall socio-emotional education for children. The aim is simply to have happier and well adjusted students and even teachers," she told DW.
India's unhappiness
India is among the world's least happy nations, and ranked 133 out of 155 countries in the World Happiness Report of 2018.
The Delhi experiment is inspired by India's next-door neighbor, Bhutan. The small Himalayan country pioneered a "gross national happiness" index in the early 1970s to measure its development, as an alternative to the widely used gross domestic product indicator. In 2009, Bhutan introduced a "happiness" curriculum. Since then, at least 12 countries, including Peru and Mexico, have experimented with similar classes in schools.
In Delhi, the happiness classes take on an added significance. Most of the children at government schools come from poor economic backgrounds. They often struggle with broken homes, single parents, domestic violence or alcohol abuse.
"Almost half of the children in government schools are first-generation learners," said Marlena. "They often face so much stress at home that learning is a challenge."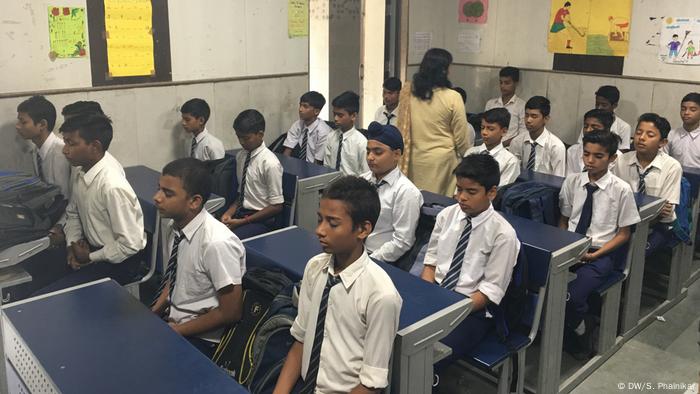 'The whole aim is to get students more concentrated and engaged,' said teacher Akhilesh Chouhan
Don't worry, be happy
It's been less than a month since the happiness classes were introduced. And some say there's already been a perceptible change.
"The whole aim is to get students more concentrated and engaged," teacher Akhilesh Chouhan, told DW. "I can already feel that many students show more interest. Many now come regularly to school and they participate more."
The walls of the school also bear inspirational messages by the Dalai Lama, among others.
"I've learned in the happiness class to have more faith in myself and to enjoy school," said Pritha, a seventh-grade student. "I don't have to always worry about homework."
Principal C.S Verma said it's just the beginning and that it will take time before the impact of the happiness classes can be assessed. He does, however, have one regret.
"I really wish these happiness classes had been there when I was in school," the 46-year-old laughed. "For me, the most important thing is that they put a smile on your face."