Merkel told the biannual Protestant convention on Friday that protecting Germany's 80 million residents from terrorist threats was a key factor for her when weighing up security versus data privacy.
Numerous recruits of the jihadists "Islamic State" ("IS") militia - which since last year has seized swathes of Syria and Iraq - came from Germany and Europe, she said.
"We are all exposed to great threats," Merkel said, adding that in Germany more value was placed on data privacy than in the United States.
"Despite this I as chancellor must ensure that we can live securely. That requires a lot of weighing up," she said, adding that for her it came down to the question - how much do intelligence services need to know?
Alarm in Europe over surveillance
Her remarks follow hefty criticism in Germany over disclosures that the US National Security Agency (NSA) conducted surveillance of European businesses and politicians with help from the German BND foreign intelligence agency.
Last week, her coalition cabinet comprising conservatives and center-left Social Democrats adopted revised draft legislation to reintroduce data retention for police probes into severe crimes.
Telecoms would log phone and Internet usage for 10 weeks. Privacy advocates and publishers are strongly opposed. Parliament is to debate the proposal next month.
"We must keep open - in view of the current threats - this option to backtrack through communications," she said. "I would feel more secure, if we had such a law."
Rules needed for Internet
Merkel, herself Protestant-born, told the convention that digitalization of daily life offered opportunities but required framework conditions.
"Let us be curious about the new world, but let us not forget the standards in the federal republic that have made a good life worth living," she said.
The existence of Facebook, like cars or an "ordinary washing machine," did not automatically generate joy, Merkel said, referring to drawbacks of technical systems.
It was erroneous to believe that anything goes in the Internet, she said. Just as in real life, freedom online should be proscribed by rules, for example, to respect the dignity of the individual.
Big data opportunities for Europe
She also appealed to German and European industry to quickly adopt "big data" analytical methods to assess consumer trends.
The market should not be left over to American information technology concerns, such as Google and Facebook, she added.
Dublin asylum policy 'no longer works'
On asylum and Mediterranean boat migrants, Merkel's interior minister, Thomas de Maiziere, told the convention that Europe needed reforms.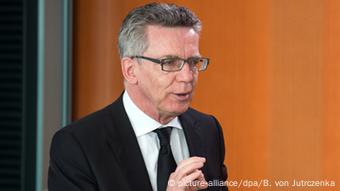 De Maiziere disfavors "church asylum"
"The Dublin system no longer works," de Maiziere said, referring to the EU practice begun in 1997 that an asylum-seeker's application must be dealt in the first EU country entered.
De Maiziere reiterated the German government's belief that asylum-seekers must be distributed among all EU countries.
On Thursday, Katrin Göring-Eckardt, who chairs the opposition Greens parliamentary grouping in the Bundestag, said the offer of "church asylum" by some parishes in Germany did not amount to a breach of the law.
"On the contrary, church asylum provides the opportunity for justice to be fulfilled," she said, referring to asylum procedures.
De Maiziere on Friday reiterated his view that church asylum was overused. Church communities should only use it as an "ultima ratio" last-course of action, he said.
ipj/kms (dpa, epd, KNA)