On Saturday, Costa Rica's Immigration Director Kathya Rodriguez said 56 Cuban nationals were being held in the capital city of San Jose, in preparation for their imminent removal.
Officials said they had entered the country illegally after Costa Rica stopped issuing special transit visas on December 18 for Cubans who are trying to get to the United States. The government warned that any migrants found in Costa Rica without the correct paperwork, would be deported.
Near crisis point
Over the previous month, Costa Rica issued almost 8,000 transit visas to Cubans who crossed the southern border from Panama. Its leaders have attempted to broker a regional deal to allow their safe passage to US territory amid a growing migrant crisis.
But its tighter admission policy comes after thousands of Cubans fled their island in recent months in an urgent attempt to reach the US.
Many fear that the American policy of automatically accepting them as refugees may soon come to an end due to a thawing of relations between Washington and Havana. Thousands of them have paid trafficking rings for help in reaching the US.
Managua's firm stance
Last month, Nicaragua closed its border with Costa Rica to Cuban migrants, citing security risks after officials said that hundreds of people had "stormed" its frontier. Nicaragua's government has accused Costa Rica of provoking a "humanitarian crisis" by allowing the migrants to leave.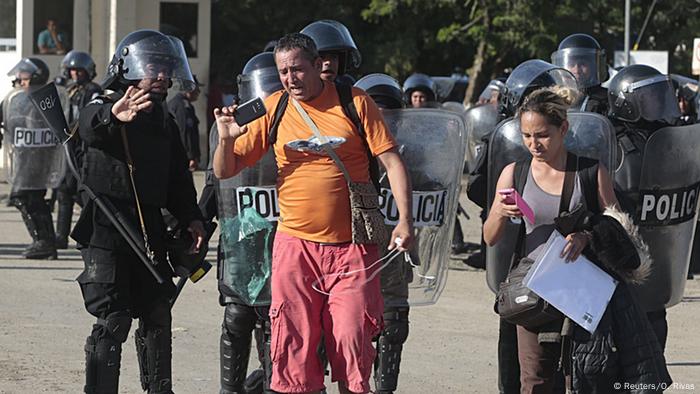 Cuban migrants are being turned away from Nicaragua's border with Costa Rica
As many as 8,000 Cubans have been stranded in the northern part of Costa Rica since Nicaragua's clampdown.
Before Christmas, the Red Cross warned that the continued blocking of US-bound Cubans could "spin out of control" on the neighbors frontier, as well as between Costa Rica and Panama to the south.
It called on Costa Rica to issue visas to approximately 2,000 Cubans stranded at the southern border town of Paso Canoas, adding that it didn't have enough temporary shelters for the numbers of migrants arriving.
No solution yet
On Tuesday, migration officials from Central American states and the US held a meeting in Mexico City to discuss the problem, but no solution was found.
Although Mexico has promised to allow the Cubans to pass through its territory en route to the US, other Central American countries - including Guatemala - have rejected the proposals
Guatemala's Vice President Alfonso Fuentes said there were no humanitarian grounds for allowing the US-bound migrants to enter his country.
"They are not politically persecuted people, just people who want to join their families in the United States or who are looking for a better economic life," he told a news conference, last week.
mm/rg (AP, AFP, dpa)