Nicaragua has sent thousands of Cubans back to Costa Rica after the US-bound migrants stormed the border, accusing San Jose of sparking a crisis. Cuban influx fueled by rumors US will reverse its liberal asylum policy.
Nicaragua closed its border with Costa Rica Sunday, blocking hundreds of Cubans headed for the United States and stoking diplomatic tensions over a growing wave of migrants trying to reach the US.
"The Costa Rican government, in a deliberate and irresponsible action, hurled and continues hurling thousands of Cuban citizens at Nicaragua's southern border posts," leftist President Daniel Ortega's government said in a statement.
There has been a recent surge in Cubans seeking to reach the US since relations have begun to normalize between Washington and Havana. The warming of ties has raised sparked rumors that the US would likely end its liberal policy of granting residency to Cuban immigrants arriving overland.
Costa Rican Foreign Minister Manuel Gonzalez told reporters that Nicaragua's closure of the border would only play into the hands of smugglers and accused security forces of brutality in trying to prevent hundreds of desperate migrants from crossing the frontier.
It also accused Nicaraguan police used tear gas on hundreds of people Sunday. Officials in San Jose also cited unconfirmed reports that shots were fired and that two women and a small child had been wounded.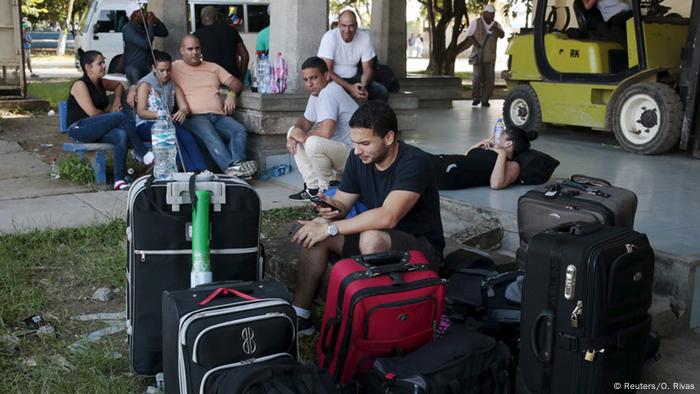 Nicaragua closed its border with Costa Rica to hundreds of Cubans headed for the United States
Parallels with Balkan Route
In many ways, the scenes have parallels to Europe's refugee crisis as refugees fleeing war, poverty and strife transit impoverished Balkan countries on their way to prosperous European countries like Germany and Sweden.
"We don't want to stay in any of these countries, our aim is to reach the United States, that's our objective," 33-year-old Cuban migrant Alexei Cabezas told the Reuters news agency as he and others were held back by Nicaraguan border police.
A group of about 2,000 people remain stranded on Costa Rican soil after authorities broke up a smuggling ring that had been charging as much as $15,000 (14,000 euros) for passage to the United States.
The smuggling gang had arranged for Cubans to fly to Ecuador before working their way up through Colombia and Panama. Now many are stuck on the Costa Rica-Nicaragua frontier trapped amidst a diplomatic stalemate.
jar/jil (Reuters, AFP)