All updates in Universal Coordinated Time (UTC/GMT)
23:34 UK Prime Minister Boris Johnson has pledged 2 billion pounds (€2.2 billion, $2.6 billion) to promote a healthier lifestyle for British citizens through walking and cycling projects in England. The move seeks to capitalize on the shift away from cars during the pandemic.
"From helping people get fit and healthy and lowering their risk of illness, to improving air quality and cutting congestion, cycling and walking have a huge role to play in tackling some of the biggest health and environmental challenges that we face," said Johnson.
The announcement came soon after the government revealed its plans to ban television and online advertisements for junk food before 9.00 p.m., the latest in a string of measures taken by the UK to tackle "the obesity time bomb."
The government plans to build protected bike routes and scale-up cycling infrastructure with the aim of creating at least one "zero-emission transport city center."
21:55 Sri Lanka is bringing back top-level cricket with a new premier league tournament slated for next month. Scheduled to start on August 28 and end on September 20, the Lanka Premier League (LPL) will involve five teams playing 23 matches at four locations.
"Over 70 international players and 10 top-notch coaches have already confirmed their availability to take part in this tournament along with leading Sri Lankan national players," the country's cricket board said in a statement.
Sri Lanka currently requires everyone entering the island to stay at state-managed quarantine centers for two weeks, followed by another two weeks of self-quarantine. The board did not clarify if players signing up for LPL will be exceptions to this rule.
Cricket is returning to the screens after months, with major events like the Indian Premier League (IPL) due to start in the United Arab Emirates (UAE) later in September. UAE requires visitors to self-isolate for two weeks after arrival.
21:33 The International Monetary Fund (IMF) has given the green light for $4.3 billion (€3.66 billion) worth of aid for South Africa in its battle against the pandemic.
"The IMF approved $4.3 billion in emergency financial assistance under the Rapid Financing Instrument (RFI) to support the authorities' efforts in addressing the challenging health situation and severe economic impact of the COVID-19 shock," the lender said in a statement.
South Africa is the continent's most-industrialized economy and has the largest number of COVID-19 infections, registering almost 450,000 cases, with 6,769 people dying from the novel virus.
South African Finance Minister Tito Mboweni forecast in June that the country's economy would shrink 7.2% this year, which would represent its biggest slump in almost a century and compared the increasing public debt to a "hippopotamus... eating our children's inheritance."
Upon news of the IMF injection, Mboweni said in a statement: "Going forward, our fiscal measures will build on our policy strengths and limit the existing economic vulnerabilities which have been exacerbated by the COVID-19 pandemic."
20:41 As numbers of coronavirus infections surge in Kenya, President Uhuru Kenyatta on Monday announced a 30-day 9:00 p.m. to 4 a.m. curfew, yet he stopped short of ordering a lockdown.
Kenyatta made the announcement in a televised address to the nation some 21 days after relaxing partial lockdown restrictions in the cities of Nairobi and Mombasa, saying, "I said that I would not hesitate to re-escalate again if reckless behavior was widespread."
He urged citizens to take the virus more seriously and clamped down on the sale of alcohol at restaurants as well as ordering bars to remain closed. Kenyatta said the risk of infection was raised by "socializing without regard for protective behavior, particularly in environments serving alcohol."
Kenya, which has registered some 17,603 infections and 280 deaths so far, saw its single biggest day of recorded cases, 960, on Sunday.
19:30 Bavarian State Health Health Minister Melanie Huml (CSU) announced that a mobile testing site will be set up for residents in Mamming, a village of 3,300, to undergo voluntary testing. The move comes after 174 seasonal migrant workers from Hungary, Romania, Bulgaria and Ukraine tested positive on a local cucumber farm.
Bavaria's state government said it would launch widespread tests at comparable farms nearby.
On Monday, the state of Schleswig-Holstein said that it had declared the Mamming district a high-risk area and would require visitors from the region to register with state health officials as well as abiding by a 14-day mandatory quarantine. Those travelers who can provide a negative coronavirus test less than 48-hours old will be exempted from the quarantine rule.
18:50 US tech giant Google says it will allow almost all of its 200,000 employees to work from home for at least another year. The move was announced in a company memo by CEO Sundar Pichai, who wrote, "To give employees the ability to plan ahead, we'll be extending our global voluntary work from home option through June 30, 2021."
17:35 Clemens Fuest, president of the IFO Institute for Economic Research, told DW that German business confidence was recovering faster than initial forecasts following the nosedive triggered by efforts to stop the spread of coronavirus.
"There are some positive signs," Fuest said. "Consumer spending in Germany seems to be coming back. In some retail sectors, we seem to have good numbers as the economy opens up."
However, Fuest noted that there had been "considerable damage" to the labor market. Businesses expect the recovery to take a year, he added.
"Most businesses say they expect it to take between 10 to 12 months before they expect a return to normal. But that depends on what happens in the autumn. Is there going to be a second wave?"
17:20 Two Major League Baseball games have been called off after cases were recorded within the teams. The Miami Marlins canceled Monday's game against the Baltimore Orioles with a minimum of 14 of its players having tested positive.
The Marlins remain in Philadelphia, where they played on the weekend. The incident has also caused the cancellation of the New York Yankees game against Philadelphia on Monday evening as well, as the visiting Yankees would have been in the visitor's clubhouse used by the Marlins.
Two players from the Atlanta Braves also showed COVID-19 symptoms after an exhibition game at home against the Marlins last Tuesday, though it is not known whether the incidents were connected.
MLB is attempting to stage a greatly shortened 60-game regular season due to the virus, with games played in empty stadiums, yet some question the league's ability to keep players and staff members safe.
17:00 Days after deciding to offer the tests for free but not to make them obligatory at talks with state health ministers, German Health Minister Jens Spahn now says the tests at airports will be mandatory after all for anyone returning from high-risk areas.
As the summer tourism season kicks into gear, Europe has witnessed a surge in cases in Spain, France and parts of Germany.
"We must prevent returning travelers from infecting others unnoticed and thus triggering new chains of infection," Spahn said in a tweet. "I will therefore order compulsory testing for travelers from risk areas."
The German Health Ministry said the measures would go into effect next week. The tests would be free of charge. Returnees from other areas will also have free tests made available to them, albeit not on site at airports. The plans did not account for arrivals visiting Germany.
Germany has reported more than 206,000 confirmed cases of the novel coronavirus. German authorities have managed to keep the death toll relatively low with just over 9,200 deaths.
14:13 Donald Trump's National Security Advisor has tested positive for COVID-19, the White House said in a statement.
"He has mild symptoms and has been self-isolating and working from a secure location off site," the statement read. "There is no risk of exposure to the President or the Vice President."
According to Bloomberg News, Robert O'Brien came down with the novel coronavirus at a family event. He is the most senior US official to test positive since the pandemic began.
Two other officials, Pence's press secretary and a personal valet to the president, tested positive for the virus in May. More than 4 million people have contracted the virus in the US, and infection rates have been climbing in several states in the country since mid-June.
12:55 Famed Indian actress Aishwarya Rai Bachchan and her 8-year-old daughter Aaradhya have recovered from COVID-19 and been released from hospital after a 10-day stay, Rai's husband and fellow actor Abhishek Bachchan said on Twitter on Monday.
"Aishwarya and Aaradhya have thankfully tested negative and have been discharged from the hospital. They will now be at home," he wrote in a tweet, adding that he and his father Amitabh, 77, also a renowned actor, were still receiving care in hospital.
The Bachchans, often described as Bollywood's "first family," tested positive for the coronavirus in mid-July in what is one of the most high-profile cases of the disease in India. The country has recorded more than 1.4 million people infected and nearly 33,000 deaths so far.
11:17 Trials for a coronavirus vaccine in the US are underway, with 30,000 adults set to be tested. The trial, known as COVE, is assessing a coronavirus vaccine developed by US biotechnology firm Moderna Inc.
The trial is the first to be implemented under the US government's Operation Warp Speed that aims to accelerate the development, manufacturing and distribution of cures and vaccines for COVID-19.
The federal government is supporting Moderna's efforts with around $1 billion. The vaccine is one the first chosen to enter large-scale human trials.
Read more: Oxford coronavirus vaccine: Will it provide lasting immunity?
11:00 France has introduced nighttime curfews for beaches in the Brittany resort of Quiberon on the Atlantic coast after a worrying COVID-19 cluster emerged last week.
The holiday-peninsula of Quiberon recorded its first COVID-19 case last Tuesday, rising to a total of 54 within a week.
The region has already introduced several lockdown measures to try and stop the virus spreading. On Sunday, authorities said parks and gardens will be closed nightly in a bid to prevent large gatherings of young people in particular.
The mayor of Quiberon earlier made face mask-wearing mandatory in open-air markets and on busy streets, but said the curfew was necessary due to the "fast-evolving situation."
Cases in the country had been falling but health authorities are currently registering more than 1,000 new cases per day.
10:00 Muslims are arriving in Mecca ahead of the Hajj pilgrimage due to begin on Wednesday. The mass holy event usually draws around 2.5 million people but this year only between 1,000 to 10,000 people already residing in Saudi Arabia are being permitted to attend due to the coronavirus pandemic.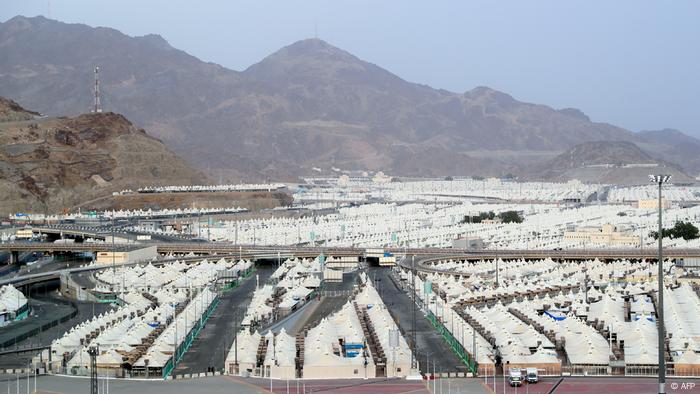 Muslim pilgrims are arriving in Mecca ahead of the dramatically scaled-down Hajj.
09:30 Many countries around the world have developed their own COVID-19 tracing apps in a bid to better track and trace the virus, but are they working?
DW looks into many unanswered questions surrounding the technology, including the effectiveness, functionality and the ethics of such apps. Read more about the technology here: COVID-19 tracing apps proving to be a tricky business around the world
09:15 Brazilian trade unions have filed a complaint against Brazil's President Jair Bolsonaro to the International Criminal Court over human rights abuses during the coronavirus pandemic.
The unions have accused Bolsonaro of neglecting to implement measures to protect the population and is therefore partly responsible for the deaths of tens of thousands of Brazilians, reported the Sao Paulo-based daily newspaper Estado de Sao Paulo on Sunday evening.
This irresponsible behavior breached guidelines advised by international health authorities and is a crime against humanity, said the unions that represent more than one million members.
Bolsonaro has been criticized at home and internationally for his handling of the coronavirus pandemic that has resulted in a death toll over 87,000 — the second highest in the world after the US.
The leader initially called the virus "a little flu" and appeared in public shaking hands with supporters and without a face mask. Bolsonaro later tested positive for COVID-19.
Read more: As coronavirus and deforestation soar in Brazil, groups take Bolsonaro to court
08:25 The British government is closely monitoring the situation in Germany and France, said a lawmaker, as transmission rates rise again in the two countries.
"We have to keep the situation under review and I think that is what the public would expect us to do," junior health minister Helen Whately told broadcaster Sky when asked about Germany and France possibly being next to face a quarantine.
"If we see rates going up in a country where at the moment there is no need to quarantine if we see the rates going up, we would have to take action because we cannot take the risk of coronavirus being spread again across the UK," she said.
The British government has abruptly imposed a two-week quarantine on travelers returning from Spain after a surge in cases.
Meanwhile, the government unveiled a plan to combat obesity after research showed those who are obese or overweight are at increased risk of death or severe illness from the coronavirus.
08.00 Spain has insisted it is safe, despite new clusters breaking out at popular holiday spots.
"Spain is safe, it is safe for Spaniards, it is safe for tourists," Foreign Minister Arancha Gonzalez Laya told reporters.
Some European nations were warning citizens not to visit Spain and Britain imposed a quarantine of travelers returning from Spain after a surge in cases.
Recent outbreaks in the northeast regions of Catalonia and Aragon have prompted authorities to tighten restrictions in Barcelona, as well as rural areas around Lleida and in Zaragoza. Catalonia's regional leader Quim Torra is threatening still stricter measures if the situation in the region does not improve in the next 10 days.
Catalan authorities on July 17 advised some four million people to remain home and leave only for essential trips, banned
gatherings of more than ten people and limited the occupancy of bars and restaurants.
Spain suffered one of the most deadly first infection waves in Europe. Latest figures for the country show 28,432 deaths from the virus and over 270,000 infections.
07:25 There is no evidence that a defector who supposedly returned to North Korea, sparking a pre-emptive lockdown in a border town was infected with the novel coronavirus, news agency Yonhap reported, citing South Korean health authorities.
"The person is neither registered as a COVID-19 patient nor classified as a person who came in contact with virus patients," senior health official Yoon Tae-ho said in a briefing.
North Korean state media said Sunday an individual who had illegally crossed the heavily-fortified border from South Korea was suspected of having COVID-19 — the first virus case officially confirmed by Pyongyang.
The secretive North Korean dictatorship called an emergency meeting in response and imposed a pre-emptive lockdown on the border town of Kaesong, following the person's return to the country.
Until now, the Pyongyang government has maintained the country has recorded no coronavirus infections. But little is known about the true health situation in the country.
Analysts believe the North, which has close links to China where the virus first broke out, is likely to already have cases.
07:00 China has reported its highest number of coronavirus cases in three months, after clusters broke out in separate regions, sparking concerns over a second infection wave.
Chinese authorities announced 61 new cases, including 57 domestic cases. The majority of these were in the far northwestern Xinjiang region — heartland of the Turkic-speaking minority Uighur people.
An outbreak in the provincial capital Urumqi occurred in mid-July.
Authorities have declared "wartime mode" lockdown measures to combat the spread of the deadly contagion. In Urumqi and northeast port city Dalian, officials have begun rolling out mass testing programs.
06:15 Irish budget airline Ryanair reported a first-quarter loss after seeing flights grounded and passenger numbers drop dramatically during the global pandemic.
After taxation, the airline saw a loss of €185 million ($216 million) in the three months to the end of June, it said in a statement. This is compared with net profit of €243 million during the same period in 2019.
Passenger numbers fell by 99% to 500,000 people compared with 42 million a year earlier. More than 99% of the airline's fleet remained grounded during this period.
"The past quarter was the most challenging in Ryanair's 35-year history," the carrier wrote in a statement.
Read more: How is coronavirus changing air travel?
06:00 Hong Kong has banned dining in at restaurants as part of a raft of new measures announced by authorities amid a rise in infections.
The Executive Council at an extraordinary meeting has also mandated face masks wearing in all public spaces, both outdoors and indoors, Hong Kong's Now TV reported.
The measures will come into effect on Wednesday.
The semi-autonomous territory reported close to 140 new cases of COVID-19 in the past 24 hours as well as one death linked to the virus, taking its death toll to 20, according to the Ming Pao newspaper.
On each of the past six days, numbers of new infection cases in Hong Kong have crossed 100.
05:35 Around 80,000 people, mostly local tourists, are being evacuated from Vietnam's central city of Danang after three residents tested positive for the coronavirus at the weekend, the government announced in a statement.
The evacuation will take at least four days with domestic airlines operating approximately 100 flights daily from Danang to 11 Vietnamese cities.
The southeast Asian country is on high alert after the government on Saturday confirmed its first community infections since April, and another three cases on Sunday, all in the tourism hot spot of Danang.
So far, the country has kept infection rates low, with just 420 confirmed cases and no confirmed deaths.
05:20 The price of gold has surged to a record high above $1,926 per ounce (€1,646 per 31.1 grams) amid growing concern over the coronavirus pandemic and geopolitical tensions between China and the US.
Gold rose more than $30 to $1,926.20 by early afternoon in Asia. It added 1.5% after on Friday breaking its previous record high of $1921 that it reached in September 2011, following the attacks on the US World Trade Center.
Precious metals, along with bonds, often are seen as stores of value during periods of global uncertainty. During the pandemic, prices of gold and silver have jumped.
Read more: Will the gold price surge spur high-value mine discoveries?
05:00 More and more German lawmakers want compulsory testing for returning holidaymakers at German airports. The calls follow Health Minister Jens Spahn's announcement that such testing needs to be legally reviewed before being adopted.
Spahn told Deutschlandfunk that requiring someone to take a test was "an intervention on freedom," while attributing the significant rise in new infections primarily to "travel activities."
Christian Social Union (CSU) state leader Alexander Dobrindt told the Bild daily that tests should be compulsory for travelers returning from high-risk areas. If such a policy was not currently legally possible, then "a corresponding law should be created," he said.
The leader of the business-friendly Free Democrats (FDP) Christian Lindner told public broadcaster ZDF he was in favor of compulsory testing, particularly for those returning from high-risk areas. Linder said "whoever freely chooses, as a tourist, to put themselves at risk should have to accept that they should pay for their own test."
Walk-through testing stations are already in operation at Germany's Frankfurt and Munich airports, but there is no obligation for passengers to participate. Another voluntary test station is set to begin operation today at Leipzig/Halle airport in eastern Germany.
03:52 Germany reported 340 new coronavirus cases on Monday, bringing the total to 205,609, according to the Robert Koch Institute (RKI) for infectious diseases.
The highest number of deaths and new infections happened in April, with a steady decline since.
The recent rise in number of infections in Germany has been a worrying trend, but the number of deaths has remained relatively low at 9,118, with no new deaths reported during the weekend. Michael Kretschmer, premier of the eastern state of Saxony warned on Saturday that "the second coronavirus wave is already here."
02:59 Legendary Berlin club Berghain has opened its doors again, but not for dancing. The club now houses a sound exhibition, with soft city noises, murmuring, and the whirring of helicopter blades. Only 50 people are allowed at a time, to maintain social distancing.
The sound exhibition, "Eleven songs - Hall at Berghain," the brainchild of artistic duo Sam Auinger and Hannes Strobl, will be open for visitors until next Sunday.
While restaurants and museums have been allowed to resume work in Berlin, the city's well-known night clubs have yet to open their doors.
01:30 The Australian state of Victoria reported six new deaths and a record-high daily jump of 532 cases on Monday. Five of those deaths were connected to an outbreak at a nursing home.
Victoria Premier Daniel Andrews said the biggest driver of the new infections was people continuing to go to work after showing symptoms.
''This is what is driving these numbers up and the lockdown will not end until people stop going to work with symptoms and instead go and get tested,'' he said.
Sunday was the deadliest day for Australia's second most populous state, with ten new deaths. A resurgence of cases has forced Victoria to impose a six-week lockdown.
Prime Minister Scott Morrison called for patience in Victoria. ''There has been significant community transmission in Victoria. That will take some time to get on top of,'' Morrison said.
00:53 The US has doubled its funding for a potential vaccine for coronavirus to almost $1 billion (€850 million). The vaccine is being developed by American pharma company Moderna, which begins the key final phase of clinical trials on Monday.
In addition to a previous $483 million, the government has added another $472 million. Moderna said this would help them significantly expand clinical trials, to include 30,000 more participants. The company's previous trials with 45 participants produced antibodies in all patients.
00:49 Britain announced plans to tackle an "obesity time bomb." This will put a ban on junk food advertisements before 9 pm on TV and online. The campaign would also end "buy one get one free" deals, and force restaurant owners to put calorie counts on items in their menus.
The move comes after Prime Minister Boris Johnson lost weight after being in intensive care during his treatment of COVID-19 in April. Johnson is moving away from his disregard of what he calls "nannying" politics, after finding out that obesity can put people at a higher risk for the virus.
00:03 Young people make up the clear majority of new coronavirus infections in Canada, the country's health authority has said.
"Recent national surveillance data show that young adults aged 20-39 years of age account for the highest incidence rates across all ages in Canada," the country's chief public health officer Theresa Tam said in a statement.
The incidence rate was highest among young men and women aged 20-29, followed by those aged 30-39.
"Younger Canadians are not invincible" to the disease, Tam warned.
Read more: Coronavirus in Germany: Are young people truly to blame?
Among cases of COVID-19 reported in Canada last week, 63% involved people under the age of 39, Tam said. Roughly one-third were hospitalized.
Canada has recorded around 113,800 cases of coronavirus and 8,900 deaths.
00:00 Catch up on Sunday's coronavirus news here.
In reporting on the coronavirus pandemic, unless otherwise specified, DW uses figures provided by the Johns Hopkins University (JHU) Coronavirus Resource Center in the United States. JHU updates figures in real-time, collating data from world health organizations, state and national governments, and other public official sources, all of whom have their own systems for compiling information.
Germany's national statistics are compiled by its public health agency, the Robert Koch Institute (RKI). These figures depend on data transmission from state and local levels and are updated around once a day, which can lead to deviation from JHU.
kp,tg/dj (AP, AFP, Reuters, dpa)