Japan on Sunday reported that four people who had arrived in Tokyo from Brazil were found to be infected with a new variant of the coronavirus.
The four passengers, who landed at Tokyo's Haneda Airport on January 2 from the state of Amazonas, Brazil, tested positive after spending time in the airport in quarantine, Japan's Health Ministry announced.
Takaji Wakita, head of the National Institute of Infectious Diseases, said the variant was different from those already spreading in Britain and South Africa, Kyodo News reported.
The institute reported that there was no evidence at present that the new strain was more contagious.
Of the four, a man in his 40s had been hospitalized after his breathing difficulties worsened, a woman in her 30s complained of a sore throat and headaches, and a male teenager developed a fever.
On Thursday, Prime Minister Yoshihide Suga declared a monthlong state of emergency for Tokyo and neighboring prefectures Chiba, Kanagawa and Saitama, which took effect Friday.
Japan is scheduled to host the Olympics and Paralympics this summer, having been forced to delay the Games by a year because of the pandemic.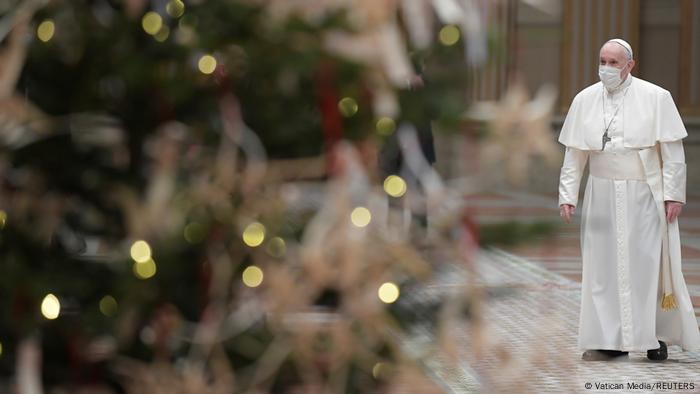 Francis urged people to get the vaccination, calling opposition to the jab "suicidal denial"
Pope Francis has confirmed that he will get vaccinated against as early as next week and called opposition to the jab "suicidal denial."
Francis urged people to get the injection in an interview with an Italian broadcaster.
"There is a suicidal denial which I cannot explain, but today we have to get vaccinated," the pope told the TV station Canale 5.
"I believe that ethically everyone should take the vaccine," he said in excerpts released ahead of Sunday's broadcast. "It is an ethical choice because you are gambling with your health, with your life, but you are also gambling with the lives of others."
The 84-year-old pontiff has part of one lung missing, which makes him more vulnerable to the virus.
The Vatican had earlier announced that it is "morally acceptable'' for the Catholic Church's faithful to receive the coronavirus vaccine, though research involved the use of cell lines from tissue obtained from abortions.
The Vatican, which starts its vaccine rollout next week, has reported at least 27 confirmed cases of COVID-19.
Europe
The number of coronavirus fatalities in Belgium has crossed 20,000, with more than half the deaths from retirement care homes.
The country, with a population of 11.5 million, has recorded 662,694 cases and 20,038 deaths since the pandemic broke out, the Sciensano public health institute reported on Sunday.
Belgium counts all deaths of people who have had a positive COVID-19 test among virus fatalities, giving it one of the world's highest death rates with 1,725 per 100,000 people, according to an AFP tally.
Virus deaths in retirement homes reached 10,270 on December 18, authorities said. In November, Amnesty International reported that the country had "abandoned" care homes.
France on Saturday imposed stricter evening restrictions in several districts, bringing forward the nightly curfew by two hours.
Marseille, Strasbourg and Dijon will now see an evening curfew from 6 p.m., instead of 8 p.m., up till 6 a.m. the following morning.
The tightening of measures comes amid a mounting caseload and fears of a spread of the new UK mutant strain.
Authorities said the new variant had been found in the Mediterranean city of Marseille, prompting tougher restrictions.
France is also facing criticism for the slow rollout of its vaccination drive.
Police arrested nine people in Denmark on Saturday after protests against the country's COVID-19 restrictions took a violent turn in two cities, including the capital, Copenhagen.
The demonstrations saw 200 to 250 people gather in Copenhagen and the northern city of Aalborg, local media reported.
Videos on television and social media showed police in riot gear clashing with protesters who threw bottles and lit fireworks.
On Tuesday, Denmark had announced tougher measures to curb a surge in cases in addition to the partial shutdown that has been in place since December.
Limits on public gathering were lowered to 5 people from 10, and social distancing rules were revised, requiring people to stand 2 meters (6.5 feet) apart instead of 1 meter.
On Friday, the country also banned arrival for foreigners who could not present a negative COVID-19 test result from within the previous 24 hours.
The United Kingdom reported on Sunday that it has helped raise $1 billion (€818 million) from global donors for a campaign to help "vulnerable countries" acquire COVID-19 vaccines, through matching-funds contributions.
The UK also announced that it has pledged £548 million (€608 million/$743 million) to the COVAX Advance Market Commitment (AMC), after adding £1 to every £4 pledged by other contributors.
Germany, Canada and Japan are among the countries to make donations, which the organization matched.
According to the UK's Foreign Office, the fund will facilitate the distribution of a total of 1 billion vaccine doses to 92 developing nations.
"We'll only be safe from this virus, when we're all safe — which is why we're focused on a global solution to a global problem," Foreign Secretary Dominic Raab said in a statement.
The number of confirmed coronavirus cases in Germany rose by 16,946 to 1,908,527, data from the Robert Koch Institute (RKI) for infectious diseases showed on Sunday. The reported death toll rose by 465 to 40,343, the tally showed.

Americas
Cuba will now test its most advanced coronavirus vaccine candidate in Iran, the developer Finlay Institute of Vaccines (IFV) reported on Saturday.
The state-run IFV and the Pasteur Institute of Iran signed an accord on Friday in Havana that will transfer the technology and allow last-stage clinical trials of the Soberana (Sovereign) 2 vaccine in the Islamic Republic.
Cuba has four vaccine candidates in human trials, while Iran started the trials of its first domestic shot in December.
Iranian Health Ministry spokesperson Kianush Jahanpur was cited by local media as saying that 50,000 volunteers would be deployed to carry out the trials.
On Friday, Iran's supreme leader banned the import of US- and British-produced COVID-19 vaccines, saying they were "completely untrustworthy."
Meanwhile, authorities in Havana have tightened virus restrictions, banning interprovincial transport, cultural events and the use of public spaces during the night.
Communist-ruled Cuba has managed to contain the COVID-19 outbreak better than other nations in Latin America, but the cases of infections have increased by more than double since the lockdown restrictions were eased and borders reopened in November.
Brazil's health regulator reported that the application from the Sao Paulo-based medical institute Butantan to begin emergency use of China's Sinovac vaccine lacks some relevant information for a full analysis.
On Saturday, the health authority Anvisa reported that Butantan had not revealed the age, gender or comorbidities of participants in trials with Sinovac's CoronaVac vaccine.
The data on the vaccine's immunogenicity in phase 3 trials were also missing.
In the US, California reported a record high of 695 COVID-19 deaths in a day. The grim tally comes amid a shortage of medical workers in the state.
Health facilities in California are overwhelmed with coronavirus patients and a volunteer program created by Governor Gavin Newsom, at the start of the pandemic, has failed to deliver.
More than 95,000 volunteers had initially signed up for the program, but only 14 are currently working in the field.
Newsom said only a few volunteers met the qualifications for the California Health Corps, and just a fraction of the people have the advanced experience needed to help with the most serious COVID-19 cases.
Middle East
Israel has reported four cases of the new COVID-19 strain first identified in South Africa.
The cases were detected among travelers arriving from South Africa.
The country has already recorded cases of the mutant strain identified in the UK.
Israel is in the middle of a nationwide vaccine drive, with over 70% of Israelis above the age of 60 already inoculated with a first dose, according to data from the Health Ministry.
Prime Minister Benjamin Netanyahu received his second vaccine dose on Saturday.
He said in a brief statement that all Israelis could be vaccinated within two months and "no later than the end of March."
dvv/mm (AP, AFP, dpa, Reuters)