The Robert Koch Institute (RKI) registered 346 new cases released on Monday for the previous 24-hour period. Ten new deaths were also recorded.
A week earlier, the RKI had reported 549 infections. Figures tend to be lower on Mondays owing to reduced weekend testing.
However German Chancellor Angela Merkel warned against premature excitement at a Christian Democrat party event, saying it was necessary to "find the right balance between freedom and caution" as the country starts winding down restrictions.
Merkel said the pandemic would not be over until the whole world was vaccinated.
Here's a roundup of the major coronavirus developments around the world
Africa
The World Health Organization (WHO) announced that it is setting up a "tech transfer hub" in South Africa to enable poor and middle-income countries to acquire the licenses and skills needed to produce mRNA vaccines in less than a year. South African President Cyril Ramaphosa hailed the announcement as "historic," saying the initiative, "will change the narrative of an Africa that is a center of disease and poor development."
Senegal, Rwanda and South Africa are courting investors, "trying to find partners to start manufacturing vaccines on our continent," said Rwandan President Paul Kagame as he addressed the Qatar Economic Forum on Monday. "We are discussing with people who will help with financing and I think in a few months we should hear a different story," he said, suggesting Eurobonds as a possible vehicle for accessing capital.
Americas
Cuba announced on Monday that one of its homegrown COVID-19 vaccines had proved more than 92% effective against the virus in late-stage trials.
The three-dose Abdala vaccine is one of several to be developed on the socialist island that has a history of manufacturing its own medicine under blockade.
The White House on Monday announced the US would not meet its goal of distributing 80 million coronavirus vaccine doses to foreign countries by the end of June. The news came during a press conference on the final allotment of doses in which the US said it will donate 60 million to the COVAX initiative and another 20 million to individual partners.
Meanwhile, 149.7 million people in the US are fully vaccinated, bringing the country closer to its target of 150 million Americans vaccinated, according to the Centers for Disease Control and Prevention.
The US also hit another milestone, recording less than 300 coronavirus deaths in one day for the first time since the beginning of the pandemic, the Associated Press reported.
The trade group Airlines for America and unions for pilots and flight crew called for the US Justice Department to prosecute violent passengers, many of whom refuse to wear masks aboard aircraft amid the pandemic.
They cited a "substantial increase in and growing escalation of passengers' unruly and disruptive behavior on board aircraft, particularly toward crew members. These incidents pose a safety and security threat."
Since January, the Federal Aviation Administration has received more than 3,000 reports of unruly behavior and opened 465 investigations into assaults, threats of violence or interference with aircrews.
In Colombia, the total death toll from COVID-19 has surpassed the 100,000 mark.
The South American nation registered a record 650 new deaths on Monday, according to the Health Ministry.
The country of 50 million has reported the fourth worst death toll and is sixth in terms of caseload in Latin America and the Caribbean.
President Ivan Duque has blamed the demonstrations against his government, which have seen thousands of Colombians coming out into the streets since the end of April, for the spike in deaths.
"More than 10,000 deaths could have been avoided if we had not had these gatherings in the past six or seven weeks," Duque said in a statement.
Europe
Starting June 28, face masks will no longer be mandatory in Italy, Health Minister Roberto Speranza announced late Monday.
Italy has allowed most of its regions, except the northwestern Aosta Valley, to relax coronavirus restrictions.
Speranza stressed that lifting the mask mandate would be in line with the measures that health experts had recommended, signaling that social distancing rules would remain in place.
President Recep Tayyip Erdogan on Monday announced Turkey would lift many of its remaining coronavirus restrictions, including Sunday lockdowns and evening curfews, as of July 1. "Public transportation restrictions will also be lifted and public institutions will return to normal working hours," said Erdogan, as Turkey's infection rates continue to sink and vaccination rates rise.
Asia
In China's Guangdong province, further cases and a mass testing campaign were announced in the city of Dongguan on Monday.
The delta variant, which was first identified in India, has been prevalent in the recent local upsurge, the first such cases recorded in China.
Meanwhile China's foreign ministry urged the US not to seek "political manipulation" after Washington delivered 2.5 million COVID-19 shots to Chinese-claimed Taiwan.
The Taiwanese government welcomed the vaccine doses from as help from a true friend.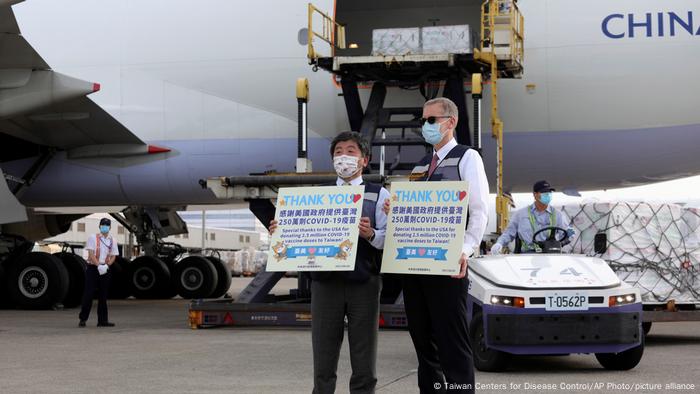 The U.S delivered 2,5 million COVID-19 shots to Taiwan
The Indonesian government said on Monday that it would tighten mobility restrictions in some areas for two weeks starting from Tuesday after a rise in COVID-19 cases.
This will also include limiting the number of workers in offices and barring religious activities at houses of worship.
Tokyo Olympic organizers plan to allow spectators. However, they said on Monday they would cap the numbers in each event at 10,000. This follows talks with the International Olympic Committee (IOC) but is not yet the final decision.
The Olympics will take place from July 23 to August 8, with foreign spectators already excluded. Should the situation worsen in Tokyo, local spectators could be locked out too.
Several Indian states opened mass vaccination sites on Monday at school grounds, auditoriums, and other facilities, as the government's free COVID inoculation drive expanded to anyone above 18.
The country has fallen behind on its vaccination program released in January with its target of inoculating at least 300 million people by mid-2021.
So far less than 5% of India's 1.3 billion population has been fully vaccinated and 280 million have received at least one vaccine dose.
Philippines' President Rodrigo Duterte threatened to jail people who refuse to be vaccinated against the coronavirus.
"You choose, vaccine or I will have you jailed," Duterte said in a televised address following reports of low turnouts at several vaccination sites in the capital Manila.
Duterte's remarks come as the Philippines battles one of Asia's worst outbreaks, with over 1.3 million COVID infections and more than 23,000 deaths.
Oceania
Australian Prime Minister Scott Morrison has promised to provide states and territories in the country with more COVID-19 shots amid roll-out delays.
The country's immunization drive has hit several roadblocks after fears of recorded deaths with the AstraZeneca vaccine.
Australian states have been asking for increased supplies of vaccines after the country last week announced a policy shift that recommended AstraZeneca shots for over 60s only due to blood clot concerns, throwing the rollout into disarray.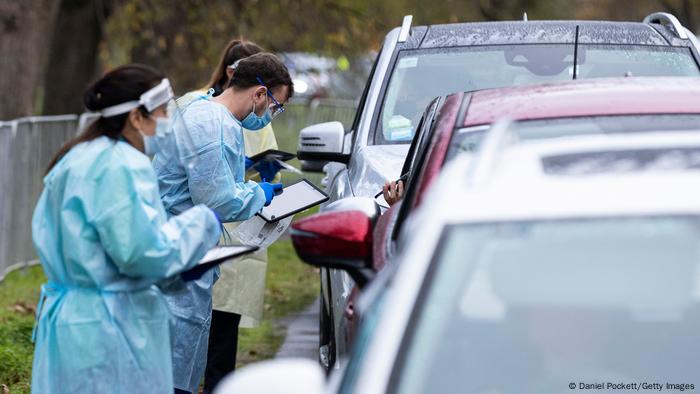 The Australian government has promised to provide more vaccines.
Catch up on DW content
The delta variant is now present in more than 80 countries. More transmissible than the alpha variant, it is sparking concerns of further loss of lives and lockdowns. DW's fact check tells you all you need to know about the variant.
Herd immunity is often presented as a simple mathematical calculation, but achieving it is far from easy. Understanding how widespread immunity works is, however, key to returning to normal. DW looks at why experts say herd immunity is still out of reach.
About 10% of cases have resulted in long COVID-19, according to initial studies. People who experience the disease have become a new category of chronically ill people. But what treatments are available? A young woman with long COVID-19 tells her story. Watch the video below.
fb, js, on/msh (dpa, Reuters)