Germany's coronavirus infection rate dropped to its lowest level in nearly two months on Friday. The drop comes as the country's vaccine drive accelerates.
The Robert Koch Institute, the country's public health agency for infectious diseases, reported that the number of new coronavirus infections nationwide per 100,000 people fell to 96.5.
This is the first time since March 20 that the number has dropped below 100.
Meanwhile, Germany on Wednesday achieved its highest-ever number of people vaccinated in one day, administering 1.35 million shots.
Germany has now administered at least one dose to nearly 29.9 million people, or 35.9% of its population. Out of these, 8.8 million people, or 10.6%, are now fully vaccinated.
There are considerable differences across Germany in the types of restrictions on public life and businesses that are in place.
But Health Minister Jens Spahn urged caution, despite the falling numbers: "We must all take great care ... to secure what has been achieved and not want too much too quickly, because that could backfire."
He said outdoor activities can be allowed but appealed for regional authorities to wait until weekly new cases drop below 50 per 100,000 residents before reopening indoor parts of restaurants.
He also advised against travel to all but "which really are very, very low" risk in terms of case numbers.
Here's a roundup of other coronavirus news from around the world.
Europe
An aggressive vaccination program by the United Kingdom has prevented nearly 12,000 deaths and more than 30,000 hospitalizations, according to an analysis by Public Health England (PHE), a government agency. The UK has given about two-thirds of its adult population at least one shot of the COVID-19 vaccine.
The UK is adapting its vaccine rollout to protect people in areas where the COVID variant from India has been detected.
PHE said that the total number of confirmed cases of the new variant had more than doubled in the past week, to 1,313 across the UK.
Germany classified the UK as a COVID-19 risk area due to the emergence of the variant from India. UK Prime Minister warned the spread of the B.1.617.2 variant first detected in India may impact the country's ability to end movement restrictions.
Ireland's health services shut down its IT systems on Friday after they were hit by a ransomware attack.
Deputy Prime Minister Leo Varadkar said the disruption could last for several days.
Slovakia lifted its state of emergency which had been in place since October. New cases and hospitalizations have steadily fallen in the country from the peaks of its third wave of infections in early March.
"We promised that the state of emergency would not last a minute longer than necessary," said Prime Minister Eduard Heger.
UK tourists can return traveling to Portugal beginning May 17, according to the Portuguese foreign ministry. In order to be allowed in, visitors must show a negative PCR test that was taken in the previous 72 hours.
Portugal is one of 12 countries on the UK's "green list" where residents can travel starting May 17 without having to quarantine on return unless a COVID-19 test is positive.
Greece started its summer tourist season, allowing visitors from the rest of the EU, the UK, US, and Israel as long as they have been vaccinated or can show negative COVID-19 test results. That also applies for thrips to the Greek islands.
But not all parts of Greece are open. The island of Kalymnos is under a strict lockdown due to recent infections.
Asia
Japan on Friday extended a state of emergency to three additional prefectures, Hokkaido, Okayama and Hiroshima, due to rising COVID cases.
Yasutoshi Nishimura, Japan's economy minister, said the prefectures will be under a state of emergency until at least May 31.
Japan now has 19 out of 47 prefectures under a state of emergency due to the coronavirus. Emergency restrictions include closing eateries by 8 p.m. and a ban on alcohol at bars and restaurants.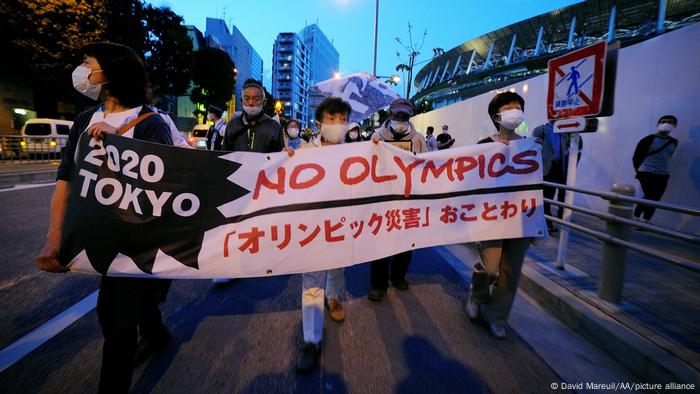 Over 300,000 people have signed a new petition to cancel the Olympics
The country has been struggling with controlling the pandemic ahead of the Tokyo Olympics, which is due to begin on July 23. The games have faced continual opposition from people in the country who do not want the event to go ahead during the pandemic.
China reported its first local transmission of the COVID in more than three weeks on May 13. The country's national health authority reported seven new COVID-19 cases, of which two cases were local infections in the province of Anhui.
The first repatriation flight carrying Australians back from India will land in the country on Saturday. The flight was supposed to have around 150 citizens and permanent residents who would have spent two weeks in quarantine at a mining camp in the remote area of Howard Springs.
However, prior to boarding the flight, nearly half of the 150 passengers tested positive for COVID, according to a source in the Australian government. Australian media reported 48 infections and 25 close contacts of the infected.
Australia had banned all travelers from India from entering the country for two weeks starting May 15, with any offenders facing potential jail time.
Taiwan reported a record rise in COVID-19 cases on Friday. The country recorded 29 new cases, taking the total case count to 1,291 cases.
Health Minister Chen Shih-chung told a news conference that several of the new infections were connected with an outbreak in the Wanhua district.
Taiwan's premier Su Tseng-chang said that there was no need to raise the COVID-19 alert level for the island.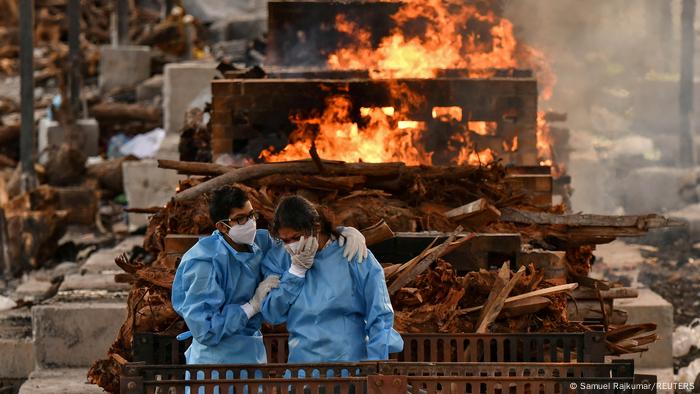 The coronavirus pandemic in India is now spreading to rural areas, sparking a government warning
"With the cooperation of the central and local governments, the command center has successively found the transmission chain between the confirmed cases, and there is no need to upgrade [the alert level] for the time being."
Taiwan has not yet gone into full lockdown.
India's Prime Minister Narendra Modi has asked Indians to take extra precautions, as rural areas are experiencing an outbreak of COVID-19. About two-thirds of India's nearly 1.4 billion people live in rural areas.
Modi urged state governments to join together with village councils to rise to the challenge. "We have lost a lot of near ones. I am feeling the pain people are suffering," said Modi at a farmers' convention.
India reported 343,144 new infections, while there were more than 4,000 deaths rose over the last 24 hours. The total caseload of the country is now more than 24 million.
Americas
New York Yankees shortstop Gleyber Torres tested positive for the coronavirus, despite being fully vaccinated and previously being infected. He is the eighth member of the team to test positive after being fully vaccinated.
Major League Baseball (MLB) said 83.9% of players, managers, coaches, trainers and support personnel were partially or fully vaccinated. There have been 54 positive tests in the league so far this season among 156,276 samples tested, a 0.03% positive rate.
World
The World Health Organization (WHO) urged rich countries to consider donating vaccines to the COVAX distribution system.
"In low and lower-middle income countries, COVID-19 vaccine supply has not been enough to even immunize healthcare workers, and hospitals are being inundated with people that need lifesaving care urgently," said WHO Director General Tedros Adhanom Ghebreyesus.
Catch up on DW content
India is one of the biggest providers of seafarers for the shipping industry. But the nation's COVID wave has sparked travel curbs and restrictions on Indian crews, sending shipping firms scrambling to find replacements. Read the full story
The United States has made great strides in its campaign to vaccinate people against COVID-19. But the goal of reaching herd immunity could be out of reach, also due to vaccine hesitancy. DW's Carolina Chimoy finds out what is behind people's fears.
Whether with coronavirus figures filed by fax, or online forms for financial aid which then need to be printed out and signed, the pandemic has shown German government bodies lag behind European neighbors going digital. Read the full story
kmm, am/sms (Reuters, AP)