Researchers of the UN's World Meteorological Organization (WMO) sounded the alarm bells over rising global temperatures as climate conference COP23 kicked off in Bonn on Monday.
2017 is likely going to be the hottest year on record after 2016 and 2015, which were both fueled by weather phenomenon El Nino and were unusually hot.
The average global temperature from January to September 2017 was about 1.1 degrees Celsius above the pre-industrial era.
This comes after key indicators for climate change have shown a trend for the worse, such as rising CO2 concentrations in the atmosphere, rising sea levels and a record low in ice coverage in the Antarctic sea, WMO's report states.
"We have witnessed extraordinary weather, including temperatures topping 50 degrees Celsius in Asia, record-breaking hurricanes in rapid succession in the Caribbean and Atlantic reaching as far as Ireland, devastating monsoon flooding affecting many millions of people and a relentless drought in East Africa," said WMO Secretary-General Petteri Taalas.
"This is part of a long-term warming trend," he added.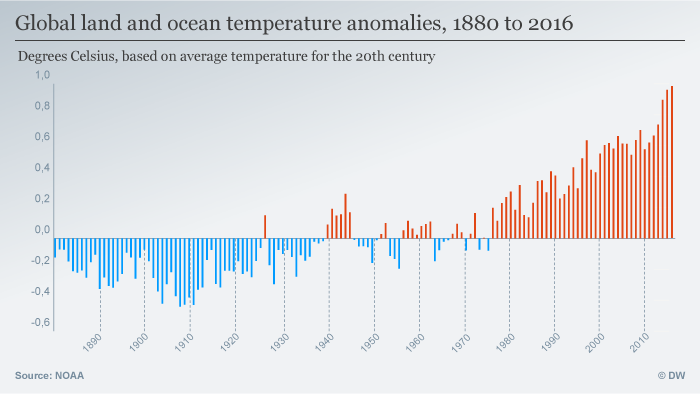 Fiji's Prime Minister Frank Bainimarama, who chairs COP23, said this was the world's moment of truth, urging delegates to "lock arms with all other nations and move forward together."
Island nation Fiji is among the Pacific islands especially at risk from rising sea levels. Parts of the island are already uninhabitable today.
"Millions of people around the world have suffered and continue to suffer from extreme weather events," said UN climate chief Patricia Espinosa. "We must act right here, right now."
Experts have repeatedly warned that time is running out.
"We can only stick to [a temperature increase of] 1.5 degrees Celsius at this point if there are drastic cuts in global emissions - and we have to be lucky," climate researcher Stefan Rahmstorf with Potsdam Institute for Climate Impact Research (PIK) told DW.
He said curbing carbon dioxide emissions would be paramount since CO2 was the most dangerous greenhouse gas for Earth.
"CO2 accumulates in the atmosphere - it's like filling a bath tub with water," he said. "Other greenhouse gases like methane work differently. Methane's half-life in the atmosphere stands at eight years, so it will eventually disappear, once we bring emissions down to zero. But that isn't the case with CO2."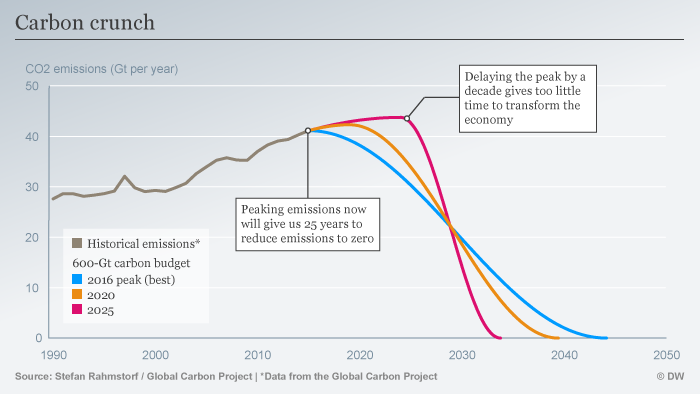 Many effects of global warming intensify the hotter it gets, but there are also certain thresholds that can make or break ecosystems, Rahmstorf explained.
"The question of whether we limit global warming to 1.5 or 2 degrees Celsius makes a difference in terms of whether corals can survive on our planet or whether they all die off," he said.
Two thirds of Australia's Great Barrier Reef have been damaged so severely that experts doubt they will ever recover.
UN's Espinosa urged COP23 to be the launching pad towards the "next, higher level of ambition" by all nations.
"If we keep emitting greenhouse gases the way we are doing now and allowing further increases as seen in the last decades, then we'll have a global temperature increase of 4 degrees Celsius by the end of this century," climate scientist Rahmstorf said. "It will be a very different planet compared to what we know now."
"And global warming won't stop there. In the next 100 years, it would continue to rise to 7, 8 degrees Celsius. I don't think human civilization would survive that."
Gero Rueter contributed to this report.