Germans have a mixed opinion of American politics. On the one hand, they're quite critical of them, and not just since the detention camp at Guantanamo Bay was established in 2002. On the other hand, they keep track of the attention they may or may not receive from the other side of the Atlantic, amid complaints that since Barack Obama took up his post in the White House greater appreciation would be in order. The question is: where did they get that notion from?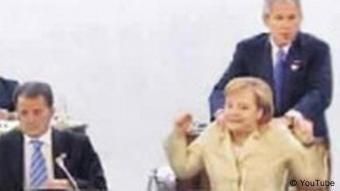 George W. Bush (standing) had a special relationship to Chancellor Merkel
The constrasts between Obama and his predecessor George W. Bush are obvious. For instance, there's never been a photograph of Obama massaging German Chancellor Merkel's shoulders, as there was of Bush. But despite Merkel's discomfort for close relations with the US when Bush was in office, there were reasons for them. For one thing, American conservatives were impressed by Merkel's ability to grow up under Communism and then use her newfound freedom to rise to the top. In addition, Merkel succeeded Chancellor Gerhard Schröder, who was extremely critical of the war in Iraq led by George W. Bush.
Was Obama annoyed with Merkel?
There's also a particular German twist to some of the events leading up to Obama's presidency. While campaigning the first time around, he aimed to hold a speech in Berlin that would make him shine back home - with his campaign staff toying with the idea of having him appear at the symbolically laden Brandenburg Gate. But Obama was ultimately relegated to the Victory Column, from where the Brandenburg Gate could only been seen in the distance. It's been rumored that Obama has held that against Merkel ever since. The fact of the matter is that Obama's speech in Berlin was much-celebrated and garned plenty of recognition at home.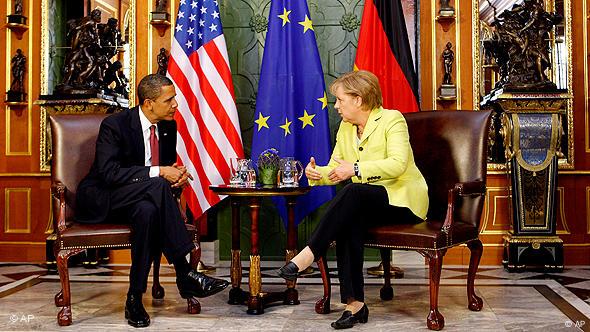 Obama and Merkel in Dresden in 2009
Following Obama's election victory, Merkel immediately set about establishing a good relationship. And Obama, less than six months in office, came to visit Germany again. In June 2009, his itinerary included a visit to the memorial at the former concentration camp Buchenwald, which a great uncle of his helped to liberate from the Nazis in 1945, as well as visits to Dresden and the US military hospital Landstuhl. The trip offered plenty of opportunities for Obama and Merkel to get to know each other better, with Obama later calling her a "friend" and praising her intelligent analyses and lucid manner of expressing herself.
Numerous meetings, but no state visit
Shortly before that visit, Obama had already traveled to Germany to attend the NATO summit in Baden-Baden. Such summits, whether NATO, G8 or others, have often brought Obama and Merkel together. And Merkel has repeatedly been to Washington, with one visit seeing her garner two honors. In June 2011, Obama bestowed her with the Presidential Medal of Freedom, the US's highest civilian award, then honored her with a state dinner in the White House's Rose Garden. It prompted the "Washington Post" headline "It's Angela and Barack now," with the two leaders calling each other by their first names ever since.

In 2011, Chancellor Merkel received the highest civilian honor the US bestows: the Presidential Medal of Freedom
Nonetheless, prior to this spectacular event, there were prophecies of doom. Obama had taken advantage of the G8 summit in Deauville to also visit Ireland, then Britain - where he spoke before Parliament -, and then Poland. Germany was not on the agenda, critics noted, while also pointing out that Germany had just abstained from voting in the UN Security Council on military aid to Libya. Obama's European trip, however, had been planned long in advance of the Security Council vote. A trip to Berlin was not necessary since a meeting between Obama and Merkel had been slated for Washington soon after, it was said.
Germany not front and center anymore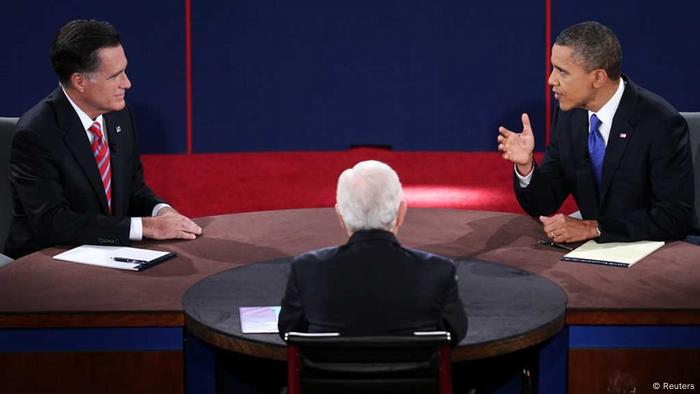 US President Barack Obama and presidential hopeful Mitt Romney verbally duke it out in a debate
Still, Obama has never paid an official visit to the German capital. Germany has not been the center of American attention since Cold War times and the period of euphoria over reunification that followed. Yet the two countries work well together - albeit quietly - in many areas, such as Afghanistan and the Middle East. They take note of their varying interests, such as Turkey's accession to the EU, and also try to settle differences, such as in trade matters, constructively.
During the Oct. 22 TV debate on foreign policy between Obama and Republican candidate Mitt Romney, not only Germany, but Europe in general played virtually no role at all - not among the candidates themselves, nor in the questions posed to them. Americans are simply more interested in other topics. But should Obama have another go as President, he plans to follow up on a promise he made to Chancellor Merkel last year to make an official visit to Germany.