There were moments on election night, when Chancellor Merkel's Christian Democrats seemed close to winning an absolute majority in parliament by just one or two seats. In terms of sheer numbers, the CDU/CSU can govern alone with such a razor thin margin. But would they want to?
A parliamentarian could easily end up sick or otherwise indisposed, potentially putting an important vote in jeopardy. And a maverick could decide to vote against the party majority. What then? Such a government would be constantly teetering on the verge of collapse.
Chancellor Angela Merkel did not want to consider such questions at all on election night. She said that potential coalition partners would be discussed within the party on Monday.
"But we can celebrate today, because we did a great job," Merkel told her supporters, visibly happy with the result.
Her Christian Democratic Union (CDU), and its Bavarian sister party the Christian Social Union (CSU), managed to outperform all the polls of the past few weeks. With a third term now a certainty, Merkel assured her supporters that she will be in power until 2017.
Tough times for Social Democrats
The SPD is currently suffering from a post-election hangover. Candidate Peer Steinbrück led the Social Democratic Party (SPD) to its second-worst election result in history. The Social Democrats didn't even manage to gain three percent over their worst result ever in 2009.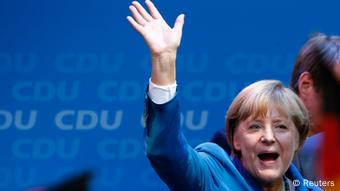 Merkel wants to celebrate her victory for now
That historic defeat came shortly after the grand coalition with the CDU. Merkel's Christian Democrats profited from the coalition, but the SPD didn't. The Social Democrats will remember that in the coming weeks, if they are approached by the CDU for coalition talks. The SPD will likely make sure that they maintain their own profile in such a coalition and aren't overshadowed by Merkel's cadre.
Steinbrück made that clear on election night, when he said that the situation was still uncertain.
"The SPD will do itself good if it doesn't speculate about what a future government could look like," Steinbrück told his supporters. "The ball is in Merkel's court. She now has to find a majority."
It's already foreseeably clear that, if the SPD acts as Kingmaker, then coalition negotiations will take considerably longer than they did in 2005.
Many issues could act as obstacles
The SPD will certainly try to implement its central campaign promises. That includes a nationwide minimum wage of 8.50 euros, new regulations for temporary work, and rolling back Merkel's subsidy for families that choose not to take advantage of the government-guaranteed place for their children in daycare.
The Social Democrats also want to put a cap on rent and raise taxes on the wealthy to 49 percent. In addition, the SPD wants to introduce dual citizenship for people born in Germany to parents with migrant backgrounds.
In its campaign platform this year, the SPD has taken a major step to the left. Its proposals are unlikely to find any affinity among the CDU/CSU. Particularly when it comes to a minimum wage and raising taxes, the two parties are nearly irreconcilable.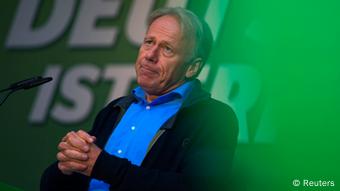 Trittin has said a coalition with the CDU is unlikely
In terms of foreign policy, the SPD and CDU/CSU are largely on the same wave length. That's also true when it comes to the euro crisis, which is likely to make headlines again in the coming weeks, at the latest when negotiation begins over a third rescue package for Greece. But the SPD, even as an opposition party, has proven itself to be a reliable partner for Merkel when it came to the bailouts and the stability fund.
Greens could block grand coalition
But a grand coalition could run into difficulties in the Bundesrat, Germany's upper house of parliament, which represents the 16 states. The SPD and Greens have a majority there, one which seems secure until 2016.
Germany's states will have an important say on many legislative initiatives. And the Greens could use their leverage in the Bundesrat to block legislation proposed by a CDU-SPD coalition government. Such a political constellation would prove difficult and demand a lot of negotiating finesse.
But is there any real alternative? A left-wing majority made up of the SPD, the Greens and the Left party is not possible numerically. But the CDU could gain a majority with the Greens as coalition partners.
The Greens already showed they were unable to convince voters of their plans for tax hikes and introducing a vegetarian day in cafeterias. And they are likely to have an even tougher time convincing the conservative CDU/CSU. The political fissures between the two parties are simply too deep to make such a coalition seem realistic.
The Greens' main candidate, Jürgen Trittin, made that clear on election night. Trittin said that the Greens could potentially enter negotiations with the CDU/CSU. But he added that at the moment, it does seem like there's enough substance for such a coalition.