China's coal consumption declined for the third straight year in 2016, making the world's leading carbon polluter an emerging global leader in combating climate change.
The country's coal consumption, which is a major source of heat-trapping carbon dioxide emissions, declined by 4.7 percent last year, according to preliminary data from China's National Bureau of Statistics (NBS).
The share of coal in China's total energy mix declined to 62 percent - from 64 percent a year earlier, according to the NBS.
China is the world's biggest consumer of coal but its consumption levels have dropped as economic growth has slowed to its lowest level since 1990. With its major cities gripped by choking air pollution, China wants to reduce coal usage in favor of natural gas and renewable energy including hydro, wind and solar power.
Solar capacity grew 81.6 per cent and wind capacity grew 13.2 per cent compared to 2015.
In January the National Energy Administration (NEA) ordered the cancellation of about 100 coal-fired power plants planned across the country - even though construction had already begun on some of them.
Greenpeace analysis
Greenpeace said an analysis of data from the NEA showed a "significant drop" in China's CO2 emissions of 1 percent. The decline "reinforces China's growing status as a global climate leader, and sends a strong signal to US President Trump that his dirty energy agenda will send the American economy in the wrong direction," Greenpeace said.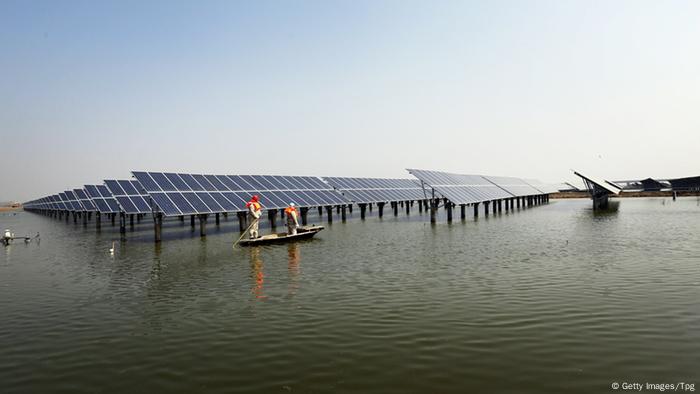 Solar power station in Jiangsu, China
Lauri Myllyvirta, senior coal campaigner for Greenpeace, said China's stable and falling carbon emissions have "completely revolutionized the prospects for bringing global emissions and bringing climate change under control."
"The two reasons why global emissions have been stable for the past three years are no growth in China and rapid fall in emissions in the US, so that really shows what can be accomplished when these two countries work together," Myllyvirta said.
China's tackling of climate change in collaboration with the United States under President Barack Obama was touted by both sides as a bright spot in otherwise tense relations.
The two countries joined last year to endorse the landmark Paris Agreement on climate change. But that limited partnership has grown uncertain under new US President Donald Trump.
He has called climate change a Chinese hoax and pledged to reverse Obama's efforts to curb emissions from coal-fired power plants.
Currently the world's largest emitter of carbon dioxide, China has committed through the international Paris Agreement on climate change to reduce carbon dioxide emissions per unit of GDP by at least 60 per cent from the 2005 level by 2030.
bik/jm (AP, dpa)