"Harassed for 1 year" reads the front cover of the final German edition of Charlie Hebdo that also features a caricature of Chancellor Angela Merkel running away from Charlie Hebdo and screaming "That's enough!"
The edition was published on November 30, a day after the newspaper's editors announced in Paris that the publication, with its controversial brand of humor and consistent references to French politics, simply didn't sell well enough in Germany.
Read more: 'Charlie Hebdo' slams Merkel in first German edition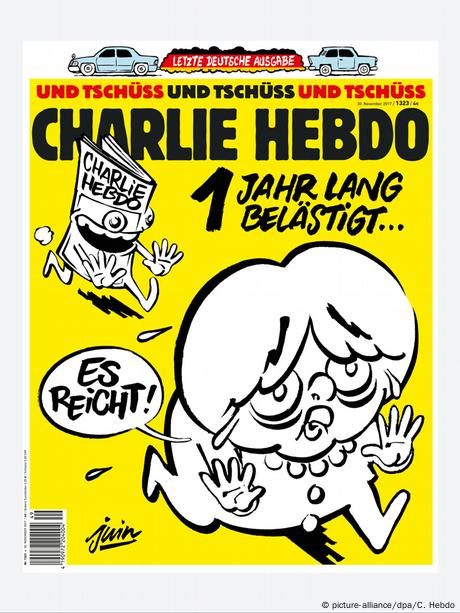 "Charlie Hebdo" lampoons Angela Merkel one last time
"Germany seemed to us like an adventure playground east of the Rhine, with really great new seesaws and swings, but we mostly did not know how to use them," wrote editors Gérard Biard and Minka Schneider in their final editorial.
They added that a "small, loyal readership in Germany really appreciated" the magazine's "strange, sometimes disturbing" humor.
Founded in France in 1970, the satirical magazine is known for its provocative and often crude caricatures. Only two months into the German edition, a complaint was brought to the German Press Council regarding a cover in which German leader Angela Merkel holds the cut-off head of the Social Democratic party's candidate for chancellor in 2017, Martin Schulz.
A publicity poster for the magazine's much-vaunted German launch (200,000 copies of the first edition were published) featured Angela Merkel sitting on a toilet and reading the first issue with the caption: "Charlie Hebdo. It's liberating."
Read more: Two years after the Charlie Hebdo attack, freedom of expression remains an issue
The German edition of Charlie Hebdo was launched two years after the publication's Paris office was attacked by Islamists and 12 people were brutally murdered, including the chief editor Charb and some of France's most famous caricaturists.
Charlie Hebdo had previously repeatedly published cartoons of the Prophet Muhammad and thus had earned the wrath of some Muslims who deemed the images offensive. Even today, the editorial staff work in a secret, heavily guarded location.
The attack was followed by an unprecedented wave of solidarity under the motto "Je suis Charlie" (I'm Charlie). The so-called "survivors' edition" published a week after the attack sold around eight million copies in France and abroad — a French press record.
In early November, Charlie Hebdo again received death threats after publishing a lewd cartoon of a prominent Islamic theologian, Tariq Ramadan, who has been accused of rape.
sb/eg (AFP, dpa)