Many have seen the images of thousands of men, women and children setting off from Central America in search of more sustainable conditions in the United States. They are fleeing famine, impoverishment and violence in Honduras, El Salvador, Guatemala and Nicaragua.
But it has become increasingly difficult — indeed, dangerous — to reach the United States. US officials have pressured Mexico to dispatch the newly created national guard to the border with Guatemala to pick up migrants crossing into the country. And the United States has made it even more challenging for Central Americans to be granted asylum.
Read more: Mexico says border crossings to US down 30%
As a result, some Central Americans have applied for asylum in the EU instead of embarking on the dangerous journey to the United States. Though the absolute number of applications remains relatively low, the number of asylum applications from Central Americans has risen more than tenfold in the past four years according to Eurostat, the EU's statics bureau.
In 2015, a total of about 900 people from El Salvador, Guatemala, Honduras and Nicaragua applied for asylum in the bloc. The figure had risen to 10,000 by 2018. Most applications are submitted in Spain, Italy and Sweden. Last year, only 65 people from those countries applied for asylum in Germany, according to the Federal Office for Migration and Refugees (BAMF). Yet, in the first half of 2019, 142 applications were submitted.
Read more: Fleeing — but not to Europe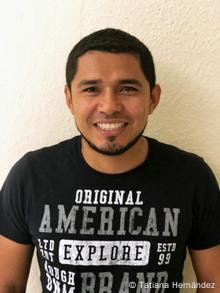 Darwin Sanchez, his wife and 11-year-old daughter are among those who have applied for asylum in Germany. They arrived from Honduras in April and have been living in a reception center in Mecklenburg-Vorpommern while their application is processed.
Back in 2017, Sanchez and fellow students squatted a building of the National Autonomous University of Honduras (UNAH) in Choluteca and organized protests demanding that students get a greater say in university affairs. Authorities threatened him with a prison sentence for his activism, and he and his family decided to flee the country.
"Someone who fights for his rights must not be punished," he said. "We, as a family, chose to move to Germany because we think Germany honors human rights and listens to those who are persecuted," he added.
Read more: Helen Mack Chang on corruption in Guatemala
'Very small percentage'
The Honduran human rights activist and opposition lawmaker Dennis Munoz has received asylum in Germany. He was forced to flee in 2017, after his father, a local politician, was murdered. When his brother began investigating the killing, he, too, was murdered.
Munoz was granted political asylum just several months after stepping foot on German soil. Today, he helps his compatriots understand German asylum law. Munoz said most of his compatriots had not left Honduras to escape political persecution but to get away from the country'syouth gangs, who control entire urban quarters and extort money from locals.
Read more: Which countries grant unconditional birthright citizenship?
"Only a very small percentage of these migrants have a realistic chance of being granted political asylum," Munoz said. Many Hondurans may, however, be eligible for subsidiary protection — meaning that they cannot be sent back because their homeland remains too dangerous for now. People can receive such status if they are not eligible for refugee protection or political asylum.
Read more: US to redirect Central America aid to Venezuela's Juan Guaido
A few days ago, the student activist Sanchez learned that his application for asylum had been rejected. He has now found himself a lawyer to appeal the decision. Munoz, meanwhile, is currently curating a traveling exhibition with fellow Hondurans to highlight how crime, corruption, human rights abuses and the drug trade plague their home country. He believes that this could help make Germans better understand why many Hondurans flee for more sustainable conditions in the European Union.
DW's editors send out a selection of the day's news and features. Sign up to receive it here.