- Madrid has seized control of the Catalan assembly and called elections for December 21
- Public prosecutors have said they will file a complaint for rebellion against Puigdemont next week
- The Catalan assembly earlier voted to declare independence from Spain
Spanish Prime Minister Mariano Rajoy assumed control of Catalonia on Saturday after sacking the Catalan parliament and announcing elections in the region for December 21.
Spain's Senate voted 214 to 47 the previous evening to invoke Article 155 and seize control of the region immediately after it had declared its independence. This marks the first time since the fall of dictator Francisco Franco in 1975 that the central government has taken direct control of one of Spain's 17 semi-autonomous regions.
"The President of the Government of the Nation takes on the role and the competences corresponding to the President of the Generalitat of Catalonia, foreseen by the Autonomy Statute," the official bulletin of the Spanish state said on Saturday morning.
'We never wanted this'
"We Spaniards are living through a sad day in which a lack of reason prevailed upon the law and demolished democracy in Catalonia," Rajoy told a news conference on Friday.
"We never wanted to come to this point," he said, adding that the goal is to "return Catalonia to normality and legality" following an unauthorized independence referendum on October 1.
Catalan leaders no longer paid
Deposed leader Carles Puigdemont and his 12-member cabinet will be struck off the payroll and face charges of usurping others' functions if they refuse to obey. But there was no immediate sign that top Catalan officials were willing to comply.
Rajoy must also exert Madrid's control over the lower levels of the 200,000-strong regional administration, some of whom have pledged not to obey orders following calls from secessionist group - the Catalan National Assembly (ANC).
The region's police chief Josep Lluis Trapero was also sacked from his role on Saturday, the official government gazette said. Trapero issued a statement saying he would comply. The regional police force urged its members to behave in a neutral manner and not takes sides in the dispute in an internal note seen by the Reuters news agency.
Madrid could also seize control of Catalonia's civil service, police and finances, which would remain in place until a new parliament is elected. Senators voted not to interfere with Catalonia's public radio and television.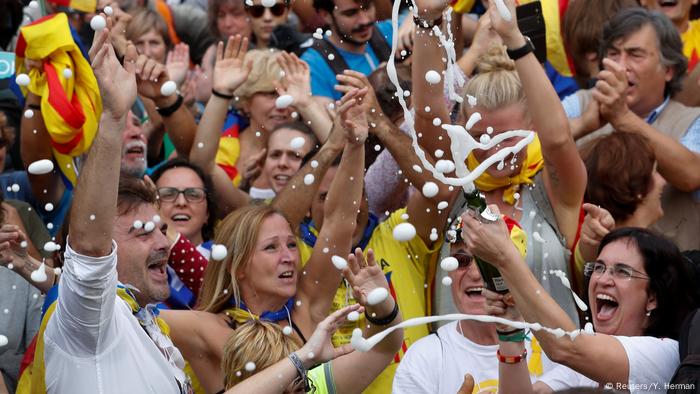 Several thousand independence supporters cheered the secession vote
Puigdemont's fate on the line
A spokesman for the public prosecutor's office told the French news agency AFP that "public prosecutors will file a complaint for rebellion against Carles Puigdemont next week," adding similar lawsuits could be filed against other members of the Catalan government and parliament. Under Spanish law, the crime of "rebellion" is punishable by up to 30 years in jail.
Read more: In Catalonia, language and identity go hand in hand
Barcelona votes to go its own way
Late Friday afternoon, the 135-member Catalan parliament in Barcelona voted in favor of a declaration of independence, with 70 voting for the measure and 10 against.
The lower vote count was due to a walkout by dozens of opposition lawmakers - among them the opposition Socialists and Citizens - who left the Catalan parliament chamber in protest against the vote on independence after placing Spanish and Catalonia official flags in their empty seats.
"Our legitimate parliament has taken a very important step. This is the people's mandate," Puigdemont told a crowd in Barcelona after the Madrid vote, calling for calm and dignity. Puigdemont emphasized the importance of maintaining "momentum."
Several hundred people protested against the independence bid in Barcelona on Friday night, waving Spanish flags as they demonstrated in the city.
Barcelona and Madrid narrowly avoided ending the deadlock on Thursday, with Puigdemont declining to call snap elections that would bring in a new government, and Rajoy refusing to accept a deal from the Catalan president that would have secured his region's autonomy.
EU and US back Madrid
Read more: Opinion — Trouble brewing in every corner of Europe
Spain's allies reacted in solidarity with Rajoy's government on Friday. European Council President Donald Tusk made clear that Madrid "remains our only interlocutor."
Jean-Claude Juncker, the president of the European Commission, warned of the danger of "more cracks" opening up in the 28-member bloc following Catalonia's vote.
Calling for dialogue between the two sides, Chancellor Angela Merkel's spokesperson, Steffen Seibert, made clear that Berlin did not recognize "such an independence declaration."
"I have one partner in Spain, that's Prime Minister Rajoy," French President Emmanuel Macron chimed in.
Britain "does not and will not" recognize the unilateral declaration of independence made by the Catalan regional parliament, Prime Minister Theresa May's spokesperson said in a statement.
Calling Catalonia "an integral part of Spain," the US State Department reaffirmed its support to "keep Spain strong and united."
Meanwhile, Scotland - which itself has considered independence - expressed understanding for Catalonia's position, but ultimately sided with the Spanish government as well.
aw, rs, jbh/ng (AP, AFP, Reuters, dpa)