Two Catalan separatist leaders on Saturday began an indefinite hunger strike in a Spanish jail as they await trial for their involvement in an outlawed independence referendum, according to their lawyer Jordi Pina.
"I did not recommend this action," said Pina. "It is a decision of my clients and they have my full support."
The two men are Jordi Sanchez, who once led the grassroots Catalan National Assembly (ANC) separatist movement, and Jordi Turull, an ex-minister in the Catalan government and failed regional presidential candidate.
'Never give up'
Sanchez and Turull accused Spain's top court of preventing their appeals from making it to the European Court of Human Rights, they said in a statement read by their lawyer.
"We will never give up on our right to a fair trial," the duo said.
But the Spanish government affirmed that Sanchez and Turull would be treated no differently than other citizens.
"Like all citizens who are subject to and protected by the rule of law, the separatist leaders will receive a fair trial," said Spanish Prime Minister Pedro Sanchez.
Read more: Is Catalan independence a second coup in democratic Spain?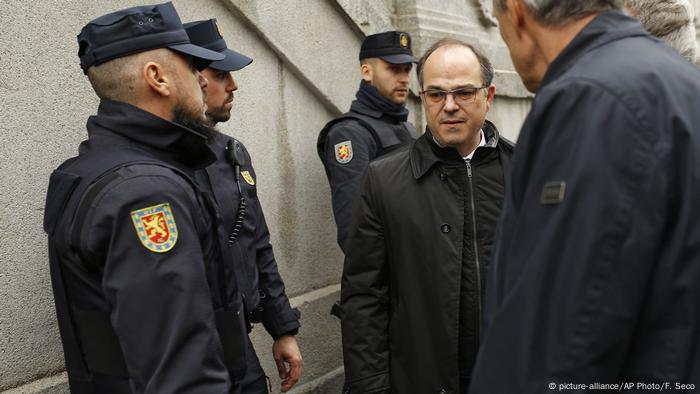 Jordi Turull, a failed Catalan presidential candidate, was jailed for his alleged involvement in organizing an illegal independence bid
Solidarity
Spanish prosecutors have accused Sanchez and Turull of sedition and rebellion, and are seeking long jail terms for those involved in the controversial referendum.
Last year, Madrid imposed direct rule after the Catalan government orchestrated an independence referendum, which had been outlawed by Spain's Supreme Court prior to the vote.
Elections last December brought separatist parties back to power, but internal feuding has prevented them from moving forward on their independence cause.
But that didn't stop Catalan President Quim Torra from offering "solidarity" with Sanchez and Turull. "It's my personal view that penal law is being used for vengeance," said Torra.
Read more: In Catalonia, language and identity go hand in hand
Every evening, DW's editors send out a selection of the day's hard news and quality feature journalism. You can sign up to receive it directly here.
ls/jm (Reuters, AFP)