The Spanish Supreme Court on Friday ordered 25 Catalan leaders be tried for rebellion, embezzlement and disobeying the state — charges which could earn the secessionist politicians up to 25 years in prison if convicted.
Judge Pablo Llarena backed his ruling by stating that secessionists had been planning ways to split with Spain for the past six years. He described the case as "an attack on the constitutional state ... of unusual gravity and persistence."
Of the 25 people charged, 13 will face charges of rebellion.
Read more: Catalonia fails to vote in new president as third pro-independence candidate loses secessionist support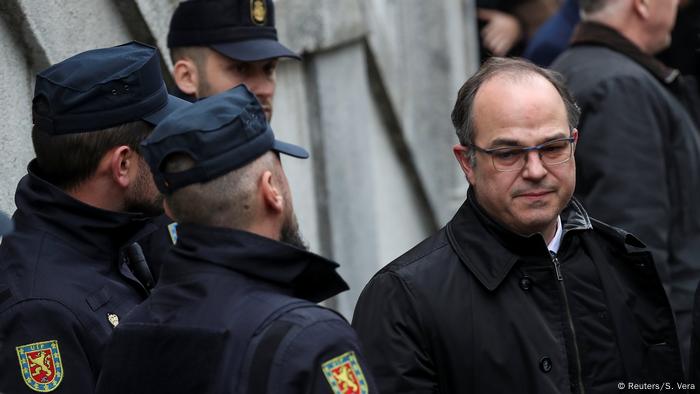 Tough run: Jordi Turull lost his Catalan presidency bid and was jailed soon after
Five jailed
Llarena also ordered that five of the politicians be placed in preventive detention without bail.
Among them was Jordi Turull, who on Thursday failed in his bid to become Catalonia's regional president. While he could be elected by a simple majority vote on Saturday, it was unclear whether the vote could go ahead with Turull in prison.
The other politicians who entered preventive detention included ex-parliamentary speaker Carme Forcadell and three former members of the regional government.
Llarena's prison orders bring the total number of jailed separatist Catalan leaders to nine. Catalan ex-Vice President Oriol Junqueras, the region's former Interior Minister Joaquim Forn, and two prominent leaders of pro-independence civil organizations, Jordi Sanchez and Jordi Cuixart, were imprisoned in the aftermath of last October's contested independence referendum.
Read more: Protesters mock Catalan independence bid with secession call of their own
Protests
Although Friday's ruling dealt an immediate blow to the secessionist movement's leadership, the fresh round of detentions could further fire up the movement's supporters, who have referred to the politicians as "political prisoners."
Thousands of demonstrators took to the streets of Barcelonia, Vic and Tarragona on Friday evening to protest against the court decision.
Twenty-four people were injured in clashes with police in Barcelona after the ruling
Police used batons to keep protesters away from government buildings in Barcelona. Emergency services said 24 people were lightly injured in clashes between police and demonstrators.
Read more: Challenges ahead for Puigdemont and secessionist political unity
Another one heads abroad
Marta Rovira, the General Secretary of the left-wing, pro-independence Republican Left of Catalonia (ERC), also received a preventive prison order. However, she chose to flee the country to live "in exile," as she stated in a letter. Spanish media reported that she had headed to Switzerland.
By fleeing Spain, she joins various other Catalan politicians who have headed over the borders to avoid being taken into custody. Most prominent among them is Carles Puigdemont, Catalonia's ex-president, who has been living in Belgium since October.
After his decision to leave Spain, Madrid issued an arrest warrant for Puigdemont but subsequently dropped it.
However, on Friday, Llarena issued fresh orders for European and international arrest warrants for Catalan politicians abroad, including Puigdemont and Rovira.
Puigdemont remained unshaken about the new warrant. "Let's see what happens tomorrow, what happens today. Every day things change," he said in Helsinki, where he was visiting. He also accused the judge of wading into political waters.
"It is not right for a judge to do politics," Puigdemont said.
The Catalan drive for independence came to a head at the end of 2017 after an independence referendum that Spain had declared unconstitutional took place. Since then, the central government in Madrid has sought to neutralize the secessionist drive by taking direct control of the region and calling for new elections in December. These delivered a parliamentary majority to separatist parties, but failed to earn a majority of popular support. Catalans remain divided on whether or not to split from Spain.
Read more: Catalonia's Carles Puigdemont warns of 'repeat elections' as top court blocks successor
cmb/aw (EFE, AP, Reuters)