Catalonian separatist leader Carles Puigdemont is to return to Brussels to rejoin his exiled government on Saturday after a German court refused to extradite him to Spain on charges of rebellion.
At a press conference in Berlin on Wednesday, the former Catalonian president thanked Germany, and the German lawyers who sat alongside him, and declared that the question of Catalonian independence was a European matter, not a domestic Spanish matter," and this European view must be taken into account during the search for solutions."
Puigdemont said he had been treated with respect during his brief detention and four-month stay in Germany after he was arrested on a European warrant while passing through the country's north en route to Belgium in March. He fled Spain last year when the Madrid government removed him from office after he unilaterally declared Catalonia's independence.
The 55-year-old's extradition order was lifted by the Supreme Court in Madrid last week after a court in Schleswig-Holstein ruled that Puigdemont could only be extradited on the lesser charge of embezzling public money – a charge that Puigdemont comprehensively denies. That means the Catalan leader is now free to travel around Europe, though his arrest warrant in Spain is still valid.
Read more: Puigdemont and his MPs reunite in Berlin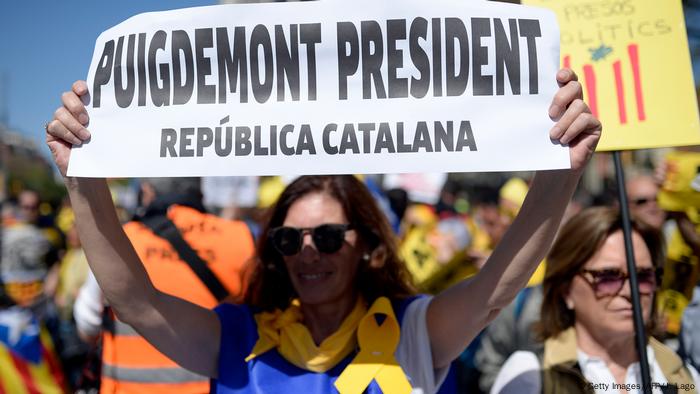 Demonstrations have continued in Barcelona for Puigdemont and Catalonian independence
Russian ties are 'fake news'
Puigdemont spent much of Wednesday's press conference batting away suggestions that his actions had undermined the European Union at a time when the bloc was being destabilized by US and Russian actions.
In May, Hans-Georg Maassen, the head of Germany's domestic intelligence agency, the BfV, said that the Catalonian separatist movement was being supported by Russian propaganda and disinformation campaigns – though not financially.
Puigdemont did not address the BfV charge directly, but he said there were a lot of "fake news" about ties between his movement and Russia. "There is not a single concrete sign that this is true," he said, through a translator, before adding, "there were bots on the internet that were responsible for that."
Separatists undermining Europe
Another reporter brought up Donald Trump's former advisor, and far-right ideologue, Stephen Bannon and his plans to open an anti-EU think tank in Brussels ahead of next year's European elections, and suggested it was "highly dangerous" to undermine the EU's unity with separatist movements.
"First of all I would like to emphasize that the Catalonian question, whether independent or not, is more than anything a European question," Puigdemont said. "We have always tied our project for Catalonia in cooperation with Europe and the unity of Europe. And it can't be something bad to accept small nations within Europe when you see how many small nations are now part of Europe. Catalonia, for example, is bigger than Denmark in terms of inhabitants. You can't ban small nations from joining from inside Europe and then allow small nations to join from outside."
Asked by DW whether he supported other independence movements in Europe, Puigdemont said, "Our principle is not to expressly support any of these nations, but we fundamentally support the expression of the desire for independence. That is: All movements that support the right to self-determination are worthy of support in our view."
The question of Catalonian independence remains in deadlock, with the Spanish government refusing to meet Puigdemont and his former Cabinet, though the newly-elected socialist government in Spain takes a softer line on the row than the previous conservative government under Mariano Rajoy.
But Puigdemont, for his part, did not present any new compromise offers on Wednesday, except to say he planned to found a new party to unite various pro-independence splinter groups and to re-affirm his assertion that the mandate from the referendum he organized last October, which Madrid declared illegal, meant he had a duty to pursue Catalonian independence.
"The door to dialogue and meeting with us is always open," he said.