Human rights groups are calling on Canada to suspend all weapons sales to Saudi Arabia, after serious concerns were raised over the alleged use of Canadian-made arms in a violent crackdown on civilians in an eastern province of the Gulf kingdom.
Images shared on social media purportedly show Canadian-made armored vehicles being used by Saudi government forces against Shiite civilians in the country's restive, eastern Qatif province, The Globe and Mailnewspaper first reported.
Read more: Saudi Arabia's next-in-line: a hawk and economic reformer
The "red flags" raised by the latest reports "demand no less than a suspension of all military export contracts" with Saudi Arabia, said Cesar Jaramillo, executive director of Canadian anti-war group Project Ploughshares.
"Should abuses with Canadian-made military equipment be confirmed, suspension must then lead to the cancellation of any such contracts," Jaramillo told DWin an email.
Ottawa, meanwhile, says it is "actively seeking more information" about whether Canadian-made arms were in fact used against Saudi civilians.
Read More: Canada sets its own course in the face of the Trump administration
The government also said it "expressed its concerns" with Saudi Arabia that its security operation in the eastern part of the country must comply with international law, said Natasha Nystrom, a spokesperson for Global Affairs Canada, the foreign ministry.
"If it is found that Canadian exports have been used to commit serious violations of human rights, the minister will take action," Nystrom told DW in an email.
According to the Globereport, images shared on social media appear to show Saudi forces employing Gurkha RPVs, made by Terradyne Armored Vehicles near Toronto, Canada's largest city, in their operation in the Qatif governorate.
Military experts confirmed the type of vehicle in the images, the newspaper reported.
Shiite minority
At least five people have been killed in the eastern Saudi town of Awamiya as government forces conduct an operation they say seeks to drive Shiite fighters out of the area.
But hundreds of people have reportedly been displaced, and Saudi government forces have been accused of firing indiscriminately on local homes and businesses as it lays siege to the town.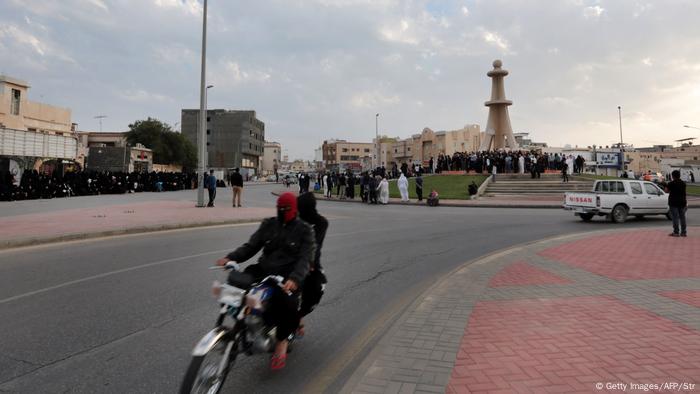 The Shiite minority in the oil-rich region of Qatif has long complained of being marginalized
The area is home to a large proportion of the country's Shiite minority, which makes up between 10 to 15 percent of the country's population, and has long accused the government of marginalization.
The eastern province has also seen a number of local protests against the Saudi government in recent years.
On July 27, Canada put out a public statement saying it was "concerned by the escalating violence" in the area and urging the Saudi authorities to address security challenges "in a manner that abides by international human rights law." The Canadian government also stated its opposition to the death penalty, after the Saudi Supreme Court recently upheld an order to execute 14 men.
Possible breach of export rules
For months, Canadian human rights groups have called on Ottawa to cancel another contentious weapons deal with Saudi Arabia over concerns the arms might be used in human rights abuses.
Ottawa first announced a CAD $15-billion (10 billion euros; 12 billion US dollars) arms export contract with the kingdom in 2014 under previous Canadian Prime Minister Stephen Harper.
But Justin Trudeau's Liberal government has since put its support behind the deal as well, with then foreign affairs minister Stephane Dion personally green-lighting the final exports permit for the sale.
The billion-dollar deal, brokered by the federal government, would see Ontario-based General Dynamics Land Systemsship light-armored vehicles to the Saudis for use by the country's National Guard over the next several years.
Human rights advocates fear the weapons may be used against Saudi citizens as well as by the Saudi-led coalition fighting a war in Yemen, which has been accused of repeatedly bombing homes, hospitals, schools and other civilian infrastructure.
They have pointed to Canada's own export regulations as a solid basis upon which to nix the agreement. Under the terms of those regulations, exports of Canadian military equipment can only be made in cases where there is "no reasonable risk" that the weapons could be used against civilians.
According to Jaramillo, the standard of proof "has never been evidence of misuse of Canadian-made goods, but reasonable risk that they might be misused."
"Recent reports seem to meet both standards," he said.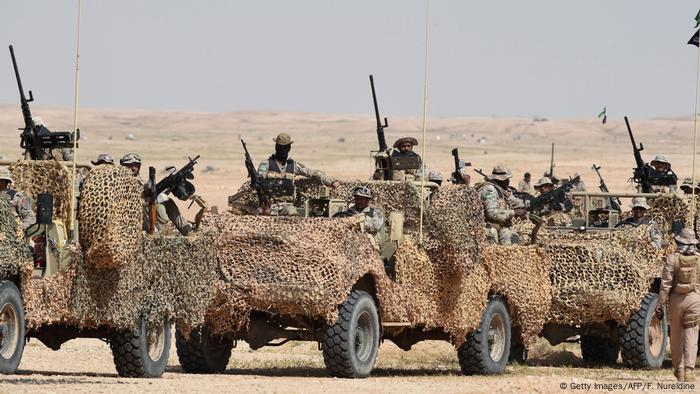 Arms sales to Saudia Arabia have causes controversy in the West for years
Amnesty International Canada is among the groups calling on Ottawa to cancel the billion-dollar contract.
"Mounting tensions and conflict in eastern Saudi Arabia, about which the Canadian government has rightly expressed public concern, further indicate how fraught it is for Canada to have authorized the sale of light armored vehicles to Saudi Arabia at this time," Alex Neve, the group's executive director, said in a statement.
Controversial arms deals
Canada is not the only country where a push to ban weapons deals with Saudi Arabia is gaining traction.
After a large-scale campaign urging the United Kingdom to stop all arms sales to Saudi Arabia, the High Court ruled in July that the government was within its rights to make the deals.
A debate was also had in the United States, where in June the Senate narrowly voted in favor of President Donald Trump's $500 million (420 million euros) deal to sell precision-guided munitions to the kingdom.
Read more: Trump in Saudi Arabia - counterterrorism and weapons deals
In Germany too, military exports to Saudi Arabia have been controversial for many years. So much so that in May the Saudi government said it would no longer request weapons from Germany and instead concentrate on closer cooperation in other areas.
Canada first exported armored vehicles to Saudi Arabia in the early 1990s.
Between 1993 and 2015, Canada sold more than 2,900 light-armored vehicles to the Saudis since that time, worth nearly CAD $2.5 billion, according to court filings.
Saudi Arabia is the second-largest market for Canadian-made weapons after the United States. It purchased CAD $142 million worth of arms last year alone, which accounted for nearly 20 percent of all Canadian military exports.