Greek businessman Andreas Andreadis has earned a reputation for bluntness. In recent years, he has given interviews praising German Chancellor Angela Merkel for putting pressure on Athens to reform. And he's been willing to rake Greece's veteran politicians over the coals.
This summer, though, the hotelier and head of the Association of Greek Tourism Enterprises (SETE) has reason to sit back and relax. Preliminary numbers indicate tourism in Greece is flourishing more than ever, primarily thanks to foreign guests.
"Our ambitious goal was to have 17 million visitors this year, and everything suggests that we have reached and maybe even surpassed this goal," said Andreadis, adding that such figures would represent an increase of more than 10 percent compared with 2012.
Tourists on cruise ships have not yet been factored in. Furthermore, the Greek government is reporting that tourist revenue has already increased by 18 percent, Andreadis said.
For the first time since the start of the euro zone crisis, bookings from Germany to the financially troubled country increased. Industry reports indicate that trips from Germany have increased by 15 percent compared with last year, after significant drops had been recorded.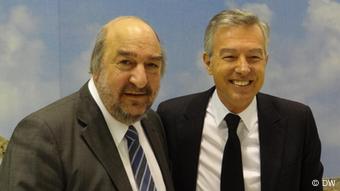 Andreadis (r) is pleased with the preliminary numbers on tourism in 2013
The Greek tourism industry is striving to attract new markets, and seems to be succeeding. Vacationers from Russia likely hit the million mark, while the number of Ukrainian guests doubled from 2012 to this year. For the first time, more than 800,000 people from Turkey headed to their neighbor to the west.
Few vacations for Greeks
The other side of the story is that most Greeks can no longer afford to stay in many of the hotels that line their country's coasts. Surveys suggest that more than financial constraints are leading 60 percent of Greeks to skip their summer holiday entirely.
The decrease in domestic tourism is indeed a problem, explains Andreas Andreadis. Revenue from Greek tourists has been cut in half since 2008, now standing at around 1.5 billion euros ($1.97 billion) per year. But it's the travelers from abroad who are bringing in the big sums of around 11.5 billion euros annually. That total can help compensate for Greeks' limited spending power.
"Speaking economically, it's very important that the number of foreign guests increases. Our balance sheet depends on it," said Andreadis, who runs luxury hotels on the Chalkidiki peninsula in northern Greece.
If the trend toward increased tourist revenue from abroad continues, the travel industry may become the most important step to recovery for the crisis-stricken country, which has experienced six years of recession in a row. The country's visitors already account for about one fifth of Greece's GDP, making them central pillars of its economy alongside agriculture and shipping.
Engine of growth
It remains an open question whether tourism can propel the country out of its crisis. Prime Minister Antonis Samaras seems to believe just that. "We have to get through the summer because starting in September, our economy will heat up," the conservative politician promised his country at the end of 2012.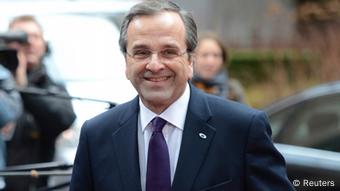 Prime Minister Samaras seems confident that tourism is key to the country's future
Thanassis Mavridis, an economist and head of the Green financial website capital.gr, is skeptical of such claims. "Our economy needs a success story, a glimmer of hope. The tourism boom was the right message at the right time, but it is certainly no reason to be jumping around and celebrating."
The tourism branch has certainly grown, but Mavridis believes Greece is not yet exhausting its possibilities in the industry. The economist says the state needs to do more to provide for conditions that would promote growth in the travel industry. For example, Mavridis says there is frequent talk of extending the tourist season, but little is being done. Another point, he adds, is the untapped potential of the vacation rental market: "Due to legal uncertainties for potential homeowners, many investors fear buying property in Greece. Spain and Turkey are much further along there, and both countries have sold a great deal of properties to foreigners."
Trouble to the east
This year, however, experts anticipate a lengthier holiday season in Greece in light of the political unrest in Egypt and other countries in the region, which typically see an influx of travelers in the fall. Some may opt instead to head to Greece.
SETE head Andreas Andreadis shares that view. However, the hotel owner warns, the dangers connected with an escalation in the Middle East crisis are much larger than a short-term boon for the Greek economy.
"An attack on Syria would damage Greek tourism, particularly our cruise ship branch. And, generally speaking, it's true that our neighbors' problems often spell trouble for us," he said.