A few weeks after taking office in 1995, French Prime Minister Alain Juppe still had a relatively good approval rating. Immediately after his appointment by new President Jacques Chirac, the prime minister threw himself into what he called his "battle for more jobs."
But France's government did not have much money to spread around. Public finances were in the red. With about 3 million people unemployed at the time - and, therefore, fewer and fewer people paying into the system - the deficit was increasing by the day.
Juppe had a plan. He wanted to raise the pension age for public sector employees and completely reorganize the social security system. Experts describe it as the biggest change since the safety net was strung in 1945. And the prime minister had the French Democratic Confederation of Labor, a major conglomeration of trade unions, on his side.
Within a few weeks, though, the wind changed. Several trade unions organized a general strike, and a large part of the population joined in. For three agonizingly long weeks, hardly any trains ran across the country. Mail went undelivered. There was no organized street cleaning or garbage pickup; the military was deployed to establish a bare minimum of emergency support. Juppe ended up caving in to popular protest over his core plans for pension reform.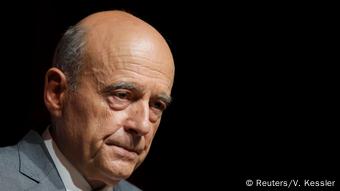 Juppe learned that changing the pension system was easier said than done
'Very emotional fears'
This is an issue that could affect new French president Emmanuel Macron and his government. When Juppe was pursing his agenda in late 1995 and early 1996, Macron was about to take his high school exit exams. In the spring on 2006, when another government backed down over key reform proposals, he was just starting his career as a civil servant. In 2006, following nationwide student protests, the conservative prime minister, Dominique de Villepin, scrapped new labor market legislation, even though it had already been passed by parliament.
These plans failed not just because of lack of willingness on the part of the French people, but also because the government failed to communicate with them properly. "The French have high expectations of the state, for it to fulfill its protective function with regard to social welfare," said Julie Hamann, a political scientist at the German Council on Foreign Relations in Berlin. "As soon as reforms are announced that may lead to cuts in social services or labor market insecurity, this very quickly gives rise to very great and very emotional fears."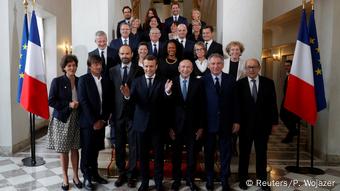 Macron and his cabinet have a full agenda of changes
Nonetheless, Macron and his government have declared far-reaching changes a priority. Over the next 18 months, the government wants to implement six comprehensive social reforms - even in the face of resistance from radical trade unions, who have called on people to join the first protest rallies next Monday. Hamann, who is researching protest movements in France, believes that there is, however, an opportunity for a reform agenda. "There is an awareness in France generally, including among the unions, that reforms are necessary. And there's also a willingness to carry out these reforms," she said. Macron has no need to fear crippling resistance from his own ranks, the kind that paralyzed the previous, Socialist administration. After this Sunday's elections, the president can expect to have a majority in parliament in favor of reform.
Power shifts in the unions
A shift in the general mentality after over 20 years of failed attempts at liberalization is not the only thing playing into the government's hands. Power shifts within the unions should also make negotiations easier. The radical CGT, which for decades was the strongest union in France, has lost a lot of its influence over moderate workers' representatives. This camp is prepared, in principle, to reach an agreement with the government. In addition, the president is able to say he has a "mandate for reform," as he announced widespread cuts in his election campaign.
Hamann said communication would be essential for the agenda to succeed. A power struggle openly conducted on the street must not become the dominant image. "The key will be how the government and President Macron communicate with the various partners in society, and also with the general population," Hamann said.
Macron's prime minister, Edouard Philippe, can learn from Juppe's experience when he prepares for his own negotiations with the unions. Juppe initially pursued a hard line against the demonstrators in the 1995 protests. As a result, the government first lost its authority and then its grip on power.