President Jacob Zuma is due to step down as African National Congress (ANC) leader at a key national party conference in mid-December. The new party leader usually succeeds the country's president at the subsequent national poll.
Current front runners for the post of ANC leader are Nkosazana Dlamini-Zuma, former head of the African Union (AU) who was married to Zuma from 1982 to 1998, and Cyril Ramaphosa, Zuma's deputy in the presidency and the ANC. While Dlamini-Zuma is thought to be largely sympathetic to her ex-husband, Ramaphosa, is a Zuma critic. The former trade unionist and stalwart of black economic empowerment is today a wealthy businessman and has voiced strong criticism over Jacob Zuma's latest corruption cases.
According to political analysts, Zuma is preoccupied with installing a successor sympathetic to him. If not, it is almost certain that he would have to answer to old and new corruption charges.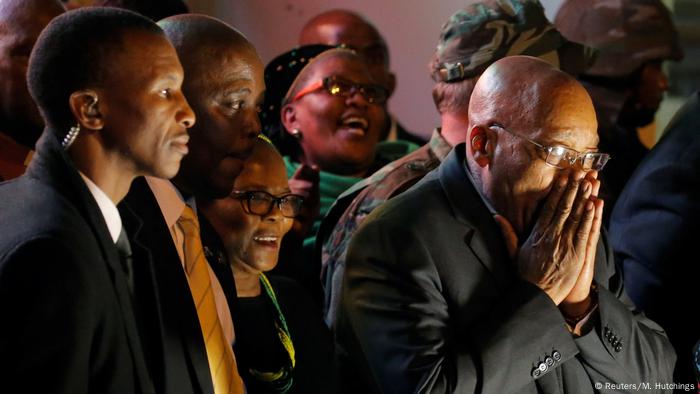 In August 2017, Zuma survived the latest vote of no-confidence in parliament
"The moment he is no longer ANC leader, he is powerless and open to prosecution. Even his enemies within the party will come after him," William Gumede, chairman of Democracy Works Foundation and author of the book Restless Nation, Making Sense of Troubled Times, told DW.
"That is why he is trying to keep it in the family, pushing for his ex-wife [Dlamini-Zuma] to succeed him. Whether it is [through] bribing or killing, he wants to get her that job," he added.
The murders of dozens of low-profile ANC officials since elections last year has fueled speculation of strife within the party. There are also fears of possible violence in the weeks leading the December party conference.
Even if the ANC has lost support due to several damaging corruption scandals, it remains South Africa's strongest political party and could win national elections scheduled for 2019.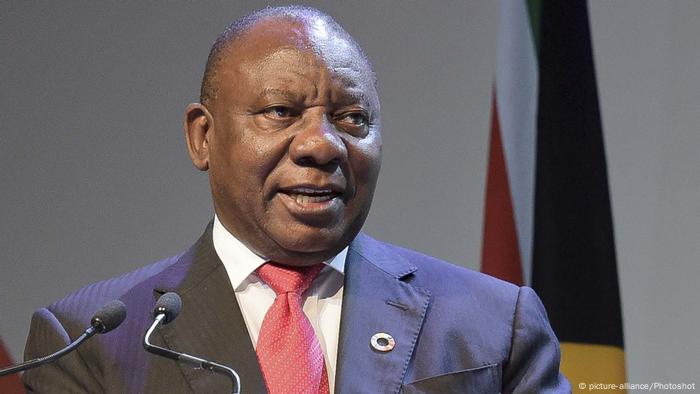 Cyril Ramaphosa is Dlamini-Zuma's main rival in the ANC leadership battle
Numerous corruption charges
The myriad of cases currently surrounding Zuma include the 2016 Constitutional Court ruling, which concluded that he had breached the constitution by failing to pay back a portion of the estimated 240 million rand (15 million euros; 18 million US dollars) he spent on renovating his home. It also includes the reinstatement by the High Court of 783 counts of corruption brought against him in 2009.
The state-capture case in particular rocked South Africa in 2016, which linked Zuma and his family to the Gupta brothers, a trio of Indian businessmen, who are alleged to have influenced the appointment of high profile political positions in South Africa. South Africa's main opposition group, the Democratic Alliance (DA) are currently in court to force Zuma to establish a commission of inquiry to investigate the case.
Last year, South Africa's then-Public Protector Thuli Madonsela, issued a damning report that detailed political interference by the Gupta brothers. Madonsela gave Zuma 30 days to establish a commission of inquiry, yet almost a year has gone by with little progress on the matter.
In recent months, there has since been a steady flow of emails, leaked to the mediathat reveal more about the Gupta family's meddling in state affairs and how they benefitted from state-owned enterprises.
Zuma's relatives have business links to the Guptas. His son, Duduzane Zuma, was recently linked to a campaign by a European public relations firm, Bell Pottinger, contracted by the Guptas to "sow racial hatred and division in South Africa."
Zuma has a record of stalling the courts. He has also earned a reputation for appointing sycophants across state institutions including the police service, prosecuting authorities and the revenue services.
#ZumaMustFall
Amidst a wave of student protests around university fees and South Africa's colonial past, the more political hashtag #ZumaMustFall started circulating on social media about two years ago.
Just last month, Zuma survived a no-confidence vote in parliament. That 20 ANC lawmakers voted in favor of booting him out in the secret ballot was seen as evidence of deepening divisions within the party.
Read more: Denis Goldberg: ANC should 'clean its house'
The opposition has campaigned relentlessly for Zuma to resign. They argue that the former liberation movement that came to power under the leadership of Nelson Mandela has lost its moral high ground.
"Jacob Zuma is not fit to preside over South Africa and South Africans. His loyalty lies with himself, his family, his cronies and his party," the leader of the opposition DA, Mmusi Maimane, told DW.
"He has led a systematic assault on our democratic institutions during his term of office. Much of this assault has been aimed at keeping himself out of court and out of prison," he said.
The far-left Economic Freedom Fighters (EFF) party has been just as emphatic over the need for Zuma to step down. They have repeatedly pushed for the president to face justice both in parliament and the courts.
"Jacob Zuma has to resign. He is not a legitimate president because he broke the constitution," EFF spokesman Mbuyiseni Ndlozi told DW.
An ailing economy
Some of the decisions under the Zuma presidency, including cabinet reshuffles, have had unprecedented adverse effects on the economy. Economic growth now hovers at under 0.5 percent. Unemployment is close to 28 percent and structural and education reforms are seen as badly needed.
"Since he came into office, we've seen a loss of confidence in the domestic economy and progressive credit ratings downgrades," said Laura Campbell, an economist with Econometrix, an independent South African consulting firm.
"There is a lot of political noise in the run-up to the ANC conference. Ratings agencies like Moodys and Fitch will wait to see who wins before deciding on further downgrades," she added.