Alongside record heat waves, trade wars have also been grabbing global headlines recently, whether it's the United States versus Turkey, the US versus China — or the European Union versus Indonesia and Malaysia.
Rumblings of the latter followed the European Parliament's January 2018 vote to ban the use of palm oil as a biofuel by 2020. Malaysia and Indonesia — both major producers — threatened retaliation, but backed down after the EU opted for a slower phase-out of palm oil as biofuel.
Now, under the EU's updated Renewable Energy Directive (finalized in June), palm oil imports should peak around 2019, then begin to drop in 2023 before being phased out entirely by 2030.
The EU's move came amidst growing recognition that the consumption of palm oil in Europe contributes to deforestation, destruction of wildlife habitat and — when industrial palm oil growers clear rainforests — greenhouse gas emissions.
Read more: Palm oil: Too much of a good thing?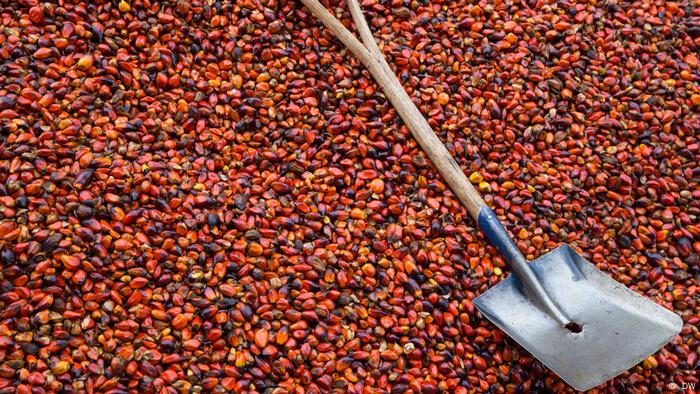 Many argue that palm oil is going to be on the menu for some time, so the EU should ensure its production is sustainable
In Europe, about 40 percent of imported palm oil ends up being used as fuel, thanks to targets adopted in 2008 that mandated 10 percent of transport fuels come from renewable sources such as plant oils like palm or soy.
Despite good intentions, Europe ended up painting itself into an unsustainable corner, said William Todts, director of Belgium-based nonprofit Transport & Environment.
"There are low-carbon fuel mandates, but we didn't define what we thought were 'good' biofuels," he told DW. "We set a big target without defining the rules — so the market decides, and the cheapest is palm oil."
Todts said the energy market "has created a monster — now how do we get rid of it?"
Not just biofuels
The EU's new palm oil regulations are a big step in the right direction, say environmentalists. But Danielle van Oijen, a conservation advocate with Milieudefensie (Friends of the Earth Netherlands), says only bigger societal changes will ensure sustainable palm oil use.
Read more: Forest SOS: Earth's green lungs disappear
Even if biofuels are taken out of the equation, palm oil is widely used elsewhere in the economy, including in food, cosmetics and medicines. By some estimates, palm oil is contained in about half of all products in an average European supermarket.
"The first step in sustainable consumption is less and different consumption in the Global North," van Oijen told DW.
"We need to eat less meat; eat fresh, less-processed food with [less] fatty substances such as palm oil. And we definitely need to stop using palm oil to fuel our cars," he said.
Major palm oil producing countries such as Malaysia are losing forest, and won't be able to produce enough food for their own people because so much land has been given over to this industrial crop, added van Oijen.
"The land needs to be used to produce food for domestic use, and not to feed Europeans or to fuel European cars," she said.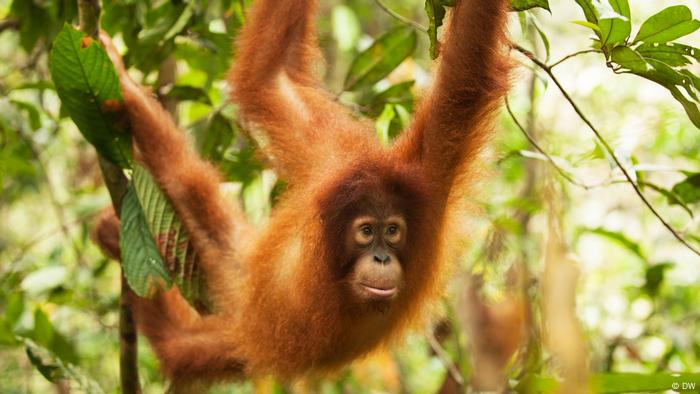 When rainforests are destroyed, species such as the orangutan lose their habitat
Oil palms have been grown sustainably in Africa for a long time. These systems involve many other food crops, retain forest cover and require little to no pesticides, she explained.
"The plant is not the problem, but the production model is. Governments do not invest in smallholders, but rather see development as bringing in foreign investment with industrial production models."
Growing problem
The best estimates suggest that oil palms — the source of palm oil — are now cultivated globally across an area about the size of Belgium (around 30,000 square kilometers or 11,600 square miles). The United Nations Food and Agriculture Organization says world demand could triple by 2050.
Whether production at that level is sustainable is questionable given current environmental ramifications — namely deforestation, destruction of wildlife habitat and greenhouse gas emissions.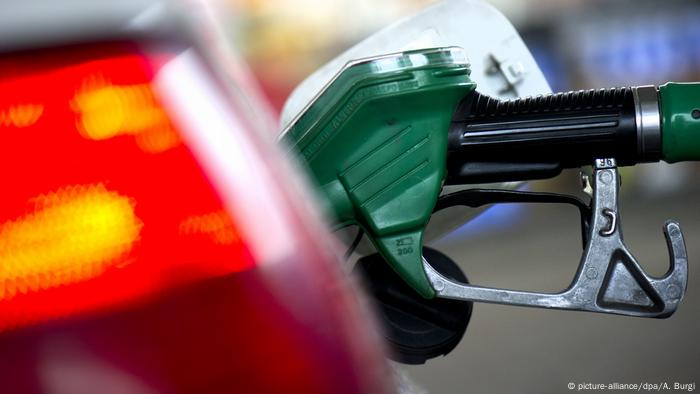 Nearly half of the palm oil imported to Europe is used for biofuel
Producers say they are reducing environmental impacts through more efficient production, including planting higher-yield trees and by reclaiming wasteland rather than clearing more forest.
Nongovernmental organizations, governments and private producers are collaborating to find more eco-friendly paths, at least on a small scale, with sustainable certification alliances such as the Roundtable on Sustainable Palm Oil (RSPO).
But conflicts remain within various certification schemes for palm oil. In the past three months, the RSPO tried to show it meant business by suspending and then reinstating food production giant Nestlé from the alliance.
The conglomerate uses palm oil in a wide variety of products, and had failed to file the required sustainability paperwork. After being kicked out of the RSPO, Nestle pledged to step up its efforts.
Going nowhere fast
Meanwhile, conservation organizations are still documenting rapid destruction of native forests for palm oil production. Since 2002, global consumption of palm oil has more than doubled, from 30 million tons to nearly 60 million tons per year.
Yet this production generates wealth and contributes to gross domestic products in South Asia and Africa, so it's unlikely that the main producing countries will slow production even with the new EU targets.
Read more: #HowGreenAmI: Is a life without palm oil possible?
That means that the EU needs to ensure that its imports don't violate any human rights or contribute to further environmental degradation, said Katerina Konecná, a EU parliament member from the Czech Republic representing the Confederal Group of the European United Left/Nordic Green Left.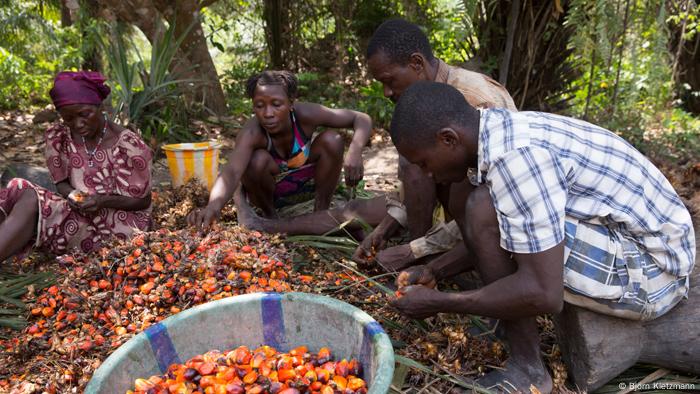 Environmentalists say palm oil can be produced sustainably — in places like Sierra Leone (pictured), this is already happening
"Right now, the EU is the second-biggest user of palm oil," Konecná told DW as she rallied the European Commission to act, based on a palm oil sustainability report she contributed to.
"There's not a person in the parliament who thinks it's okay if the palm oil we import is unsustainable, and produced in violation of human rights."