The British parliament on Wednesday supported a motion calling on Prime Minister David Cameron to demand a reduced EU budget at an upcoming summit in Brussels.
The amendment passed by 307 votes to 294, with early breakdowns suggesting that about 50 members of Cameron's Conservatives supported a non-binding proposal initially put forward by the euro-skeptic arm of the party.
The parliamentary bill supports a "real-term reduction" in the 2014-2020 EU budget. In an apparent bid to placate the back benches, Cameron said prior to the vote that he would have used his veto on any budget that was "not in the interest" of Britain.
"At best we would like a cut, at worst a freeze," Cameron said in parliament. "I am quite prepared to use the veto if we do not get a deal that is good for Britain." He urged his own party members to support negotiations on a long-term deal, saying that setting spending year-by-year in the absence of an agreement would be more costly.
Strange bedfellows
The Conservative rebels, with Mark Reckless among their leaders, said they hoped Cameron would act on the non-binding motion if it passed. They argue that the domestic austerity measures implemented should be coupled with cutbacks at the EU level.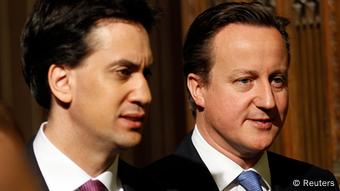 With Miliband on the attack over domestic cuts, the EU budget has come under scrutiny too
"Then David Cameron can go to Brussels as [former Conservative prime minister] Margaret Thatcher went before him, as head of a united parliament to represent our interests in Brussels and to say when we are seeing such cuts at home, there should be at least some reduction in the EU," Reckless told parliament before the vote.
The leader of the opposition Labour party, Ed Miliband, said Wednesday's vote showed that Cameron was "weak abroad and weak at home." Labour, not usually counted among Britain's euro-skeptics, overwhelmingly supported the motion demanding a smaller EU budget - a move Cameron labeled "rank opportunism."
Cameron has already departed from European policy once since taking office, dramatically deciding last December not to enter into the EU's "fiscal compact," a plan to implement greater fiscal coordination and reduced domestic budget deficits across the bloc.
November negotiations
European leaders will convene in Brussels on November 22 and 23 for a special summit to discuss the EU's 2014-2020 budget. The European Commission is seeking a seven-year budget with an upper limit of 1,033 billion euros ($1,339 billion). This represents a 5-percent rise on 2007-2013 spending, but Brussels says it is a slight reduction when adjusted for inflation and economic growth in the bloc.
Britain is not the only country to have called on the EU to reduce spending amid domestic austerity measures in several member states. German and French officials have said the bloc should make do with less, though they are set to disagree on where to cut. Agriculture spending, the largest single chunk of EU expenditure each year, is liable to bear the brunt of any cuts - a move, however, that may not be popular with France.
Three quarters of the current EU budget is spent either on agricultural subsidies or regional development aid.
msh/ch (AFP, dpa, Reuters)