The mood of the Brazilian economy is improving as right-wing populist Jair Bolsonaro's won Sunday's presidential elections in Brazil. The country's stock exchange already celebrated Bolsonaro's surprisingly high support in the first ballot. Since then, the local currency, the Brazilian real, has also been steadily gaining in value.
There has been a comprehensive swing to the right in Brazilian politics with Bolsonaro's growing popularity. Many right-wing candidates from his party were successful in the simultaneously held congressional and gubernatorial elections. Bolsonaro's previously insignificant Social Liberal Party (PSL) is now the second-strongest political force in Congress. This is likely also one of the reasons for investors' change of mood.
"This has increased the chances of Bolsonaro being able to introduce a liberal reform agenda with little resistance from the legislature," says Marcelo Giufrida of the fund manager Garde Asset Management
Read more: Who is Jair Bolsonaro?
From backbench to neoliberal reformer
The confidence in Bolsonaro is surprising, because it is unclear how the retired serviceman wants to solve Brazil's serious economic problems. Bolsonaro attracted particular attention in his 30 years as a political backbencher with racist, homophobic and misogynistic remarks and slogans glorifying violence. But in the election campaign, he outed himself as a neoliberal reformer. In a sign of this, he brought multimillionaire investment banker Paulo Guedes on board as his economic adviser. The 69-year-old Guedes is to become "super minister" for economics.
Guedes has never led a ministry or negotiated with Congress but is planning comprehensive reforms. He wants to sell all state-owned companies to pay off the state's debts. The current pay-as-you-go pension scheme is to be converted to a funded system. The pension system can no longer be financed. In five years' time, the entire state budget for pension payments will be gone if nothing changes.
No clear direction
But presidential candidate Bolsonaro is now backtracking and has muzzled his economic adviser. He wants to exclude the most important state-owned companies from privatization, such as Petrobras and Banco do Brasil. He also does not want to reduce the military, although soldiers, with their perks, are just as much of a financial burden on the general public as the above-average costs of civil servants.
There is already resistance from Brazil's industry associations to a comprehensive market opening for imports. "The chances that the proposals will be implemented in this way are virtually zero," says Persio Arida, an investment banker with many years of experience as a minister. The fact that Bolsonaro, in his six electoral mandates, voted above all for the cooperative interests of state corporations, civil servants and the military — that, too, leaves foreign investors in particular doubting Bolsonaro's capacity to reform.
Markets prefer Bolsonaro
The rating agency Standard & Poor's views Bolsonaro as president a greater economic risk than his opponent, Fernando Haddad. Bolsonaro is a political outsider and will have more problems implementing his economic program, it says. Moody's continues to fear that the growing polarization in Congress will make it harder for the next president to implement reforms.
In spite of doubts about Bolsonaro, investors' euphoria is mainly fueled by the fact that the chances of left-wing candidate Haddad and his Workers' Party coming to power have fallen sharply. This is because Haddad's policies are well-known and follow the previous governments of Lula da Silva and Dilma Rousseff.
"Despite his populist and anti-democratic views, Bolsonaro is clearly the market-friendly candidate," explains Marcos Casarin, head of Latin America Macro Research at Oxford Economics.
Read more: Is there a right-wing surge in South America?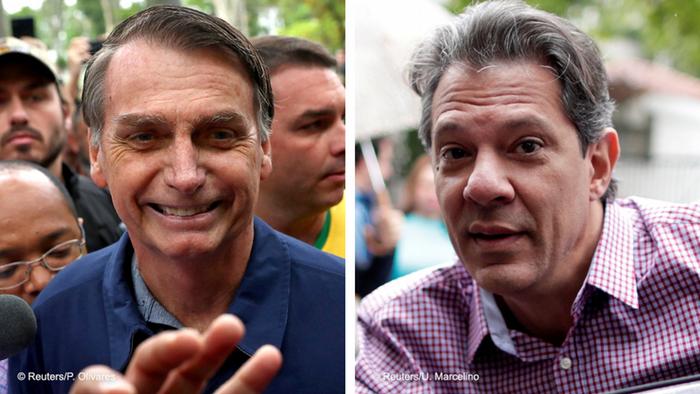 Sunday's runoff pits Jair Bolsonaro against Fernando Haddad
Budget overhaul or bust
According to Arthur Carvalho of investment bank Morgan Stanley, the crucial question now is, "Will the next president be prepared to pay the political costs of a budget restructuring?" That is because Brazil is heading for a financial crisis. The country has a budget deficit of 7.6 percent of its economic output. This is larger than neighboring Argentina, which, mainly due to its national budget deficit, has within a few months gone from being the star of the emerging markets to petitioning the IMF.
Experts from the investment bank JP Morgan warn that Brazil has the largest budget deficit in the world, with national debt amounting to 80 percent of the gross domestic product (GDP).
They say Bolsonaro will have to come up quickly with convincing reforms aimed at reducing the deficit, adding that he does not have much time to do it. The markets won't show any indulgence toward the next president, they say, in view of the fact that, for almost four years now, the economy has been drifting largely without leadership. Thirteen million Brazilians are unemployed; twice as many are underemployed.
Carvalho of Morgan Stanley is also convinced that "either the next government will voluntarily undertake budget restructuring, or a crash will force it to do so."
The eighth-largest economy in the world is increasingly failing to keep pace — infrastructure and the education system are deteriorating rapidly. The country's industry is falling further and further behind with regard to important future-looking aspects such as Industry 4.0, big data and artificial intelligence.
Not a hopeless case
Confidence abroad is also waning. According to surveys by the UN trade organization UNCTAD, foreign investment in Brazil fell by 22 percent in the first half of the year. This is the largest decline among emerging countries. In terms of competitiveness — calculated by the World Economic Forum — Brazil has slipped from 57th to 81st place since 2014.
Nevertheless, Brazil is not a hopeless case. With the right signals, a positive development could be set in motion very quickly. A president could quickly reap the rewards of a reform policy. Unlike Argentina, Brazil looks quite solid from the outside: Agriculture and mining largely rectify the economic balance with dollar revenues and ensure full foreign currency coffers. Brazil is only slightly indebted abroad, which is why the central bank can keep interest rates low. Despite economic stagnation, inflation is under control. Brazil's economy could pick up again quickly if the general economic mood turns positive.
"If the next president uses the political momentum of his election victory to introduce decisive reforms in the first six months," says Edson Franco of Zurich Insurance, "then the chances are good that Brazil will have four good years."
Each evening at 1830 UTC, DW's editors send out a selection of the day's hard news and quality feature journalism. You can sign up to receive it directly here.