Far-right candidate Jair Bolsonaro will face leftist Fernando Haddad in the second round of Brazil's presidential election, scheduled for October 28.
Bolsonaro got roughly 46 percent of the first-round votes — more than 46 million ballots — while Fernando Haddad from the Workers' Party was in second place with just under 29 percent. A candidate needs more than 50 percent to win outright.
Read more: Unlikely and unlikable, Jair Bolsonaro could lead Brazil
The first-round results increase the possibility that the ultra-conservative Bolsonaro could become president of Brazil, which has not had a powerful right-wing political force since the end of military rule in 1985.
Bolsonaro, a former army captain who has spent the last 27 years as a congressman, has campaigned on promises of cracking down on violence and corruption, but has also included praise for Brazil's former military dictatorship, derogatory comments about women and gay people, and wants to fight crime by loosening controls on already deadly police forces.
In 1993, he told Congress: "Yes, I'm in favor of dictatorship! We will never resolve grave national problems with this irresponsible democracy."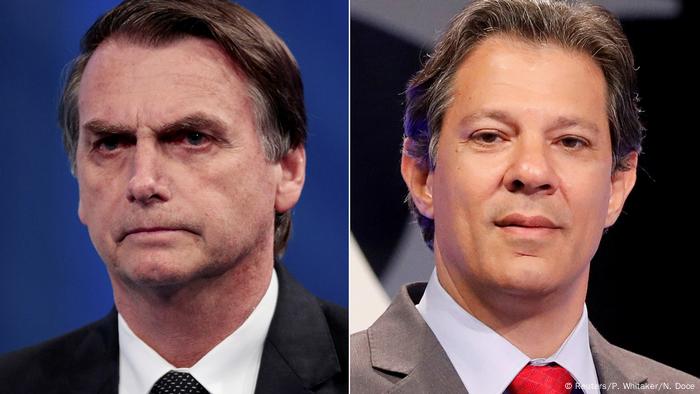 Candidates for the run-off Jair Bolsonaro and Fernando Haddad
Echoes of Trump
On the eve of the election he had made a call which echoed those made by US President Donald Trump during his campaign: "Let's make Brazil great! Let's be proud of our homeland once again!" Bolsonaro had written to his 7 million Facebook followers.
He said on Monday he would retain his economic advisor Paulo Guedes and keep to his hard line message, and not become a "peace and love" candidate. The Brazilian stock market rose 6 percent on Monday.
The 63-year-old's campaign was boosted after he was nearly stabbed to death at a rally one month ago, which kept him from campaigning.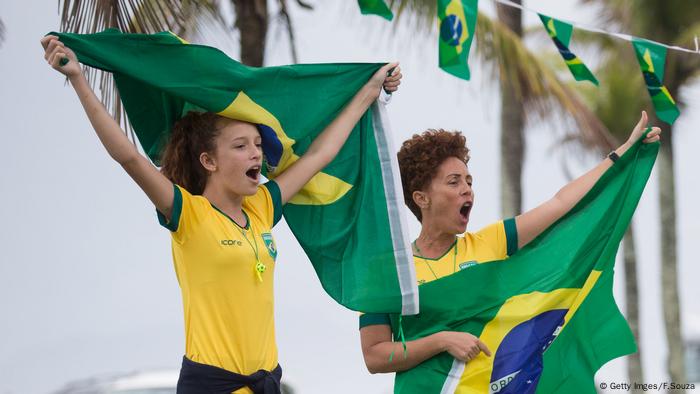 Bolsonaro supporters in front on his beach-front home in Rio de Janeiro
Party pressures
Bolsonaro's Social Liberal Party (PSL), insignificant until recently, is poised to become the second-largest force in Congress after legislative elections also held on Sunday.
Read more: Brazil's presidential election: Mired in crisis, headed for autocracy?
Haddad is the leftist Workers Party stand-in for former President Luiz Inacio da Silva, who is currently serving a 12-year prison sentence for corruption, and had his presidential candidacy barred earlier this year.
His campaign focused on traditional leftist aims of fighting long-standing inequalities, scrapping a major liberal labor reform passed last year and investing more in education.
ng, law/rt (AFP, dpa, Reuters)
Each evening at 1830 UTC, DW's editors send out a selection of the day's hard news and quality feature journalism. You can sign up to receive it directly here.