Brazilian presidential hopeful Jair Bolsonaro slipped in polls this week ahead of a deeply polarizing election on Sunday.
The right-wing populist lost six percentage points to rival Fernando Haddad, reducing the polling gap to 56 percent vs 44 percent.
Bolsonaro has made headlines for his wildly offensive statements about women, including telling a lawmaker she was too ugly to rape. But a breakdown of polling results shows he still enjoys wide support among female voters.
Some 44 percent of women polled said they would vote for Bolsonaro, compared to 40 percent for Haddad. The remainder was undecided.
A number of key individuals have been speaking out, such as the first black Supreme Court President Joaquim Barbosa who was at the center of proceedings in a major PT corruption scandal. He nearly stood for president himself this year: "Voting is making a rational choice," Barbosa wrote on Twitter on Saturday. "I, for example, have considered the positive and negative aspects of the two remaining candidates in the contest. For the first time in 32 years of exercising the right to vote, a candidate inspires fear in me. That's why I'm voting for Fernando Haddad."
Read more: Who is Jair Bolsonaro?
'Screwed either way'
Dr. Selina O'Doherty, a lecturer in International Development at Swansea University, researching social movement activism in Brazil, told DW that women were faced with a difficult choice.
"The anti-Bolsonaro side wants anyone but him … based predominantly on his inflammatory and controversial statements. Their votes are being cast based on their moral principles rather than purely politics," O'Doherty said.
"On the other side, many of the pro-Bolsonaro supporters want 'anyone but the PT (Haddad's left-wing Workers Party).' They are not so much anti-Haddad, as anti his party based on the PT's previous years of governance."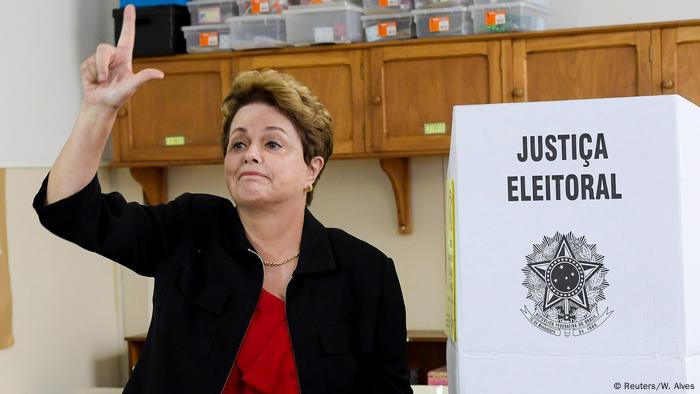 In 2016, former PT President Dilma Rousseff became the world's first democratically-elected female president to be impeached.
Many voters credit the PT with lifting vast segments of the population out of grinding poverty. But the economy now lies largely in tatters after its deepest recession in decades and the exposure of corruption among the political elite.
One Brazilian voter told O'Doherty: "A vote for Bolsonaro is bad for social welfare, the environment, the poor, and minorities, but a vote for Haddad is bad for the economy — we're screwed either way."
Read more: Is there a right-wing surge in South America?
'Hairy' feminists
One of the primary push factors away from Haddad, according to O'Doherty's findings, is a distaste for feminism, with Bolsonaro's female critics being repeatedly called ugly, unhygienic, and hairy, as well as stupid.
Bolsonaro's grating words on minorities are doing little to repel them either. Despite saying he would prefer a dead son than an openly gay one; he still seems to enjoy popular support among gay voters. He also leads among black voters.
And while Bolsonaro appears to be losing momentum, he still maintains a strong lead. Pollsters say it remains impossible to predict a late swing until the final poll on Saturday night.
Each evening at 1830 UTC, DW's editors send out a selection of the day's hard news and quality feature journalism. You can sign up to receive it directly here.