With the opening round of Brazil's presidential election just four days away, far-right candidate Jair Bolsonaro overtook his leftist rival Fernando Haddad in both the first and second rounds, according to a poll released by Brazilian polling firm Datafolha on Tuesday.
In the first-round survey, Bolsonaro obtained a 32 percent voter approval, four points higher than the most recent Datafolha poll on Sept 28. Workers Party candidate Haddad dropped one point and trailed Bolsonaro with 21 percent.
If no candidate gains a majority in Sunday's vote, a second-round run-off election will be held three weeks later, on October 28.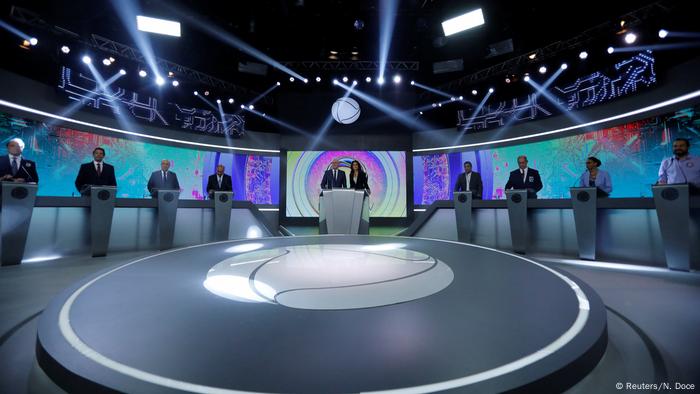 Presidential candidates take part in a televised debate
Until recently, Bolsonaro had been set to lose a second round, but Tuesday's poll showed that he has gained sufficient ground to at least tie. The far-right candidate polled at 44 percent, with Haddad trailing at 42 percent.
Some 14 percent of voters remain either undecided or are planning to cast a blank ballot. They could prove critical on Sunday and in the second round. Both Haddad and Bolsonaro have high rejection rates, with 42 and 45 percent respectively, reflecting the highly polarized landscape of a disaffected electorate.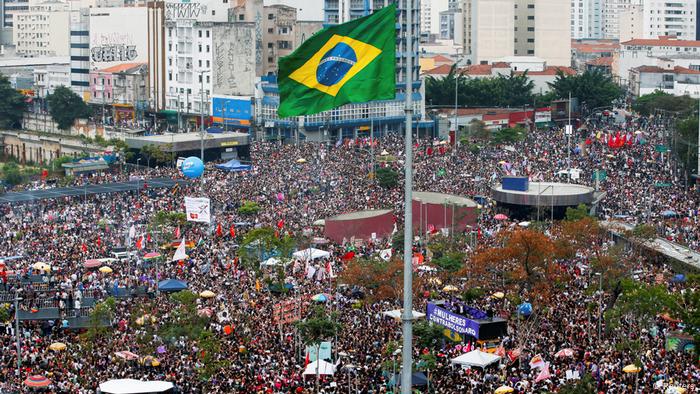 A demonstration against Bolsonaro
Read more: Brazilians struggle to escape violence in Rio de Janeiro
Farm lobby endorses Bolsonaro
As he increased his lead over Haddad, Bolsonaro won the backing of Brazil's influential Parliamentary Agricultural Front (FPA) on Tuesday. The lobby group includes nearly half of the lawmakers in the lower chamber of Congress.
The FPA explained its decision to not back the Workers Party as a rejection of leaders "linked to corruption schemes and a deepening of the Brazilian economic crisis."
The announcement, coupled with the latest poll's release, led to a surge in markets. The benchmark Bovespa stock index jumped 3.6 percent, indicating that investors view the gains of Bolsonaro's candidacy positively.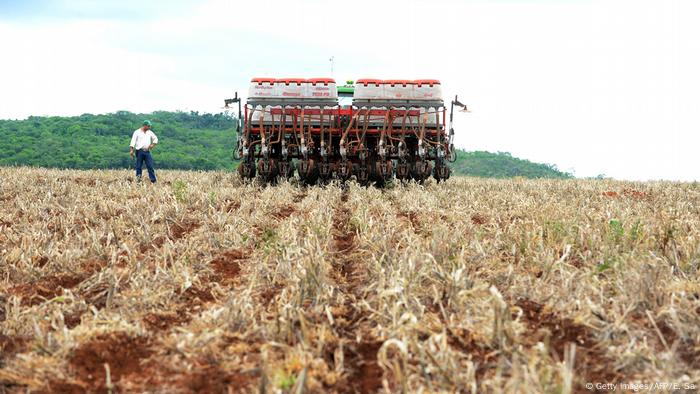 Agriculture is big business in Brazil: cereal production in 2018 is estimated at 99 million tonnes
Read more:Brazil's growing evangelical movement to shape election
The right-wing firebrand, who is still recovering from a dramatic stabbing last month, has actively campaigned in support of economic liberalization, reducing the size of the state and privatizing "a large part" of state-run firms.
Despite mass protests on Saturday against Bolsonaro's racist, homophobic and misogynist positioning, under the banner "Not him," the former army general has also gained ground among women voters. A second poll by data firm Ibope showed his support among women overall rose 6 percentage points in the last week.
jcg/msh (dpa, EFE, Reuters)
Each evening at 1830 UTC, DW's editors send out a selection of the day's hard news and quality feature journalism. You can sign up to receive it directly here.