The smartphone apps that warn Rio de Janeiro's residents about gunfights registered 700 incidents in August, 80 percent more than last year. Using this information, the Cariocas (Rio's residents) attempt to bypass danger spots, including the Linha vermelha and Linha amarela highways. Those with money drive armored cars. The rest stick tinted film over their windows.
In the middle-class district of Tijuca, concerned parents discuss whether to move away. The bars here complain of fewer customers, as do the samba sheds in Lapa's Boheme district. Meanwhile, there has been an increase in the use of private security services in Ipanema and Leblon, Rio's well-off residential areas. Poorly lit parks, such as the Jardim de Alah, which separates the two posh suburbs, are given a wide berth at night.
Skin color and postal code
For people living in Rio's favelas, however, the situation is much worse. According to political scientist Ilona Szabo the risk of dying in the city is determined by a person's skin color and postcode. One such example is the neighborhood of Vila Cruzeiro.
Read more: Brazil's growing evangelical movement to shape election
"I would enact a law here that would require everyone to stay at home," says local Claudia Sacramento. "You would only be allowed out to go to school, work or shopping. Because you never know what's going to happen here."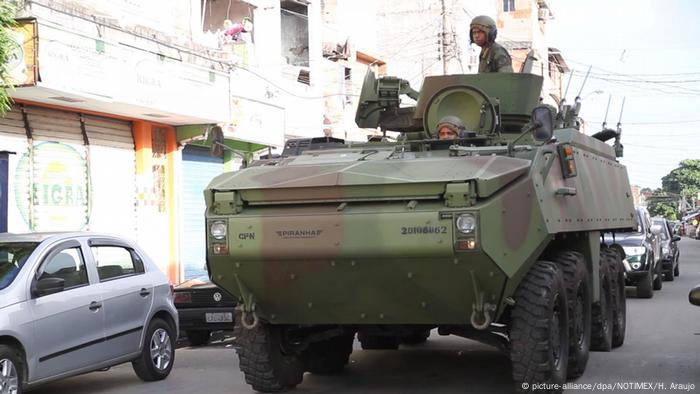 The Brazilian military has been deployed to the streets of Rio in an effort to curb crime
She sends daily warnings to her roommates via WhatsApp, Facebook, Twitter and Instagram. Where are shootings taking place? Where are police forces and the military? Which streets should residents avoid? At the end of 2010, security forces expelled the drug gangs and the Police Pacifying Unit, or UPP, was stationed here in mid-2012. But the police have long since withdrawn. Their failure can be seen in the empty police cabin under Claudia's window, riddled with bullet holes. The UPP never really worked, Claudia explains. She says the state only offered violence instead of social programs. She has been sending out daily warnings for seven years now, "and as long as I live, I will continue to do so," she says.
An unwelcome military
Things have become particularly bad in recent months, Claudia says. At times, schools and kindergartens have been closed. The military, which took over leadership of Rio's security policy from the helpless police in February, has been hunting drug gangs.
Read more: Brazil suffers health care crisis as SUS system flounders
"The military just walked into houses, turned them upside down, arrested innocent residents. The inhabitants want the old times back. They want the military to go away, because they don't feel safe with them," says Claudia.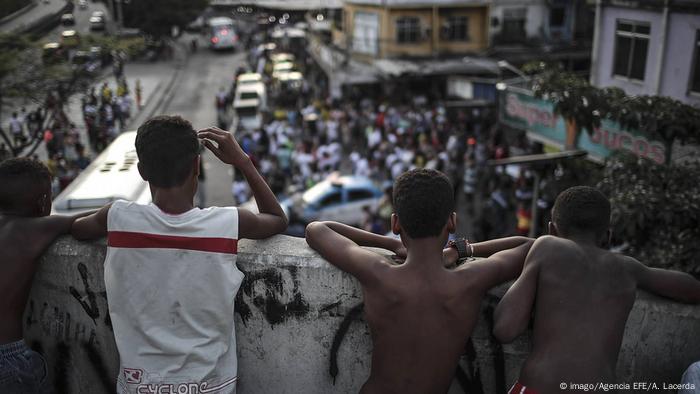 Residents of Rocinha have protested against the favela violence
Everyone knows the local drug dealers from when they were kids, she continues, and you can live among them without any problems. "The problem is when the state suddenly invades. Then bullets start flying everywhere. A friend was almost shot in her kitchen. But when we complain about this violence, it is said that we support the drug dealers," Claudia says.
There are now also daily gunfights in the Dona Marta favela, which was the first to receive a UPP unit in 2008. This was where Michael Jackson shot the video for They don't care about us in 1996. Last year someone hung a machine gun over the shoulder of a statue of the pop star that was erected there. Now you can hear gunshots all the way to Urca, Rio's safest district. This is where the upper classes live, surrounded by military buildings.
At the beginning of June, Urca's image of safety was tarnished. Drug dealers fled over the hill to the area before a police operation in the favelas of Chapou Mangueira and Babilonia. For the first time in its 100-year history, the cable car to Sugarloaf Mountain was halted. Days later, favela residents discovered several bodies in the woods nearby. There were no consequences for the implicated policemen.
Read more: Displaced Venezuelans fear for their lives in Brazil
"This is a favela, they are allowed to do such things here," says Andre Constantino, who for years has served as president of the Babilonia residents' association. "Not because seven, eight or nine people died here, but because the fighting extended as far as Urca, because the cable car had to close for the first time, the press reported about it. They don't care about those who live or die here."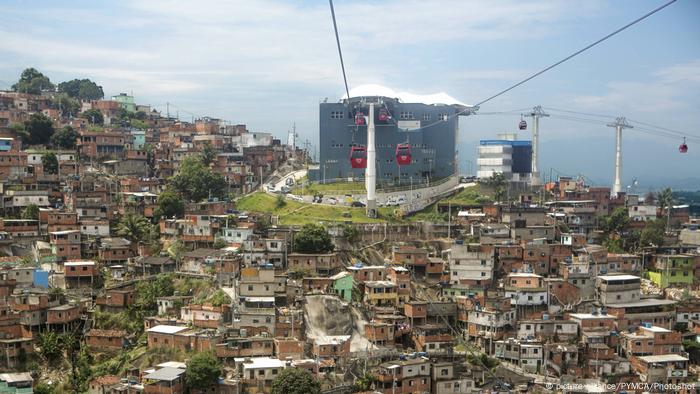 The closure of the Sugarloaf Mountain cable car drew heavy media attention
'Michael Jackson was right'
A regular everyday life is impossible in the favelas. "The war on drugs has taken a heavy toll on life, it makes people sick and even harms the school performance of children and young people," sociologist Julita Tannuri Lemgruber told DW. Studies show that children from conflict areas perform worse at school. Roughly one in four public schools in Rio is located in a conflict zone.
Read more: Brazil military intervention in Rio de Janeiro a 'publicity stunt'
Police time their operations to start exactly when students are on their way to school, says Constantino: "We are used as human shields. This shows that people's lives don't matter here."
Constantino would like to move away, "to somewhere on the asphalt." There, he says, police do not tolerate such high levels of violence. "This is an extermination camp for dark-skinned people," says Constantino. "How could I say that I like living in a place where there are two secret cemeteries full of buried corpses?" Offers for education, culture and policies to save the youth here are lacking, he says. "But the Brazilian state does not want to save them. It wants to kill them. Michael Jackson was right: They don't care about us."