Some 4,200 soldiers and 70 police officers, as well as armored vehicles and aircraft, were involved in early morning raids into slum areas of northern Rio de Janeiro on Monday, where drug-related violence has spiked in the last year.
At least five suspected members of drug gangs were killed in shootouts as residents stayed in their homes due to the fear of being shot.
Military spokesman Carlos Cinelli said weapons and drugs were seized during the operation. In an email to Reuters, the army said "the operations are ongoing and there could be more deaths."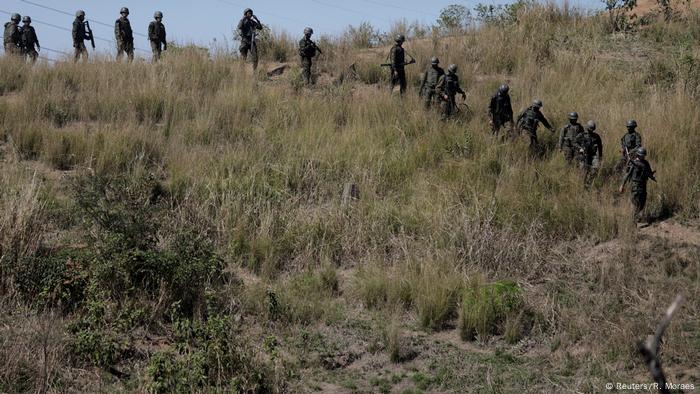 Brazilian soldiers in the Alemao slum area of Rio de Janeiro
President Michel Temer in February announced emergency measures authorizing the army to take command of police forces in Rio de Janeiro state.
In the first six months of the federal intervention, to the end of July, the number of murders in the state rose by 5 percent to 3,476, according to official state data released last week.
Human rights concerns
Human rights activists have said the deaths and the central role of the army in the operations were a worrying development in Rio's crime wars.
"We think this is very serious. If there is confirmation that the dead were executed by officers of the armed forces, it would be a troubling change," said Silvia Ramos, from the Observatory of the Intervention, which monitors the security forces in Rio.
"The armed forces cannot enter this logic of useless confrontations and unacceptable killings that are the hallmark of the Rio police," Ramos added.
Almost 64,000 people were murdered in Brazil last year, a record high.
The rise in violence has become a key issue ahead of presidential elections in October.
An opinion poll on Monday showed jailed former president Luiz Inacio Lula da Silva had increased his support by 5 percentage points and would win the elections, if he was allowed to run.
jbh/jm (Reuters, AP, AFP)
Each evening at 1830 UTC, DW's editors send out a selection of the day's hard news and quality feature journalism. You can sign up to receive it directly here.