President Michel Temer has signed a decree giving the military control of security in Rio de Janeiro in response to spiraling drug gang violence.
The military already supports police in favelas, large slums overrun by drug gangs. It had previously helped provide security during the 2014 World Cup and 2016 Summer Olympics.
But the decree, which went into effect immediately, hands the military power over all police operations in Rio state. It must be approved by both chambers of Congress within 10 days.
"Organized crime nearly took over in the state of Rio de Janeiro. This is a metastasis that is spreading in our country and it threatens our people. That's why we decided on the intervention," Temer said at the presidential palace in Brasilia on Friday. "Our administration will give a tough, firm answer."
The military mission will last until the end of the year.
Broken security
The dramatic decision in a country that was ruled by a military dictatorship from 1964-1985, comes after Defense Minister Raul Jungmann said last month that "the security system is broken."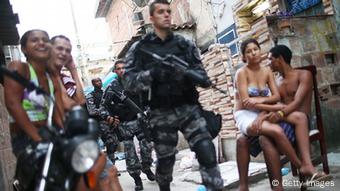 Military units already support police in patrols in Rio slums
On Friday, he said the decree will put in place "a more robust, better coordinated security system, with a better intelligence service." It would not impact the country's democracy, he said.
Highlighting the dire state of security in Rio, Carnival in recent years was marked by violence and muggings.
"The total confusion and lack of coordination of the security forces during the Carnival" prompted Temer's decree, David Fleischer, professor of political science at the University of Brasilia, told the Agence France-Presse.
Arthur Trindade, a university professor and former security secretary for Brasilia, told AFP the decree is also aimed at cleaning up a corrupt police force.
Other motives
Former National Security Secretary Jose Vicente da Silva told The Associated Press that the military invention would help, but not totally end systemic drug gang violence.
"Rio state can't solve this any time soon and the military could be effective in keeping some smaller groups that have operated lately off of the streets," da Silva said.
Analysts say the move is also an attempt to distract from Temer's single-digit poll numbers and failure to advance pension reform ahead of a general election scheduled for October.
The military intervention also raises questions over accountability. If soldiers commit crimes during patrols, they will not be tried by civilian courts. It is the first time the military has taken control of a state's security since the return to democracy in 1985.
cw/cmk (AFP, AP, dpa, Reuters)
Every evening at 1830 UTC, DW's editors send out a selection of the day's hard news and quality feature journalism. You can sign up to receive it directly here.