At least three people were killed when Brazilian military police clashed with suspected members of a local drug syndicate in Rio de Janeiro on Wednesday. The G1 news outlet reported that drug boss Rodolfo Pereira da Silva, also known as "Rodolfinho" was among the dead.
The gun battle started with a police raid in Rio de Janeiro's Jacarepagua area outside the infamous slum of Cidade de Deus, where the security forces had encountered armed resistance. It then spilled over to the nearby Linha Amarela, one of the main access roads in the Brazilian metropolis. The criminals reportedly set up multiple barricades during the hours-long standoff.
Read more: Rio de Janeiro drug lord detained in military operation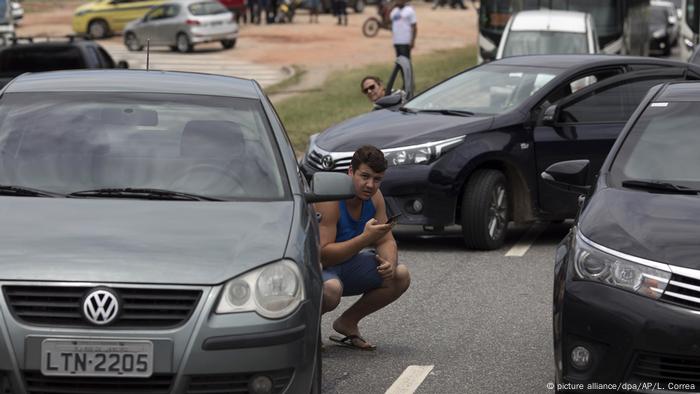 Some drivers attempted to flee the scene by driving in the opposite direction
City authorities repeatedly stopped traffic on the multi-lane road, creating massive traffic jams. Drivers hid below or beside their cars to avoid stray bullets.
Read more: Brazil sends troops to Rio de Janeiro to fight organized crime
In the aftermath of the firefight, Brazil's Defense Minister Raul Jungmann said that the state's security system was "broken."
"The crisis has had an influence on this process - the lack of resources being channeled into public security," he said in a speech cited by Agencia Brasil, the national public news agency, run by the Brazilian government.
Jungmann added that Brazilian crime gangs were active internationally, and that the federal government did not have the authority to intervene in states "except in extraordinary circumstances."
The crime-ridden Cidade de Deus favela was featured in the critically-acclaimed 2002 movie City of God (Cidade de Deus in Portuguese). The South American country is currently experiencing an increase in violent crime parallel to the ongoing economic and political crises.
dj/jm (AP, AFP, EFE, Lusa)