Jair Bolsonaro, Brazil's firebrand right-wing presidential candidate, said on Friday that he would not accept the outcome of next month's election if he loses, as polls suggest he will.
"From what I see in the streets, I won't accept any result that is not my election," the populist politician told Brazilian broadcaster TV Band.
Bolsonaro, a retired army captain, has led an ill-tempered campaign in what has been Brazil's most polarizing election since the country's return to democracy in 1985. He has previously said he doesn't trust Brazil's top electoral court and accused the rival left-wing Workers' Party of resorting to fraud as its plan B in the upcoming vote.
His right-wing running mate, retired General Hamilton Mourao, has also said that Brazil's armed forces should launch a coup if the judiciary is not ridded of political corruption.
The Bolsonaro campaign has so far not provided any evidence of potential voter fraud.
Brazil's electoral court and the Organization of American States, which is overseeing the elections, have flatly denied the right-wing lawmaker's accusations.
Bolsonaro was speaking Friday from his hospital bed where he is recovering from a near-fatal stabbing he suffered at an election rally in the southern city of Juiz de Fora earlier this month. He was expected to be discharged on Friday, but his departure was delayed after he suffered a fever and minor infection. He said he intends to resume campaigning by October 12.
Read more: Brazil: Martin Schulz visits ex-President Lula in jail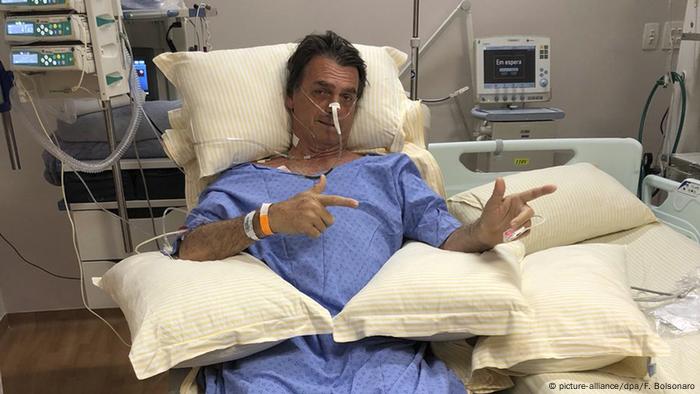 Bolsonaro has pledged to resume campaigning on October 12 after bring stabbed at a rally in early September
Destined for defeat
If no single candidate wins a majority in the first round of voting on October 7, a runoff between the top two nominees is slated to be held on October 28.
Bolsonaro leads going into the first round of voting, but polls suggest he would lose to Workers' Party candidate and former Sao Paulo Mayor Fernando Haddad in a runoff.
Haddad took over the left-wing party's ticket earlier this month after jailed former President Luiz Inancio Lula da Silva was barred from running because of a corruption conviction.
Bolsonaro shrugs off theft accusations by ex-wife
Rather than leaving the hospital on Friday, the populist politician spent most of the day dismissing reports that his second ex-wife accused him of concealing his fortune and stole money from her bank safe.
Read more: Unlikely and unlikable, Jair Bolsonaro could lead Brazil
Brazilian magazine Veja, citing court documents, reported that Ana Cristina Valle alleged in a 2008 divorce filing that Bolsonaro had stolen 1 million reais ($247,000, €212,000) in cash and jewelry. Valle, who is currently running for Congress under her former husband's surname, has admitted that she was "hot-headed" when she made the accusation.
Bolsonaro's campaign has vowed to take the magazine to court over the report.
dm/tj (AP, Reuters)
Each evening at 1830 UTC, DW's editors send out a selection of the day's hard news and quality feature journalism. You can sign up to receive it directly here.