Nineteen-year-old Ritu Sharma has just got out of school. She now wants to study at the Harbin Medical University in China. Ritu is not desperate to leave India and go abroad for higher education, but she couldn't get an admission in government medical colleges due to a limited number of seats there. She also can't afford private medical schools in India.

"I think I will have a better future if I study medicine in China," Sharma told DW. "Education in private colleges in India is very expensive. I think that when I return from China after completing my course, I will have better job prospects here," she added.

People in India believe foreign schools are better than the ones at home, and that there is a bigger market for those in India who hold a degree from foreign countries. But that is not the only reason for the brain drain. Indians are also looking to study abroad as medical schools in their country have increased their fees manifold.

Cheaper and better
India has around 290 medical schools, which can take up to 31,000 students annually. The remaining 350,000 students have to take admission tests. There is clearly more demand for admissions than what these medical schools can offer.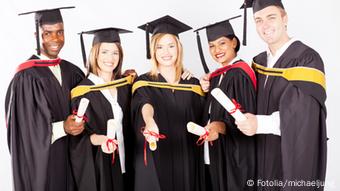 A foreign degree is considered a key to success


According to the Indian National Board of Examinations, there has been an increase in the number of applicants seeking admission in medical programs.

"Since 2000, there has been an increase," Board's executive director Dr. Bipin Batra told DW. He said that China, Russia, Ukraine and Nepal were preferred destinations for students who couldn't go to Europe and the US to study.
Education experts say China is attracting a lot of Indian students. The East Asian country has around 52 universities that offer courses in medicine at almost half the fee demanded by India schools. These Chinese schools also provide decent boarding facilities.
A worrying trend

Quite a lot of students don't want to go back to India after finishing their degrees.

The migration of Indian students to foreign countries has been a cause of concern for the government. Dr. Srinath Reddy, president of the Public Health Foundation of India, says the brain drain is a worrying sign for the development of India.

"Clearly, we don't have enough doctors in this country," Reddy told DW.
According to the World Health Organization, there are six doctors in India for every 10, 000 patients, whereas in China and the US respectively, there are 14 and 26 for the similar number of patients.

Dr. K.K. Aggarwal, an Indian Medical Association official, believes medical schools should increase the number of seats to accommodate the higher number of applicants.

"I hope the Indian government pays attention to it and opens more medical schools in the country so that students don't have to go abroad," Aggarwal told DW. "Students of other countries should instead come to India."