Over 12.5 million Facebook likes and 1.5 million Twitter followers: that's not a bad balance for a Bundesliga club that is coming tenth on the table right now.
But those sort of numbers don't come without a lot of hard work. Responsible for this wave of online success is David Görges and his team at the Borussia Dortmund business offices, situated well away from the club's famous ground, the Signal Iduna Park.
Even though they started their Facebook page in 2007, it was in 2011 that the club known around the world as BVB, really started to take social media seriously.
"It was the first time that the club had put a strategy behind new media," Görges says.
Dortmund's one-of-a-kind style
Since then, the club has put a particular style into their interactions, with a quirky and informal feel to most posts. Unlike the competition, the tone BVB use is one you would normally associate with fans, rather than a strict PR department.
"We have an approach that is different from other clubs. It comes from how we believe to have understood these channels," Görges says. "Our marketing claim is to be real with our fans and we represent that on our social media channels too."
Twitter is where Dortmund's fan-feel is most obvious. With only 140 characters, being able to produce one-liners and jokes is crucial.
"We fool around on our channels, but on different levels. We can be a bit ironic at times, but also very specific on Twitter - just for the fun of it. It suits us, it's just the way we are."
Facebook is the club's platform with the largest audience, and therefore has been their main focus for the last four years. With the majority of their reach on the world's biggest social media site, it's become a more serious means of interaction for the club.
Being able to differentiate between styles is vital. And, the staff understand that jokes are only meant for certain situations. When bottom of the Bundesliga, it wasn't easy to find the right tone, Görges explains. But, at the end of the day those who are reading the posts are the most important people.
"We don't use these channels for ourselves; we do it for the fans. That's the most important thing."
The Matchday experience from behind the screen
For most football fans, a Bundesliga Saturday starts with a normal wake up time, some breakfast and then travel to the game. For Peter Flore (pictured below) it's a different story though. The man behind Dortmund's Twitter account begins preparation as soon as the clock ticks over to midnight, and doesn't end until the final seconds of the day.
Much like fans who wear a lucky shirt, he has a ritual he likes to follow. Parking in the same spot every game day, Flore makes his way over the bridge to the stadium a couple of hours prior to kick-off, before heading to the pitch to get a feel for the atmosphere.
A close relationship between the fans and club allows Peter Flore to retweet travelling supporters to give a feel of the club's overall build up.
"Our live coverage starts around two hours before a game. With no script, there is no real plan just before or during a game, but that's the best way to show emotions," Peter explains. "You can't script a football game, so why try to script your coverage of it?"
Flore recounts his most famous online moment. Having missed countless chances during a Bundesliga game against Borussia Mönchengladbach the BVB fans were losing their patience.
"After we missed again, I just hammered into the keyboard 'screw this.' I added the hashtag from the game so that people would understand that it wasn't a mistake," he says.
The tweet had 12,000 retweets, the most of any from the BVB account. There was a similar number of retweets after Sven Bender broke his nose and kept bleeding all over his jersey, having to change his shirt four times. Flore posted a picture of Bender shirts in the club shop, quipping "We've got plenty more." These examples show how a personal touch works.
A bright future
Bucking a booming trend, Dortmund continues to work from just one central Facebook and Twitter account meaning their languages are limited. While the club's global reach is still growing they want to post in German and English for now, they say. This is in stark contrast to many other Bundesliga clubs, like Schalke, Mainz and Bayern Munich, who have long since created English, Spanish and even Japanese accounts for different markets.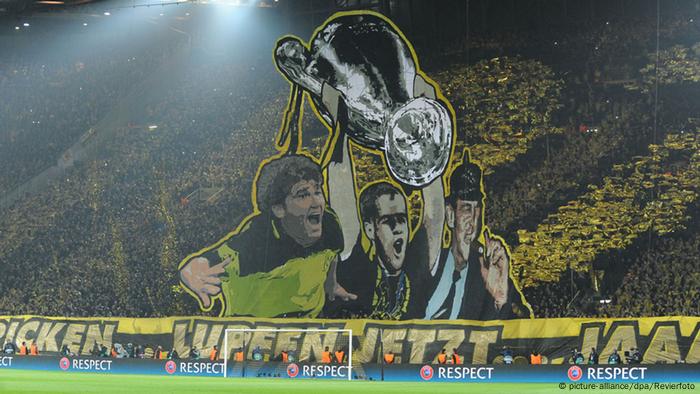 Dortmund's fans are legendary: but how do you gather them together online?
After studying American literature at University, Peter Flore says he is more inclined to pen his comments in English before German, to avoid an incorrect translation. But, the first words of every post are still German.
"We certainly have thought about opening a new account for a second language on Twitter but, on the other hand, the best way would be to have a technical solution like Facebook where you can target a certain area," David Görges reveals. "Let's see what next season brings."
In fact, the next innovations are already well on there way. This season the club plans on launching a matchday mobile app, which will give Germany-based fans inside and outside the stadium the full story of each game. Posts from social media, as well as traffic and weather reports will be included in the app's feed.
"Football fans are becoming mobile first. Everything is mobile nowadays and that's what we are planning for the near future," Görges says.
The key remains reacting fast though, in an instinctive way, like a good footballer. "I like to see our social media team as surfers who are paddling, waiting for the waves to come. They need to be sharp and focused so if the story comes, they can ride it. If you miss a big wave, you won't get it again."
Tune in to Thursday's edition of Kick off! to learn more about the social media activities of Bundesliga clubs.