Nine months after the trial began, a court sentenced five people to prison for the assassination of Russian opposition leader Boris Nemtsov. In June, a jury found the men guilty of involvement in the killing.
Zaur Dadayev, who confessed to firing the fatal shot on a bridge outside the Kremlin but later recanted, received 20 years. His co-defendants each got sentences ranging from 11 to 19 years on such charges as illegally supplying a firearm to participating in a contract killing by an organized group.
Prosecutors had asked the Moscow court to put Dadayev - a former officer in the security forces of Chechen leader Ramzan Kadyrov, a close ally of Russian President Vladimir Putin's - away for life. Opposition leaders have criticized investigators for not studying Kadyrov's possible role in the killing. Nemtsov, who had emerged as Putin's chief rival, was murdered just days before he planned to lead a major opposition march and release a controversial report implicating Russia's military in the civil war in Ukraine.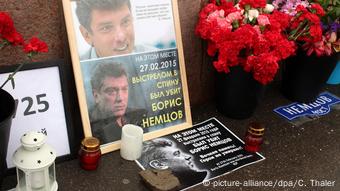 For over two years, Russians have mourned the man who stood up to their president
Last month, the United States welcomed the convictions of the five men in connection with the murder. "Though Boris Nemtsov is gone, his patriotic spirit lives on in Russians young and old who seek to build a more democratic, prosperous and open Russia," State Department spokeswoman Heather Nauert said in a statement that called the dissident a champion of democracy and human rights. She referred to Nemtsov as "a courageous advocate for the rule of law and transparency in government" dedicated to advancing the rights of all his fellow citizens.
The assassination occurred while Barack Obama, who had a tense relationship with Putin, was still the US president. The new leader, Donald Trump, has proved much friendlier to Moscow.
mkg/ng (Reuters, AFP, dpa, AP)