Paris Saint Germain. Real Madrid. AS Roma. Arsenal, Chelsea of London. And Berlin? Why doesn't the capital of Germany transport the same footballing force as its European counterparts? Of the many teams that have struggled to overcome the city's financial and political obstacles of the last 70 years, Hertha and Union Berlin are the two to have taken the least damage. Neither though, has the resonance befitting a capital club. The reasons extend beyond historical borders, ageing stadiums and the demands of the modern game. All of them combine to create the story of a city bereft of a great football presence.
Berlin's turbulent history is known around the globe, but the impacts of that East-West divide continue to outlast the concrete that was hauled down 25 years ago. It is reflected geographically by the Hertha and Union fan bases, which are still split almost precisely by the path of the former Wall.
This historical hangover has also dragged Berlin down to the lower ranks of Germany's financial league. Not one of the top 30 companies on the stock market is based in Berlin. Frankfurt is the banking capital and home to the German football league (DFL), while with the lion's share of big business, along with the country's most successful football club, is based in Munich. The famously poor but sexy Berlin has carved a market niche out of creativity, cultural diversity and affordable housing. Football never was the Berliners' first love. That is starting to change, but not at the expense of other activities – from basketball to ice hockey, there are 72 top-level sports teams in Berlin.
Then there's Berlin's mongrel nature. The population has shifted and changed with the tides of history. Dortmund, Stuttgart, Frankfurt, Mönchengladbach, all benefit from the small city, big passion effect. They have seen tremendous support for their clubs over generations, allowing football to thrive at the heart of their communities. Hertha can only dream of such a situation.
Hertha stuck, Union free
Even within its own city, Hertha has struggled to engage. In the aftermath of the Second World War, Hertha was marooned in West Berlin and stayed that way until 1990. "That is nearly 50 years of development that Hertha just didn't have compared to other clubs. And from 1983 to 1997, Hertha had no top-flight football, which hampered the generational transfer of support," says Uwe Bremer of the "Berliner Morgenpost". Current Hertha head coach, Pal Dardai, is Bremer's 20th in 20 years of writing about the club and within minutes of arriving, it's clear to me just how vast the man's knowledge is.
In a unified Germany, support hasn't been easy to muster from the former East either. Union, on the other hand, have nurtured a cult, fan-orientated appeal that transcends their second-division status and lifts them above their big city rivals in terms of loyalty. Club president Dirk Zingler wanders around the stadium as if he had a ticket for the turnstiles, while fans have donated money, time and blood (literally) to keep their club alive. For all those efforts, Union remains a small club for whom the first division could well forever be out of reach. Newly-appointed Union head coach Sascha Lewandowski might change that, but fans won't mind either way.
Not so for Hertha. "To say that Berlin doesn't care about Hertha is just not true. They averaged 40 thousand fans in the second division and are now around the 50 thousand mark. It just depends where you are in Berlin," says Bremer defiantly. Having had a top-five youth academy since 2001 (six of its talents were at the 2014 World Cup) and more players born in their city than any other Bundesliga club, there are good reasons to be a Hertha fan. After the Wall fell, German football legend Franz Beckenbauer predicted that Hertha was "a sleeping giant set to awaken". But the snores can still be heard all the way across the country.
Hertha can be accused of doing a great deal to hinder their own progress. A Bundesliga founder-member, in the 1970s the club was at the heart of Germany's infamous match-fixing scandal. In the 1990s, there was the ruthless and raucous reign of Dieter Hoeness. Two years after returning to the top flight, Hertha qualified for the Champions League and Hoeness wanted Chelsea and AC Milan as regular opponents. Lots of money was spent, both on bad players and TV deals, but the team didn't deliver, with three fourth-placed finishes. The failure nearly cost the club the ultimate price.
Two recent relegations have also hit Hertha hard. With TV money in Germany calculated on a five-year basis, more consistent mid-table rivals such as Hannover have found themselves better financially rewarded. Hoeness' successor, Michael Preetz, did repair some of the damage by reducing ticket prices and restructuring the club's finances. Preetz has however failed to inspire, and although not the stepson of untouchable club president Werner Gegenbauer (as is often reported), he appears to have power beyond his role. Just ask any of the six head coaches that have been and gone since he took over. On top of all this, the recent transfer market madness has passed Hertha by. "How can you compete when Augsburg sell a single player for 30 million euros?" argues Bremer.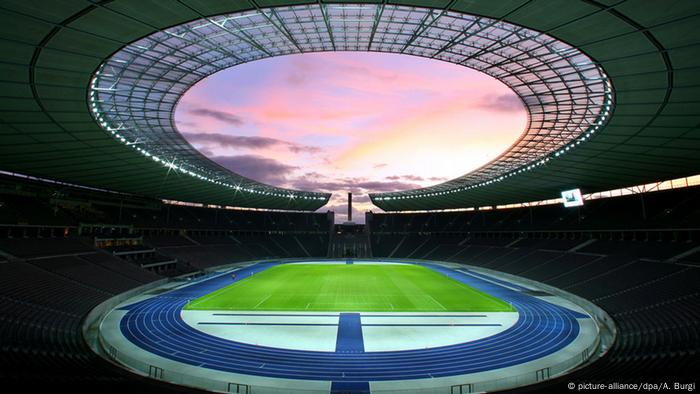 The stadium is pretty, but can Hertha call it home?
More to blame than management
Then there's the issue of local identity. Hertha is in many ways a club without a home. Both their original stadium, Poststadion, and their current home, the Olympiastadion, have been associated with Berlin rather than the club itself. If only things had gone differently at the 2006 World Cup, Bremer tells me. For the tournament, the state government was happy to foot the bill for a 250-million-euro ($280 million) facelift, but not a new stadium – that was something the club themselves would have to pay for. Hertha fans believe their current distance from the pitch, across the iconic blue athletics track, costs them three to four points a season in terms of influence.
"You have to be passionate to be a Hertha fan," says Bremer. "I remember seeing a sign in the crowd at one of the home games that just said 'First Hertha, then sex'. That's what it's all about," continues Bremer with a knowing smirk. The great Germany writer Theodor Fontane said: "Vor Gott sind alle Menschen Berliner" (Before God, everyone is a Berliner). Simply put, Hertha is letting the city down.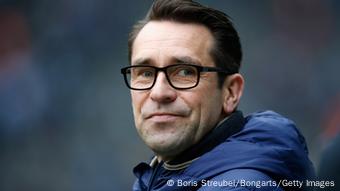 Michael Preetz is a controversial figure at the club
"Hertha has completely failed to move with Berlin - where they could have capitalized on a weird city becoming a metropolis, they just kept on being a weird club," says sports journalist and Berlin resident Kit Holden. Speaking to German magazine "Der Tagesspiegel" marketing expert Oliver Drost echoes the same thought, stating Hertha hasn't been accepted by Berlin and that Union's alternative stance makes them far more intriguing.
Both Berlin and football are just too fast for Hertha. The constantly evolving metropolis often proves decisive when it comes to contract talks - just ask current star striker Salomon Kalou - but in a city making so much noise, it is perhaps no surprise that football has struggled to find a leading voice.
"Berlin doesn't need football like other cities need football. And football never needed Berlin like other subcultures needed it," says Holden, astutely. Berlin has formed an identity that isn't dependent on football. While Union, the perennial eastern underdog and club of the people has forged on regardless, Hertha remains marooned, and still searching.