A majority of voters in Berlin opted in a non-binding referendum on Sunday for keeping the city's Tegel airport open, complicating the legal and political situation surrounding the airport's closure.
The vote was held at the same time as nationwide elections. Regional election officials' results showed that 56.1 percent voted for keeping the airport open, while 41.7 percent voted for its closure once the city's long-delayed Berlin-Brandenburg airport opens in the next few years.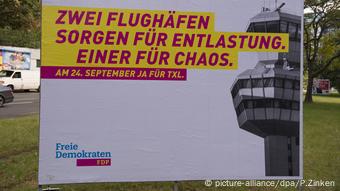 "Two airports ensure relief. One for chaos," according to a pro-"Save Tegel" FDP poster in Berlin.
Despite the clear majority, the outcome may not stop the airport's closure. Current law requires Tegel, which opened in 1948, to close once the new Berlin-Brandenburg airport opens. The new airport, which was supposed to have opened in 2012, has suffered repeated delays because of technical problems and there is currently no official opening date.
Read more: At the airport, but not flying
Airport's future still up in the air
But the leader of the FDP faction in the Berlin Senate and supporter of the "Save Tegel" campaign, Sebastian Czaja, said the city's SPD mayor Michael Müller should respect the outcome.
"This is a vote that can't be reinterpreted and is clear; this is about taking political action. And we demand that it is legally implemented," he said.
Read more: Berlin's Tegel Airport referendum stirs voters in German capital
Müller said he would speak with stakeholders in the federal and Brandenburg state governments about "whether they would be willing to reconsider their position."
He added, however, that there were "considerable legal difficulties" that made it difficult for the outcome to have any impact. "You can't just decide to do away with the legal situation in this way," he said.
The referendum was born after hundreds of thousands of local residents started a petition to "Save Tegel" that the local FDP convereted into a non-binding referendum.
Initial polling had predicted a large victory for the "Save Tegel" campaign, but the gap between the two sides narrowed considerably in the last few weeks.
amp/se (dpa, AFP)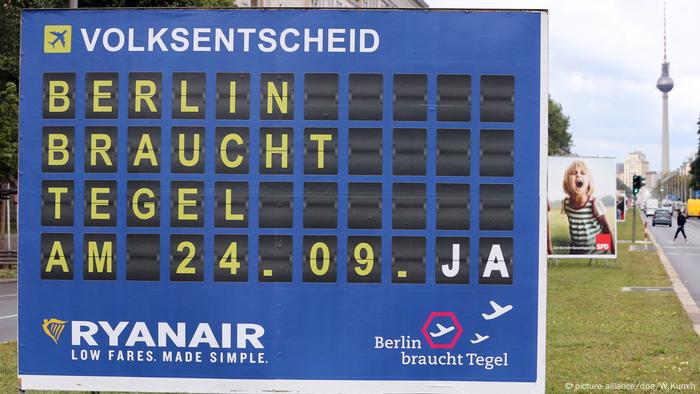 Another adverstisement in the city stated, "Berlin needs Tegel on September 24. Yes."