Energy company Electrabel, which operates seven reactors at the Tihange and Doel nuclear power plants, restarted the Tihange 1 reactor on Saturday only a week after a fire in a non-nuclear section of the plant forced it to shut down.
Built in 1975, the Tihange 1 reactor is the oldest at the power plant, located about 70 kilometers (43 miles) from the German border city of Aachen.
The plant was scheduled to close down in 2015 but due to the country's heavy reliance on nuclear power the government extended the plant's life to 2025 to provide time to develop other energy sources.
Earlier in December another reactor at the facility, the Tihange 2, went back online after almost a two-year shutdown following the discovery of thousands of micro-cracks in the reactor casings.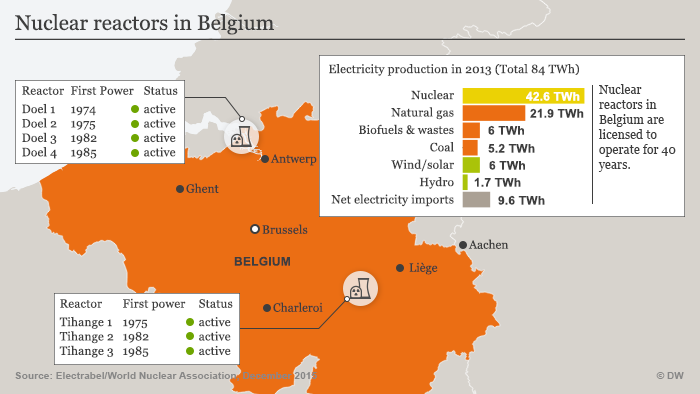 On Friday, reactor three at the four-reactor Doel plant near Antwerp was forced to shut down only days after it was restarted following a nearly two year period offline over safety concerns.
The company said it would restart the reactor within the next few days.
Belgium's nuclear policy is controversial in neighboring Germany, where it has triggered protests amid concern over the safety of nuclear power. Berlin has questioned the safety and rationale of Belgium restarting aging nuclear reactors.
Following the Fukushima nuclear disaster, Germany decided it would close all nuclear plants by 2022.
cw/rg (AFP, dpa)