French officials have issued a series of protests with Belgian authorities on Thursday after having arrested - then released - two Belgian police officers caught driving 13 migrants from Belgium into northern France.
A spokesman for France's northern department of Nord said in a statement Thursday that "French authorities have expressed their utter disapproval following this initiative that does not comply with the usual working practices between France and Belgium."
"We cannot fathom this. It must not happen again," a French government official told Reuters news agency on condition of anonymity. "It's contrary to the rule of law and cooperation between the two countries."
Earlier, French Interior Minister Bernard Cazeneuve summoned Belgium's ambassador to France on Wednesday to express France's "indignation," the Ministry's press office said. Cazeneuve also spoke by telephone with his Belgian counterpart, Jan Jambon.
Trouble on the way to Calais
The Belgian officers were released after being questioned for about four hours by French authorities, but the migrants they were transporting, including three minors, are still in French custody. French media reported that the migrants had been in France and were trying to make their way to Britain via the French port city of Calais, but got out of the truck they were in when it was clear to them they have traveled to Belgium.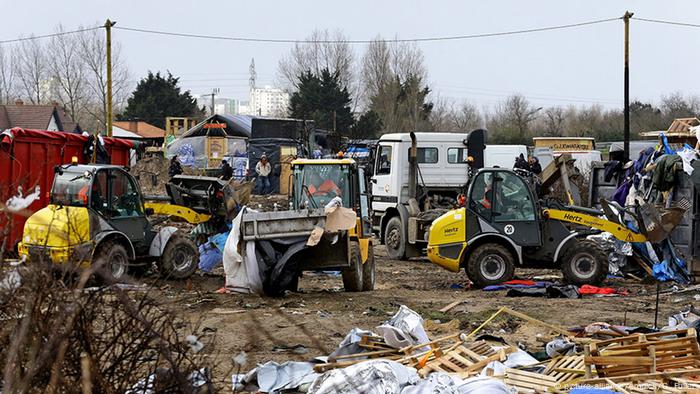 French authorities have torn down much of the Calais camp
Belgian media reported that the migrants were detained Tuesday in Belgium, and that the country's Office of Foreigners ordered them the same day to leave the country. The migrants, a group of Iraqis and Afghans, requested to be brought to the French-Belgian border. In transporting the group, however, Belgian police drove them some 50 meters (164 feet) into France.
A lift in the right direction?
Local Belgian police, however, seem unfazed by the officers' actions. Local Belgian police commissioner for the Ypres region, George Aeck, told broadcaster RTBF: We didn't do it for money, this isn't human trafficking... We only gave them a hand. We took them a little way in the direction they wanted to go."
The government in Paris has begun dismantling the Calais migrant camp, known as the "Jungle." Thousands of people lived there in hopes of finding a way to travel to Britain.
The Belgian-French border has been under increased scrutiny since many of the terrorists in the November 2015 attacks in France had links to Belgium. Belgian police and intelligence authorities have also been accused of not doing enough to stamp out terrorist havens in the country.
sms/jil (AP, AFP, Reuters)